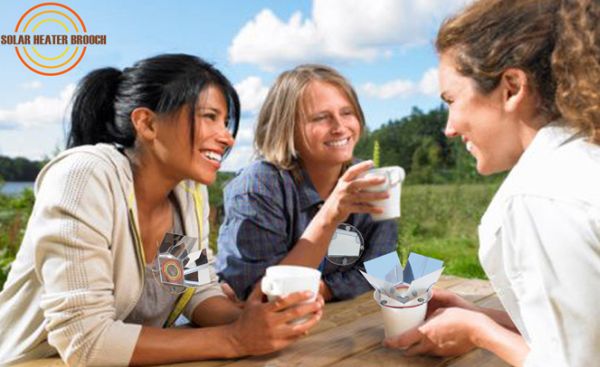 My mother always nags me to invest in gold jewelry instead of the junk that always end up buying because she thinks ornaments should serve more than one purpose. Well, I guess I might just give her this incredible Solar Heater Brooch next Mother's Day because this is probably the most multi-functional piece of jewelry ever made (barring the hair pins used as weapons in Samurai movies, of course!). The first runner up at the Harmony Jewelry Design Competition organized by Hoover & Strong, the Solar Heater Brooch is a stunning design that turns a meek fashion accessory into a portable drinks warmer.
The competition brief required the design to represent an eco-message along the lines of recycling, conservation, sustainable energy and environmental clean-up. The design had to be made with HARMONY Recycled Silver. With items being in the shape of a pendant, charm, bracelet, fob or pin, the creation had to be a wearable design that could be produced wholesale for less than $25, inclusive of labor and material costs.
The Solar Heater Brooch was created by metals and ceramics artist, designer and architect Lorena Aguirre Coughanour who works under the brand name Chita Design. The brooch was conceptualized as trendy fashion-forward accessory that could also double up as a solar heater when opened and placed over a mug. The brooch is made up of mirror polished Harmony recycled silver with printed plexiglass detailing and can be fastened to a dress via magnetic tabs. At 7.5 x 10 x 10cm, the brooch is anything but discreet, but the eco-cred of the design more than make up for its chunky size.
To use as a brooch, users simply have to separate the two pieces, place the bottom half under the dress and the other half over it and press the tabs together to secure. To use as a solar heater, the silver piece on the brooch has to be lifted and plastic loop pulled down. The electric loop can then be fastened into the nudges and the heater can then be placed over a mug of tea or coffee to heat it. The open panels act like a tanning mirror, absorbing and redirecting the sunrays into the mug, letting the liquid inside warm up with the radiated heat.
Sounds like an interesting thought, although we hope the designer can come up with a way to cool liquids as well so that people can chill their cocktails using this amazing idea when picnicking in the summertime.
Via: Chitadesign