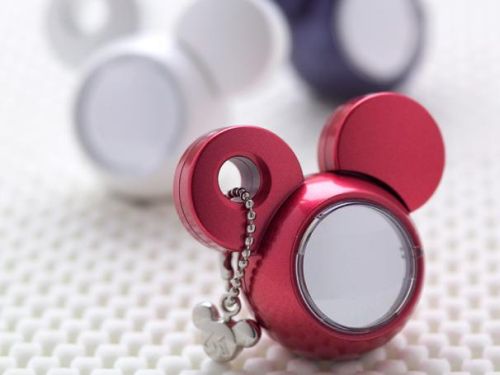 When you look at this little cute red thing, the name that comes only too naturally is our beloved Mickey Mouse. Even with its cute look and small size it does what it is made for. Unveiled in CES 2008, this Mickey head it is a classic Thumbdrive from A-Data. If, anyone has a doubt, then thumbdrive is portable memory storage device. Equivalent to a memory stick, the thumbdrive takes its name accredited to its size and the use of thumb to use it to plug in to a computer system.
Memory sticks are one of the most used and abused things of today. We hardly bother about the color or design of a memory stick. But, before you start yawning, just check these USB sticks out. It is very refreshing to see A-Data come up with various Memory sticks designs exhibited at CES this year.

Most noticeable, however, is this Mickey Mouse Thumbdrive. A simple twist of the year of the Mickey Mouse Thumbdrive and you get the USB stick out. You can put your photograph on the mirror side of the thumbrive and use it as an easy key chain — accessible whenever you want.
A-data has also come out with some marble finish memory stick with in the traditional rectangular shape also. Most probably, these memory sticks would be marketed in UK. If you are lucky enough, you can buy one of these. Young or old, it will bring smile to all alike.
Source: T3