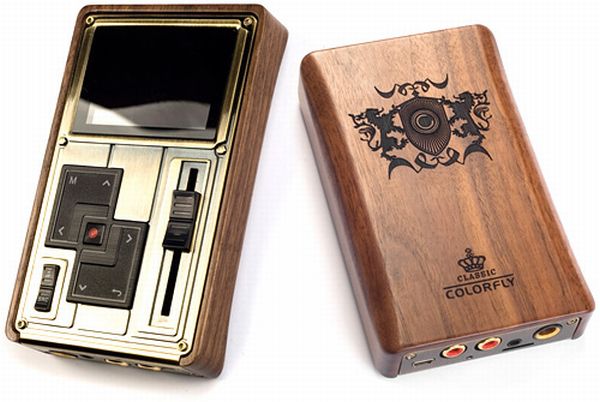 If you are bored with the basic styling of Apple iPods accessorized with vibrant covers, Colorfly designed Pocket Hi-Fi C4 Pro is a steam punk alternative for you. The hefty price tag might take you by surprise but a complete look at the features can make the best of audiophiles swoon for it.
A steam punk vintage styled front is what creates the initial interest in the portable media player. The back is a little bigger in size and looks almost like a case for the PMP. Walnut colored back has a Black Hand engraved styling that enhances the looks. The PMP is embedded with a slider adjustment for volume.
The mp3 is a perfect combination of stylish looks and excellent technical specifications to enrich the audiophile's experience. Registering its place above the average music players, the Pocket Hi-Fi has the capability to playback 24 bit/192 KHz WAV files.
The application of CIRRUS Logic CS4398 DAC and CS8422 SRC makes it possible to produce a bass of 120 db and a signal to noise ratio of 108db. The built in amplifier is powered at 13.3 MW to make space for quality listening for your favorite hard rock bands. The PMP ports are adjustable to 6.3 – 3.5mm jack sizes.
The splendidly designed pocket media player wrapped up with mind blowing technicalities for a fulfilling audio experience is accompanied by a SPDIF port that makes it possible to be attached to stereo equipment to further boost up the audio.
The only lop side of the product is the hefty price tag it carries. Nevertheless, with the features it sports, the $799 MP3 is worth every penny for an augmented audio experience.
Via: Wired