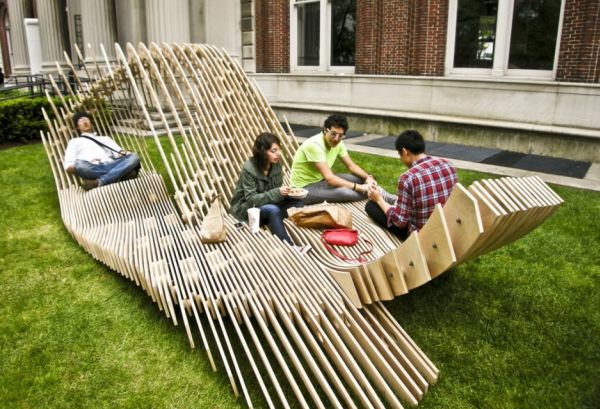 Unusual creations fetch a lot of attention, but it they are purposeful then the queue filled with praises is never ending. Here to collect a lot of admiration is the Visual Permeability Pavilion. The construction is very eye-appealing and comes coated with comfort.
Apt for a breezy afternoon and pleasant evenings, the pavilion is a storehouse of multiple features. It will simultaneously act as a recreational unit as well as a place for social gatherings. The captivating structure has been crafted using wooden slats, which have been angled for separating two different zones. One of the parts can be exploited by two people for soothing those frazzled nerves. The other section can be used as a space for striking a conversation or enjoying a meal by four people.
Both the private and personal spaces are well-defined, thanks to the slanting way these wooden strips have been placed in. This gives birth to impressive visual permeability. The slats are dense at certain points and have more spacing at other places. This defines different zones that will be used for various purposes. The lightest regions provide necessary shade, the medium ones are used as a backrest while the intense zone is used for sitting as well as walking. Choose the zone that blends with your liking and see Visual Permeability Pavilion bow down to your needs.
Via: Contemporist