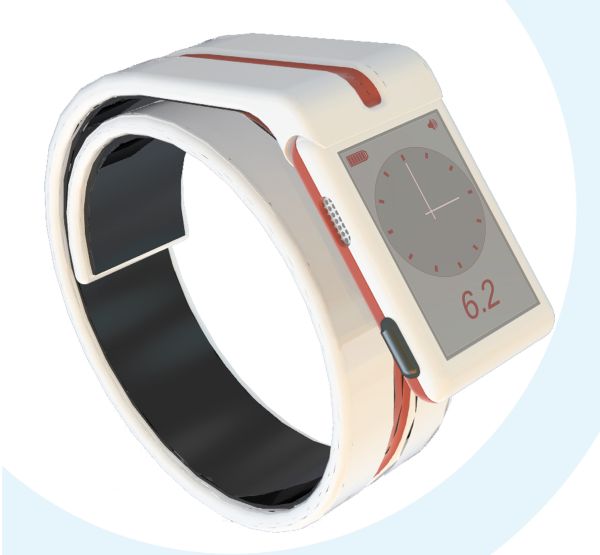 No pain any more. Here's a great news for the diabetics. It's time for them to jump in joy as Glucowatch can check blood sugar levels in a "sweaty" way. Designed by Christopher Stamp, the watch-like device is worn around the wrist. It uses a person's sweat to read the sugar level. Glucowatch keeps the user well informed and make sure even a diabetic leads a healthy life.
The designer did a thorough research before coming up with this easy-to-use tool. He understood what a diabetic went through while pricking his/her finger several times a day. This specially designed watch uses the wearer's sweat to check sugar level, which is a painless way. All they have to do is, tap and wind the watch around their wrist. The watch has a colored LCD display that is wrapped with an ABS cover. The screen, large in size, displays both the blood sugar level and an analogous watch. Sealed in the PVC layer is the strap, which has a steel spring sheet inside.
The watch has two rubber buttons that are very user-friendly. One is the acknowledgement button that illuminates the screen when pressed and also puts an end to the alert tone. The sound button endows the user with a flexibility to put the device on sound or vibration mode. The inside of the strap has been fitted with a removable sweat permeable strip that can be replaced effortlessly. Further, a red stripe runs all around the strap and pumps the user with confidence by producing energy.
It has been embedded with a speaker and a USB socket as well. Programming the watch will require a CD ROM, which will be delivered with the product. This will make the interface of the product less complex and the user can easily alter the settings. The software consists of 6 parts which includes: Insulin limits, medication, alert tone, font, clock and history graph.
[Cheers Christopher]