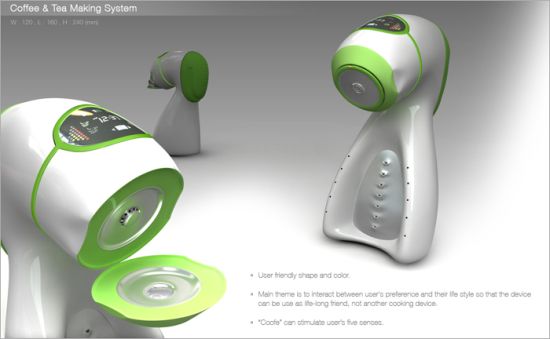 Regardless of any season, location and age, brewages, especially coffee and tea have been a hot favorite with people, needing an instant perk-up. Over the centuries, while the basic taste of the brewage has remained the same, the manner in which it can be prepared has gone from easy to easier. You can still do it the traditional way but if you want you have some handy tools too, to assist you in grabbing a quick cuppa. The 'Coofe' is a radical coffee maker that responds to personal preference of the user. The digital coffee maker is chiefly finished with two parts, a coffee & tea making system and cooking stove, which can be merged or detached to suit the taste of the users.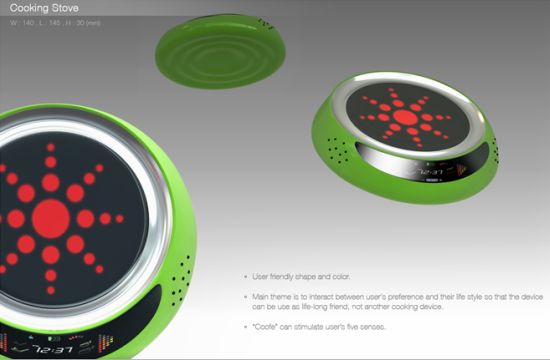 Design Status:
For the moment, the Coofe is a concept design. Once it gets in the production line, it will take the simple art of making brewages to a digital high.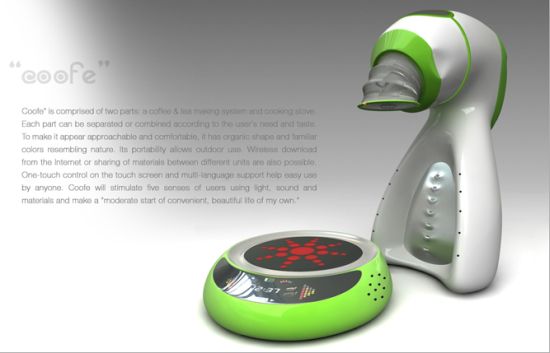 Usability:
Apart from controlling the taste of the brewages digitally, the Coofe also comes in a organic shape and colors resembling nature. Supporting wireless downloads from the Internet for data sharing with other units, the Coofe also presents a touch-screen interface with multi-lingual support to be used in different parts of the world. Moreover, it is compact enabling you to carry it with you for outdoor parties.
Via: Gizmowatch
Designer:
Taewan Kim is an industrial designer from Seoul, South Korea, who believes creativity is a child of diversity created from interactions of different people and objects. He has completed his BFA in Product Design Department of Design & Media, College of Design & Arts, Hongik University, South Korea.