What do you think trays are for? Well, you might say that they are for serving food and drinks. This answer would be right in most of the cases, but not every time. There are certain highly innovative trays who not just work as trays, but have much more to their functionality. Most of the trays not only serve multiple purposes, but they are also eco-friendly as well. Creative appetizer tray is one of the popular trays in this section. However, there are other trays as well that also deserve mention.
Creative Appetizer Tray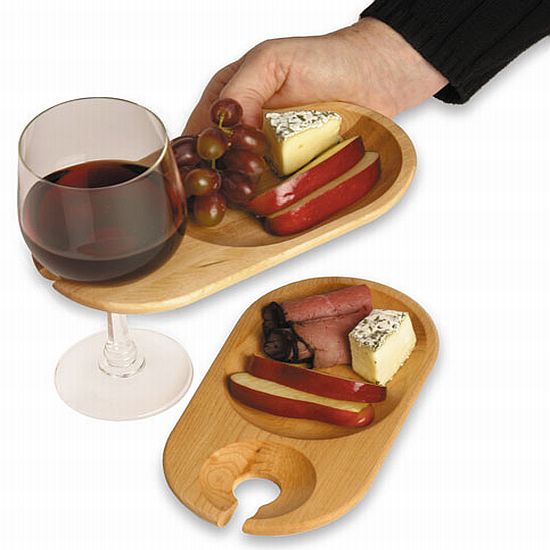 At dinner parties, while sampling treats from the appetizer table, for example, at an exhibition, you have to set your wine glass down and pick up the saucer. That is, unless you are using this crafty little invention which is a saucer with wine glass holder. It lets you have your wine glass with you easily so you don't have to juggle holding a separate saucer and wine glass in one hand while picking treats with the other. This creation is nothing but pure craftiness. I can see it becoming the norm at events and parties once it cathches on.
Some more innovative trays similar to appetizer tray
1.  Grapes Wine Holder Party Plates

Don't like the wood finish of the Appetizer Tray? Check out the Grapes Wine Holder Party Plate. It allows users to enjoy their drink as well as appetizing snacks simultaneously without juggling them on the dining table. Featuring the shape of a tasteful bunch of grapes, the party plate with wine holder comes in a set of four. You can use it for both indoor and outdoor parties. The glass finish lends the plates with an unmatched gloss and elegance. The only drawback, if you hate doing dishes, is that you'll have to wash them with your hands.
2. Mytrey, modular tray becomes a portable workstation
With reducing size of modern apartments, portable furniture allowing greater flexible has become an integral part of contemporary living spaces. The brainchild of Italian designer Alessio Monzani, "Mytrey" is a flexible tray concept that can be used as a side table or even as a small coffee table in cramped spaces. Developed as complement furniture, Mytrey attaches to the armrest of the sofa to become a writing board, a workstation or a tray to place your food and beverages while watching a show or a movie on your TV. Featuring two parts, one sliding on top of the other, the multifunctional tray adjusts to sofas of different types and dimensions with ease.
3. Rollercoaster Tray by FOC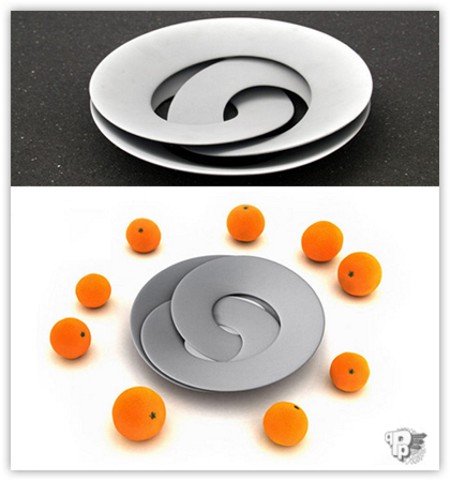 Beware! The Rollercoaster is designed to take you for a never ending ride into the world of perpetual science. No, I'm not talking about any UFO or a science project, I'm just taking due liberties to introduce a rather unconventional fruit tray designed by Studio FOC (Freedom Of Creation), rightfully called the 'Rollercoaster'.
Designed by Janne Kyttanen, the Rollercoaster tray displays a perpetual magic of overlapping spirals, rolling endlessly to take form of a stationary object. The tray is made of powder coated cast aluminum treated with Keronite.
Even when the tray is empty, its unusual design will keep you engaged.
4. EaZi portable food tray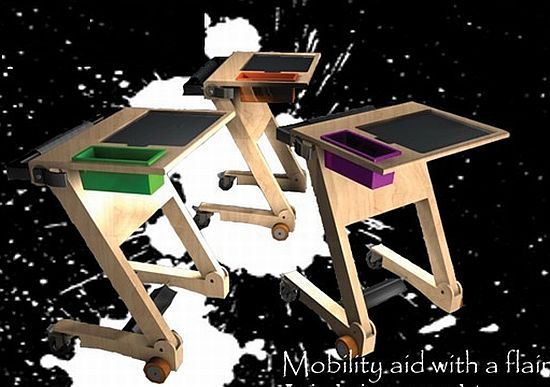 EaZi is a tray concept that has been designed keeping the elderly, infirm, disabled and injured people in mind, teaching them the way for an independent lifestyle. Designed by Justine Moynihan, the multi-tasking trolley gives the user optimum amount of helping hand around the user. It works as an indoor living aid to transport food, or hot items across the house, making people of all abilities autonomous, thanks to the foldable handle that lets you use it as a tray to eat from either side of it. The handle also bestows the user with maximum comfort through the use of cushion grips.
It also adjusts easily to the height you are sitting with the height-adjusting mechanism of a ratchet system. The release mechanism ensures smooth movement, stability and safety through a pulling handle mechanism. In addition, there is a built-in removable storage box that offers place to hold books, glass and much more. Apart from being a boon for the ones in need, the mobile tray also looks visually pleasing that each one would want to flaunt.
5. An eco-friendly 'Picnic in Bed'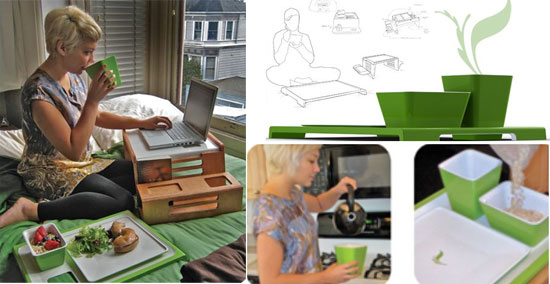 If you are in the habit of eating in bed, have a look at designer John Whaley's "Picnic in Bed". It provides a convenient bed eating surface keeping crumby messes and liquid spills to a minimum. It consists of bamboo free from pesticides, fertilizers and artificial irrigation. This lightweight tray table is eco-friendly and makes dining simpler, cleaner and more transportable. Its removal tray top provides a solution for transporting the food. You can easily take it from the kitchen to the bedroom for refills with less spilling along the way. The furniture unit is incredibly stable and the entire table is cut from one 2″ X 4″ X 5″ sheet with minimal scrap. Dishes are ceramic with an eco-friendly glaze and the tray is made up of machine-washable, highly durable fiberglass. Suiting your style, this conventional bed-top dining table is highly functional, practical and sustainable. Moreover, you may use the furniture as a workstation for your portable systems.
6. Plate with solar energy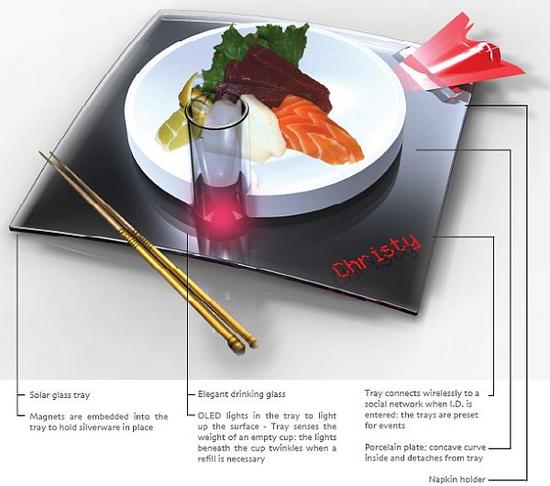 A well laid table gets more appreciation if the crockery is attractive. To illuminate your eating experience, Christy Tong has made an eating tray named Peek which works with solar energy. A whole new technology, Peek has a slot where a glass can be placed and through which energy is captured and delivered further. Coming with a napkin holder, it has a matching tray and a glass that makes this solar powered tray all the more eye-catching.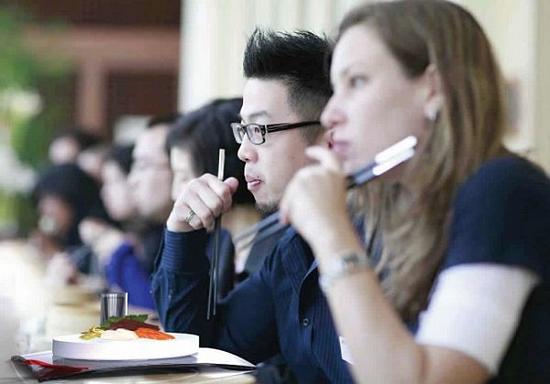 Charging the plate doesn't come with a lot of hassles as well. Simply place it on a table or dish rack and this solar plate will absorb the sun rays, which can be used at social or business gatherings, parties and weddings as well. The tray comes implanted with magnets which easily holds the silverware when placed over it. This plate can be easily detached and attached over the tray.
Highlight of the whole setting is the glass. It is there in an area that has OLED lights. The lights turn on and off after sensing the weight of the glass, signaling when it needs a fill up.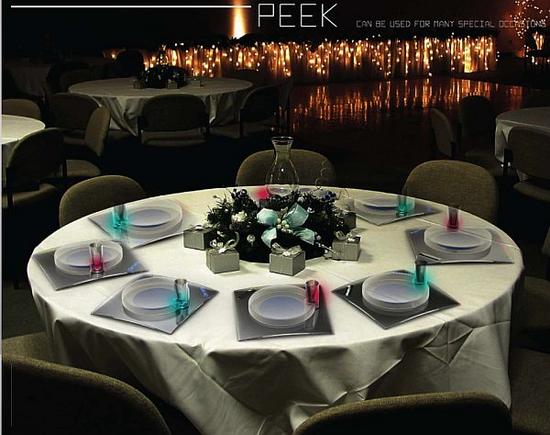 Peek will act as oxygen, if you are one amongst those who think staying connected through social networking sites is as important as breathing. Just enter your ID and Peek will connect you wirelessly with your virtual world.
So, dine the solar way and enjoy your meals while staying connected with everyone you love.
[Cheers Christy]