Whenever disaster strikes or whenever people have to leave their homelands for foreign lands, there's only one thing that comes into everyone's mind. That thing is prefab homes. Prefabricated homes are in high demand. People prefer living in them in regions that are prone to natural disasters or calamities. Not only they are immune to disasters, but these houses are also cost effective as well. When you make such houses using eco-friendly or recycled materials, then there's nothing else you would want. Moreover, they don't even require much professional knowledge to be set up at a convenient place. Another big plus point of the prefab homes is that they are eco-friendlier than brick and mortar home. Here's 'Pallet House' a prefab home design of the first grade. It is made up of only pallet and nothing else.
Pallet House
Winner of the Gaudi European Student competition, the "Pallet House" by Schnetzer Andreas Claus and Pils Gregor, students from the University of Vienna, is an energy efficient house that allows sustainable lifestyle at a low price. Finished in reused pallets, the eco-friendly house features minimal construction while accommodating modern luxuries. Seeking the 21st century housing on sustainable architecture, the 60 square meter pallet house just requires 800 recycled pallets. Easy to construct as well as collapse, the sustainable housing allows great flexibility and can easily be transported to different location as well.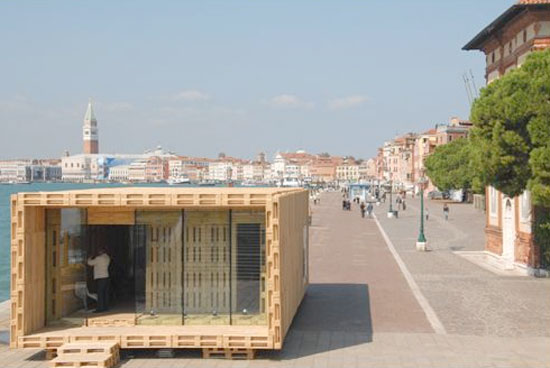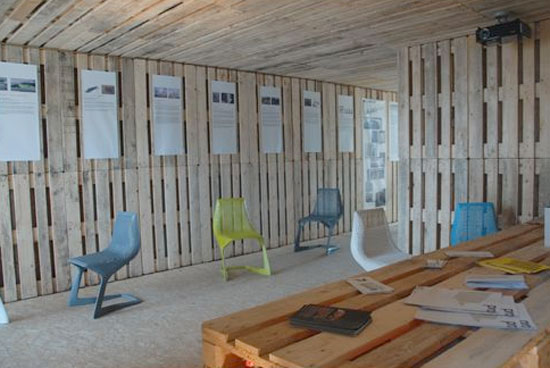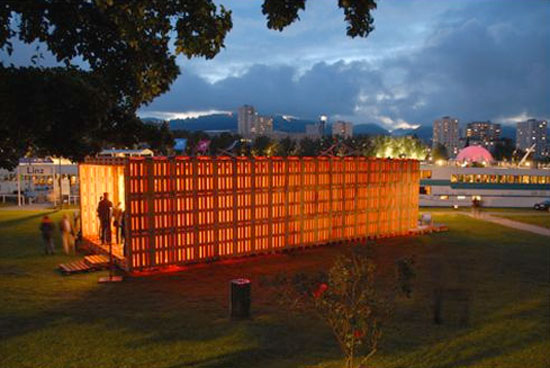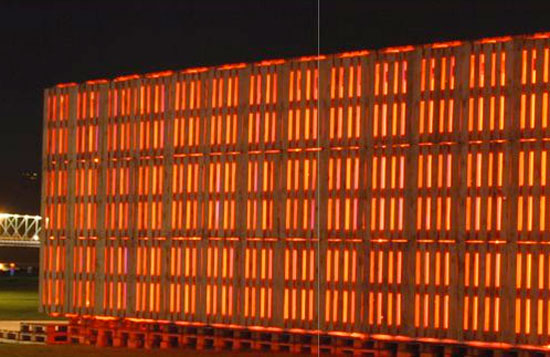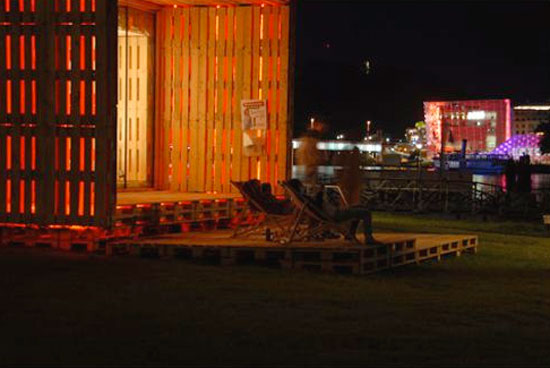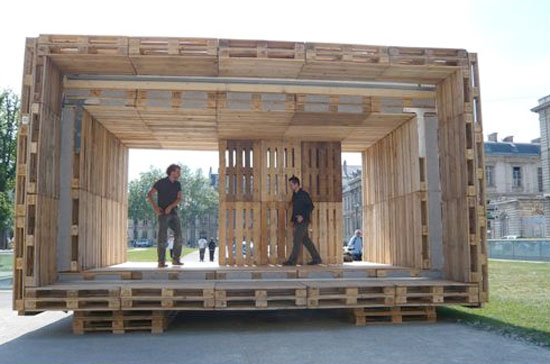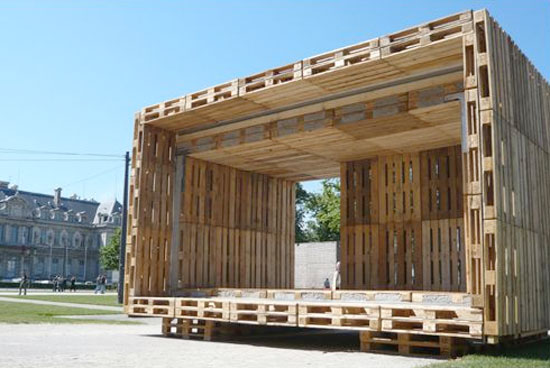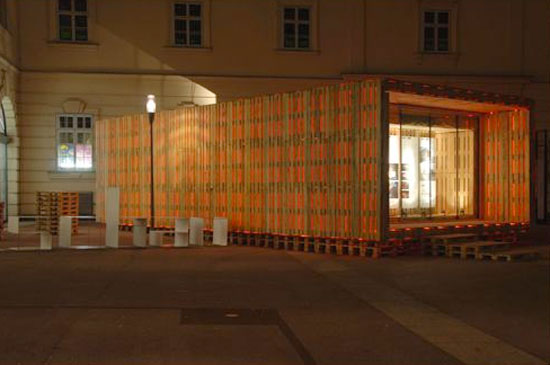 Via: Palettenhaus/Designboom
Some houses similar to Pallet House that we might see in future
Here are some houses similar to pallet house. Due to the efficient use of space and energy, these homes help the dwellers curb their carbon footprint. These are some of the best prefab houses in the market. We hope that these help in selecting the best one for yourself.
1. Desert House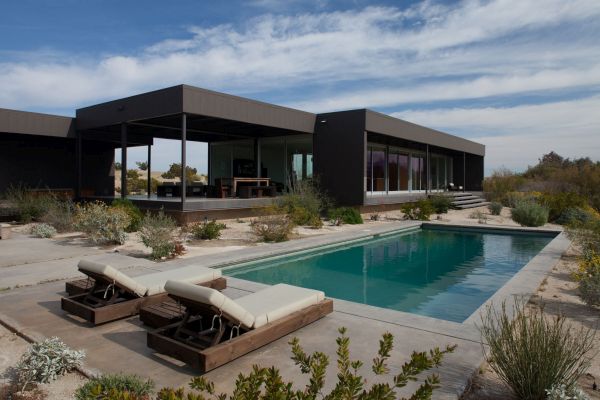 Looking at this house you will not be able to believe that it is just another prefab home. Ten modules have been put together for making this lovely dwelling. Designed by Marmol Radziner, the Desert House spreads across over an area of 2000 square feet. The surrounding beauty of desert hot spring, California makes it all the more desirable.
2. The Hilly Area Prefab Home
A little away from Seattle, there is a hilly and remote region at Granite Falls where you will find a wonderful prefab home which look simple but at the same time stunning. Featuring the framework made using steel to make the house sturdier and durable, the dwelling has been developed on a raised platform. One has to take the steps to reach it.
3. The Steps Prefab Home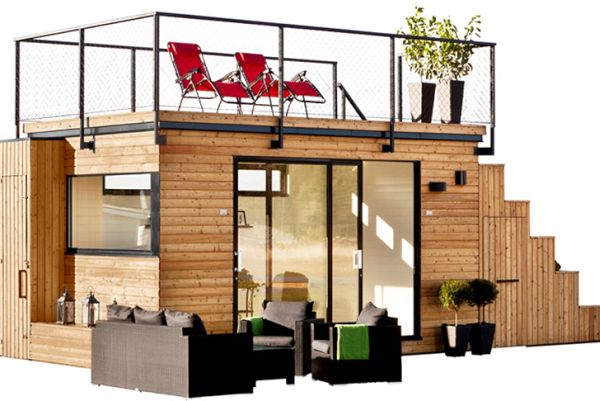 "Steps" is yet another unique prefab house which has been designed for JABO by Belatchew Arkitekter. Despite being tiny, it includes various attractive features. An exterior flight of steps built into the structure of the house will take you to the terrace on top. It even has an outdoor kitchen with sink to throw small parties.
4. Swiss Prefab Home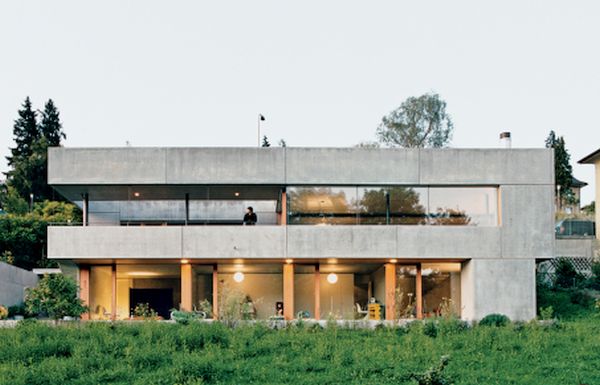 Located just outside Zurich, Switzerland, this prefab home is also a stunner. Famous architect Felix Oesch has designed this prefab home. The architect has used concrete panels, manufactured by a German manufacturer by the name Syspro, to ensure a sturdy home. The prefab home features minimalistic design in both the interior and exterior.
5. Hive Modular Home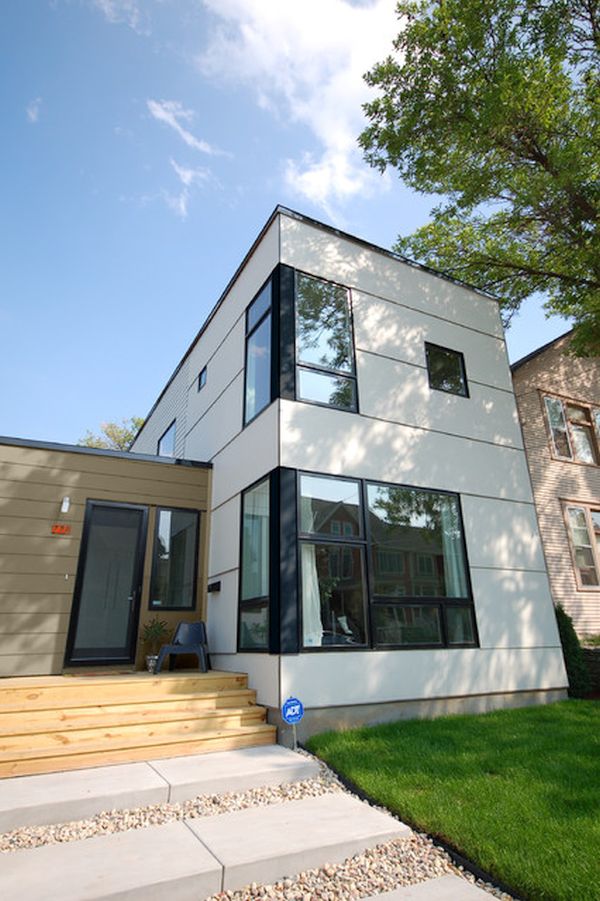 Created by B-Line Medium 002, this prefab modular home consists of three bedrooms, two bathhouses, a big foyer and long kitchen. The flexible design of the home makes it unique from the rest.

6. Revolutionarium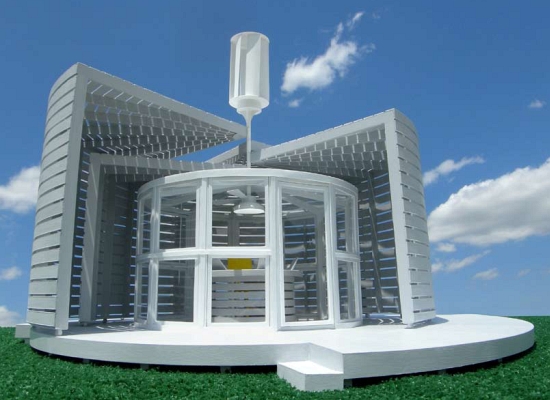 The Revolutionarium by Michael Jantzen is a conceptual design of a special kind.  It is prefabricated, modular, interactive, and functional art structure. The main purpose of its design is to stimulate the creativity of its occupants. The prefabricated structure would consist mainly of sustainably grown wood products and other green materials. The structure would be 26 feet in diameter and 14 feet high and would have a 12ft diameter steel and glass cylindrical structure in the center. It would consist of four wooden screens, which one could pull around the cylinder. Using this one would be able to control the amount of sunlight entering the area. Moreover, one would also be able to control the degree of privacy.
What amazes us most, as always, is the use of a small vertical axis wind turbine. It would generate renewable electricity for the Revolutionarium. If the area where the structure is isn't windy enough, one can add solar panels to supplement the wind turbine. The structure has chargable batteries to store the renewable energy one gets from these arrangements.
7. Wooden house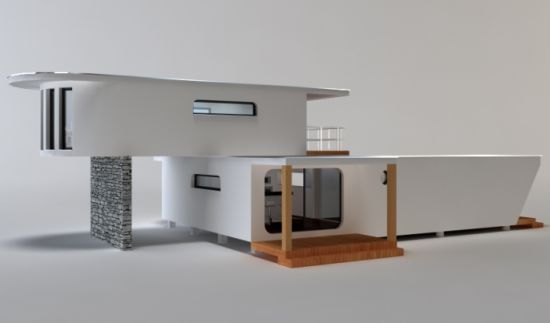 Inspired by Pierre Koenig's Case Study House, this environmentally-friendly, modular building by Module-Home has been designed by combining different modules. The modules can be mounted on stilts, sills, slabs or anything of your choice. Since its inception, they have integrated bioclimatic strict standards. These modules are all innovations to minimize its impact on the planet. The house has been designed with a nice ceiling height, a protected terrace and large sliding windows to enhance the perception of space and lightness.
The duration of the project is so short, owing to the fact that the modules are assembled in the day to a house up to 100m ² (with 3 modules). Optional features include solar panels, rainwater harvesting and heating with renewable energy to ensure minimum impact on the environment. The budget varies according to the interior layout, finishes, type of heating and the structure of the field. Construction techniques are the same as used for traditional wooden houses, which guarantees sustainability and low energy consumption.
8. Prototype ME-01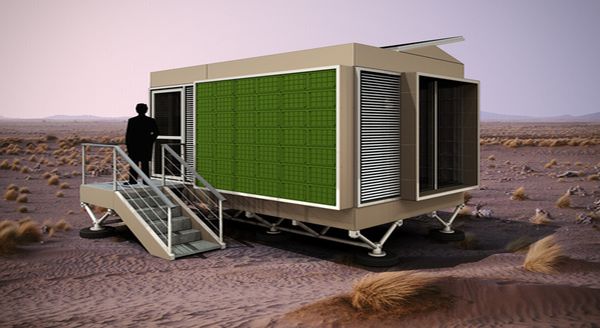 Housing can be a major problem when emergency, in terms of disaster, strikes. People may have to go without shelter for days at a stretch in such a condition. Taking note of the difficulties faced in such a terrible situation, Christian Castro Sanchez has designed the Prototype ME-01.
This prefabricated unit can be pulled together without any difficulty. The module will prove to be of great help when an urgent situation crops up. It has enough space to accommodate a small family and comes with all the basic facilities. The useful module comes wedged with solar panels, which produces enough energy to perform different tasks. Well, the self sufficiency does not end here! It has been wedged with a system to collect rainwater as well. The water can be used to perform everyday chores and other basic functions.
Prototype ME-01 comes with an embedded furniture, which solves the purpose of a social space during the daytime. The same area can be swapped into a bedroom when the dusk sets in. This, easy to install, module can prove to be of a great support when the situations turn awry. People in disaster struck area won't be devoid of basic shelter, thanks to Prototype ME-01.
Summary
The prefabricated homes come in many varieties, shapes and sizes. They also include necessary facilities in a compact design. Low cost prefab homes can be a solution for homeless people.