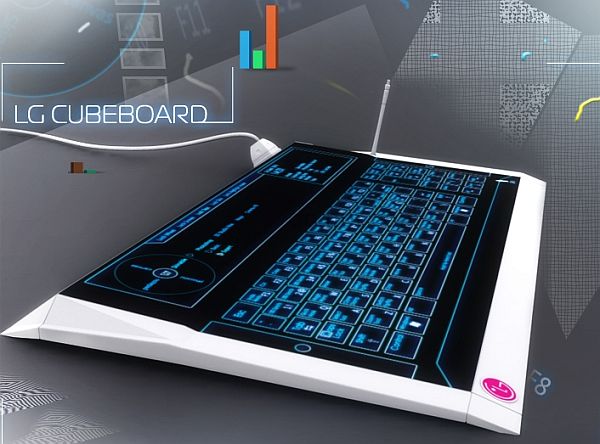 The concept
Touchscreen technology is now fairly popular amidst gadget savvy folks. Most people prefer and choose gadgets in league with multiple device functions. The dependence on graphic tools and software has increased. They have become sine qua non in lives of people living in company of gadgets. In fact, people have become quite smarter while selecting a device on par with their choice. They prefer to be in tune with the times and, therefore, select devices, which can perform many tasks at the same time. No wonder the digital canvas has made its presence felt in a big way.

Anyway, the truth is that people are in no mood to compromise with their efficiency level. Moving closer to goal of making lives of human beings more in the company of efficiency, the Concept Keyboard designed by Nitin Mane has emerged as a perfect choice for people seeking a futuristic keyboard. This futuristic keyboard makes use of OLED touchscreen and cash in on heat sensitivity.
The design
As stated earlier, the touchscreen technology has been brought in use to give rise to this futuristic keyboard. It has roped in several interesting features that makes it stand apart from other keyboards. The key ones are being listed below.
Lock Panel: The lock panel allows a user to move out of the realm of errors. It prevents access to certain functions so that these functions do not come to mar the efficiency of the user involved in important assignment. It's quite possible that some functions if allowed to remain in operation could enter into conflict with functioning in use at a certain point in time.
Main Panel: The main panel is heavily dependent on mode and sub mode selected. In other words, the task of main panel is being dictated by type of mode and sub mode brought in use by the user.
Status Screen: It allows the users to keep an eye on current status like mode, lock, use of pen and taps on/off. It also takes note of time involved in search of data.
Scroll wheel: It allows the users to become friendly with various modes. In other words, the users are given liberty/ space enough to become aware of the functions inherent in various modes.
Taps: It's basically a hidden panel, which enables a user to experiment with important options. It also ensures an efficient toggling. The users are free to customize the panel.
Sub Mode Panel: The name is indicative of the fact that users can embrace sub options. For instance, one can try hand at Photoshop side-by-side other important functions.
The fabulous
This is one of the keyboards designed to provide users some happy moments as they come to work for long hours before the computer. This state-of-the-art keyboard is fit for users, who somehow cannot prevent themselves from flirting with the computers for long hours. A keyboard not up to the mark will make such users to face unnecessary problems. The designer needs to be appreciated for the fact that he, at least, bothered to take note of pains of users dependent on old keyboard. This futuristic keyboard uses OLED touchscreen governed by heat sensitivity.
The keyboard's customizable virtual keyboard skins and its ability to work with different device modes makes it must for computer savvy people. It's screen enables special touchscreen writing, being above scratches and other minor hiccups. Interestingly, it also makes use of heat sensor.
The inspiration
The touchscreen technology has become the need of the hour. The fast-paced times cannot rely on old systems of functioning. The device can only remain relevant if it keeps changing its forms with currents of time. The old keyboard was bound to give way to one designed by Nitin Mane. The Concept Keyboard is bound to increase the efficiency level of the computer professionals working day and night.
The target
This Concept Keyboard is mainly meant for computer professionals working in the IT sector and elsewhere. After all, they are expected to produce result within a fix period of time. The keyboard of old types would not lead to such speedy results. The Concept Keyboard comes to their rescue with so many interesting features.
For instance, now a user can make use of different sub options like usage of various sub-modes. Overall, a computer professional interested in increasing the efficiency level would find it hard to ignore its worth.