Decorating our homes from the internal as well as external parts is a hobby for everyone. There are a lot of things with which we can decorate our surroundings. Flowers are one of the best gifts by nature to fulfil this desire.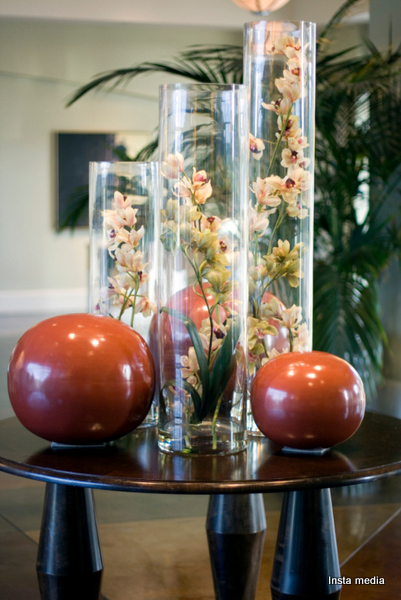 How flowers can be used to for decoration
Flowers can be used to make the home visibly beautiful from inside and outside. We can use vase to keep them inside our home or we can maintain the flower bush in front of our home as a garden.  There are a numerous people who are keenly interested about the gardening and grow new plants as well as beautiful flowers. That of course increases the scenic beauty of our surroundings and makes it pleasant. Inside the home we can arrange the flowers to get pleasure as well. There are multiple choices of how to arrange this in the most pleasant and creative manner.
How the arrangements can be done
 People who are willing to decorate their homes with a pleasant atmosphere can keep flower vases consisting of beautiful flowers. They can have some flowers with essence also, which keep the rooms fresh and make us feel very close to the nature. There are many ideas about what kind of cases we can decorate our room with. We can keep it on some table or beside our bed. Some like to keep a vessel hanging from the ceiling and some also like to keep some flower containing pots near the windows.
Besides the natural flowers people who are unable to get some rare beautiful flowers or unable to pay for the expensive one feel interested to keep flowers vases with some artificial flowers as well. Artificial flowers can be made by paper, piece of cloths or by some polythene also. We can buy them from the market or make them at home as well. We can cut the papers in different shapes likely to be a flower and paint them, or we can make flowers by using the various colours of polythene or tracing papers or marble papers etc. Then we can give it a complete and neat finishing touch and arrange those in suitable vessel, pot or vase.
Apart from the concept of the case, there is a very renowned process to arrange flower in a bouquet style. This consists of very different kind of flowers, leaves and some other plant parts. They are bound together in some nice arrangement and are an ideal proper gift for someone special. Various colours of flowers makes these bouquets very high contrastive and attractive as well or with same kind of flowers making a bunch inside a bouquet is also make a bouquet very beautiful. The binding can be done with some strong yielding stems or pliable metallic wires.
Maintenance
To make this kind of arrangements in some vessels or bouquets, we should be sincere about some definite rules. They are as
We should always use seasonal flowers in case of using of natural flowers.
To make these more attractive we should use different colour of flowers with some leaves and stems.
Always be careful while arranging them in a definite pattern.
Cutting should be appropriate and neat.
Daily care of the flowers like watering them regularly and give essential pesticides.
We should use fresh flowers or stems always.
Some different styles
There are some different styles as follows how we can arrange the flowers,
Flower vas
Garlands
Hangings
Vessel
Sand or water pots
Conclusion
So these are some ideas to arrange the flowers to decorate our surroundings to feel and enjoy the pleasure of nature which we deserve as human beings. Thus we can maintain the freshness around us as well.