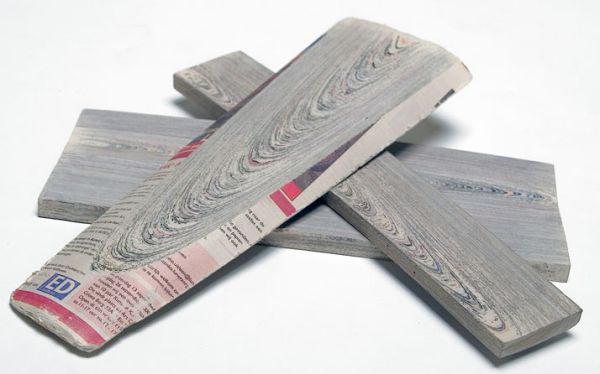 The ordinary:
Wood has always been used to make paper, but, with new techniques and ingenuity, paper now becomes wood and utilized in different form in many products. The news paper is used as a raw material. Hard texture is given to these newspapers by recycling them and the recycled newspaper is used for making various products. Newspaper Wood is the unique way of using waste material and creating much exciting and useful products out of it. This process of up cycling is the new way to bring life to old dumped recyclable waste.
Inspiration:
A Dutch designer Mieke Meijer worked on this project in her workshop at Eindhoven, Netherlands. Her work is appreciated by a design firm Vij5 and they used this Newspaper wood in creating furniture pieces. Vij5 helped Mieke Meijer in implementing the vital processes into production and marketing. Her work was unnoticed for a period of four years. It was in Milan Design Week 2011, however, the furniture items of this wood were showcased. This process is time consuming, but the end result produce wood like material which has wood grains or rings of trees in a series of layers. It is the creativity of the designer that has transformed dumped newspaper piles into beautiful creations by a simple process of upcycling. Thus, saving the life of so many trees that can be cut down to make wooden items.
The extraordinary:
The newspaper wood created is eco friendly as it utilized the waste newspaper and is of great value. Special machines are used for compressing newspaper by rolling it very tightly to produce log of the size of tabloid. These tabloid logs are quiet similar to real wood in appearance.
The making:
Mieke Meijer, a graduate from the Design Academy Eindhoven made this concept of newspaper wood popular. Certainly, it's her ideas and hard work that made it possible to create wood from recycled newspaper. The designer glued the stack of newspaper one by one and rolled it very tightly. The wood obtained is slightly deformed and can be sandpapered. So, the end product is the wood which can be cut or sanded and can be transformed into any product just like wood.
Usage:
The Newspaper wood can be used in creating various products, according to our requirements. Furniture, like cupboard, lamp, stool, desk, frames, cabinet etc. can be made from this wood. Even jewellery can be made from this. rENs has designed the extraordinary Kranthout jewellery.