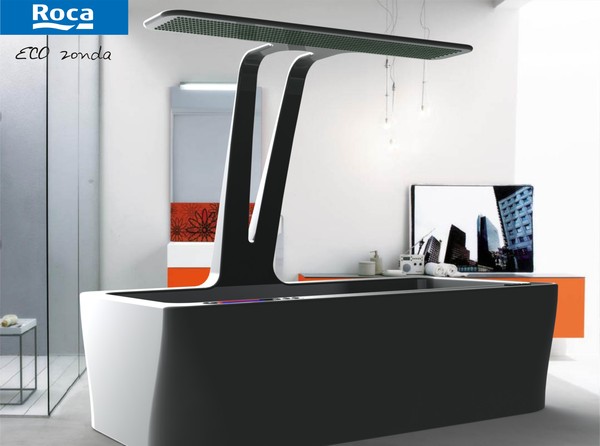 Rise in pollution levels can lead to a variety of problems. It will deteriorate the environment and pose unending threats. Water is essential for all forms of life. Only 1% of it is fit for consumption. This means, its wastage should be kept at bay for our survival. Francisco Lupin has designed a bathtub named "ECO zonda" that will recycle water.
It will act as an everyday tub, jacuzzi and shower. While performing these functions, the elegant bathroom accessory will recycle water for further consumption. This will clean water for further usage by removing unhealthy particles. ECO zonda has been crafted, using Corian, in a sleek manner. Usage of this material endowed the designer with a flexibility to mold it in any desired shape. Corian acts like wood and can be given round edges and interesting designs.
To avoid any kind of wastage, the shower has been wedged with a sensor system. This will direct the water flow in the same area after sensing where the user is positioned. A flow regulator will further adjust water flow and bring down its wastage. Hot and cold water can be mixed in an ingenious manner with help of a novel digital touch panel.
ECO zonda is an eco friendly concept, which will help us live a healthy life. If you are an environment lover, the elegant tub will definitely find a place in your bathroom.
[Cheers Francisco]