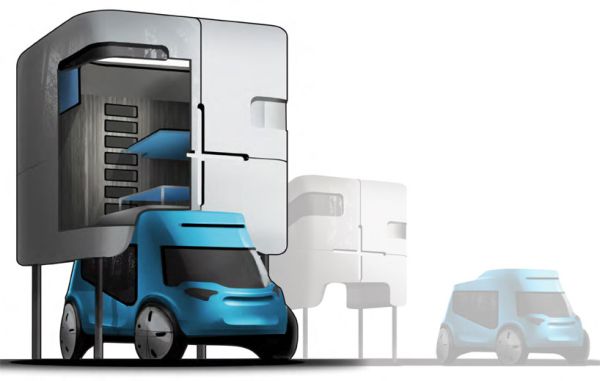 With world population rising so strikingly, I suppose ideas like this are going to become more commonplace in the next few decades. The 'habitat' is a living-slash-commuting concept by US artist Jon Salerno, which basically takes the ever so popular motor home concept. Jon tries to transform it into a functional and sustainable model to suit urban living in the new millennium.
The product designer basically conceptualizes an apartment-type living space that could be simply 'docked' atop the vehicle and transported as needed. The micro home could also be stood on its own, with a space for parking the car underneath and the primary living module remaining on the first floor if you will.
Fundamentally, the 100 sq. ft. cubic living space and the 32 sq. ft. electrical vehicle combine to provide a 132-square-foot multiple levels
living area that solves the two-fold problem of unsustainable living and commuting via its intuitive and supposedly planet-friendly design. The four chairs in the vehicle can be reconfigured and rotated from their normal position used while driving to form a small living room when the car is docked under the home.
The main living space itself squeezes in the kitchen, storage and dining space while a cozy bed is tucked away on a mini-level that
is hung from the ceiling. The design aims at maximizing space usage while adjustable solar panels that line the roof of the micro home feeding the fuel cells housed under the living space's floor to make the house and the car as green as possible.
The plumbing of the house is tucked away in the piers that hold it up. This is perhaps the weakest link in the concept since it would
require specially-created public spaces with water and sewage lines that could instantly fit in with the construction of the micro home.
As a concept, the design stands well if one operates on the premise that single-person single-story living space with oversized cars docked under them would prove to be more sustainable and eco friendly than large apartment buildings that enlist better insulation and other energy-saving options. As a standalone, and perhaps as an occasional home or as a camping vehicle, the concept becomes a lot more appealing. With that function in mind, it could perhaps be the face of future campsites.
Via: DesignBoom