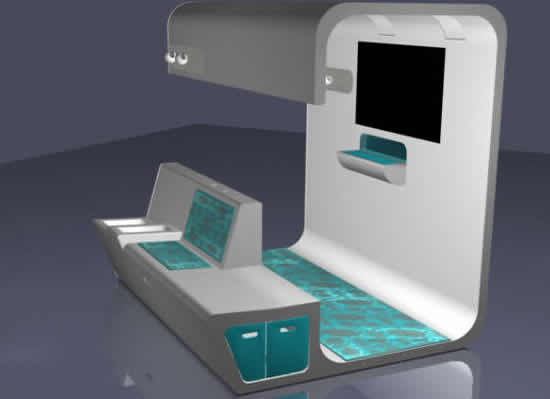 Isn't it natural to walk in the house and expect your family to identify with frame of mind? Its utter human to expect others to act in accordance with your mood. But alas, your teen is discourteous, spouse too busy to notice any mood change and pet sleeping away to glory. For such times, trust this avant-garde techie invention to step in to lend a hand for such dilemma too. Dubbed as Emotube, Idoia Aboitiz has erected a piece of furniture intended for the house of 2020. This chaise longue kinda structure is designed with a roof to give shelter to your emotions. Befitted with a customizable software it can generate different environments in the tube according to your mood and also the weather outside. A biometric camera is capable of recognizing your mood and your companions (if any) when entering the house.

After having recognized data Emotube is activated and creates the environment, which is saved earlier in the software, to set the mood right. All this is possible with the help of music, an OLED TV, the lights and 3D holograms. And when you don't want it to support your mood, simply rest on its sitting area or leave your stuff like coat, bag, cell phone, keys, shoes.
Composed of three different modules emotube can be customized to every individual's need. Each module is composed of a sandwich structure where the outside part is made of POM and the inside part made of Polyethylene foam.
However I think this kinda solution is going to augment our dependence on gadgets and technology. Also it will boost insensitivity, indifference and aloofness in our behavior.
Thanks Idoia