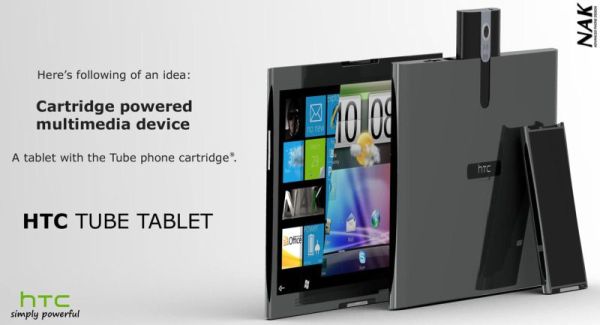 Antoine Brieux has come up with the new HTC Tube Tablet, with a host of new and improved features. The HTC Tube Tablet has a thickness of 10 mm and comes with an internal memory of 128 GB. It has the Android or Windows Phone 7 as the Operating System both of which come alive by HTC Sense, which acts as the interface.
It has a 10.4 inch screen with a Super Amoled Display. The screen is a multi-touch one that is capable of full HD Resolution. The device is powered by a 6400 mAh unit battery. The HTC tube Tablet also comes with a Qualcomm Adreno GPU ( Graphics Processing Unit) and you can enjoy the benefits of superior quality stereo speakers that accompany the Tube Tablet.
The new HTC Tube Tablet also lets you connect your HTC Tube smart-phone. The Unique feature of the gadget is that it enables users to upgrade features using a Tube Cartridge. Theis particular Cartridge can be swapped between the Smart Phone and the Tablet for transferring and sharing data as well as processing power. The Tablet also comes equipped with a USB Host, a HDMI (High Definition Multimedia Interface) Port and Secure Digital Card. The HTC Tube Tablet almost fulfills every item on your wish-list !
Via : Concept-phones