Man has always been enchanted with the construction of huge structures with architectural brilliance throughout history even before the onset of proper engineering skills. Today, this craze has led way to the construction of skyscrapers – vertical societies or ecosystems for commercial and/or residential purposes. We are already familiar with the use of wood in making houses and small structures, but how could we implement it in making high-rise buildings, which are getting ever-popular today in most urban cities.
Wooden construction in tall structures in the past
The age of timber is revisiting us today after it was popular with the Buddhist monks who erected the 67-meter Sakyamuni Pagoda, China in 1056 and the 32-meter pagoda in the Learning Temple at Ikargua, Japan in the 14th century.  These structures are testament by themselves for the durability of wood. Wooden structures are known to withstand natural calamities too. However, it lost its popularity as we had poor technology to suppress fire then.
Wooden Innovation and Design Center, Canada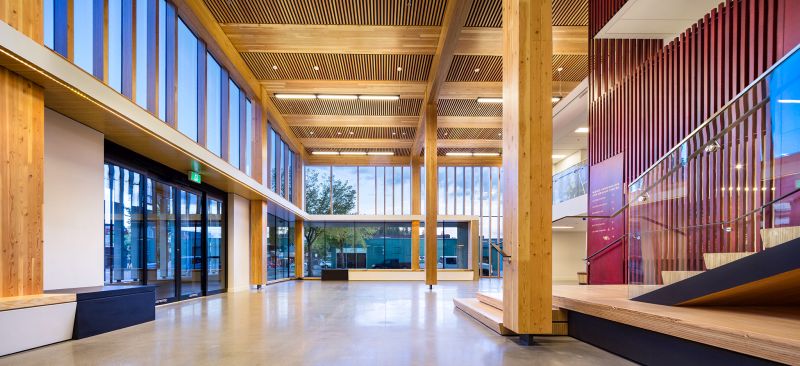 Image Source : mg-architecture.ca
In 2014, the Wooden Innovation and Design Center in Canada became the first all wooden tall structure in our recent world. It measures to a height of 30 meters and has eight stories. This structure became an inspiration for the many wooden structures that came after it.
Other modern tall wooden buildings
There is a huge uprising of wooden structures on the way in different parts of the globe today. Tower block, Treet Norway– set a record for its height in 2015 by standing tall at 52.8 meters. However, the record just lasted for a few months until, September 2016 when a student dormitory at University of British Columbia beat it by 0.2 meters. This year the Austrian building from Vienna, Ho-Ho tower is all set to win, standing tall at 84meters.
The River Beech Tower, Chicago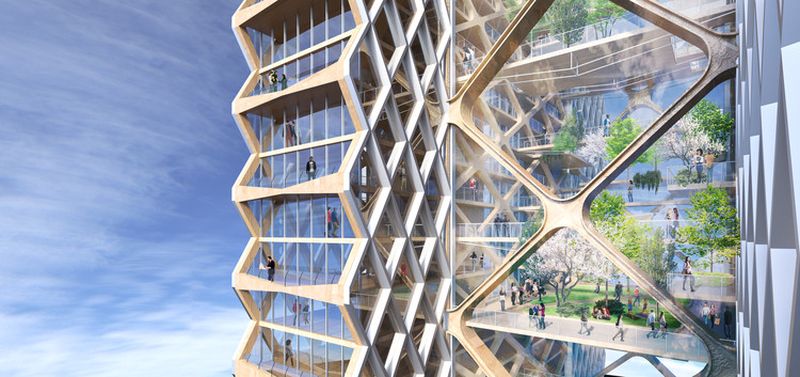 Image Source : images.adsttc.com
Chicago is considered the birthplace of skyscrapers — so, it was only appropriate when architects from Perkins + Will, engineers at Thornton Thomasetti and researchers from Cambridge University decided to come together to ruminate the possibility of a high-rise with 80 floors made entirely of wood.  The experiment on the banks of Chicago River, for the skyscraper — River Beech Tower, may never materialize though. The team is trying to learn the possibility for a major material change in construction from steel, iron and concrete to timber. The project will serve as a blueprint for all future wooden skyscrapers.
Advantages of wooden skyscrapers
Tall towers that need to support their own weight can take advantage of the strength and light weightiness of timber, if it replaces the traditional building materials.
Timber is not stiff like steel and concrete and would give longer life span to the structure.
If proved to successfully replace concrete and steel, timber skyscrapers could be a viable solution to fight the rising issue of global warming.
In the long-term, the greenhouse gases emitted by a wooden skyscraper will be considerably modest compared to a concrete high-rise.
The slowdown in the wood construction industry can be reversed by the onset of constructing wooden buildings.
Opposed to the traditional skyscrapers made of steel and concrete, a wooden skyscraper would have improved qualities of earthquake resistance. Already US National Science Foundation funded project – Tall Wood is researching in this arena and aims to test a 10-storey structure by 2020.
It is easier to replace wood connectors and structures after a building is struck by natural calamity as the steel may just warp off and cause irreparable damages to the structure even though it may be standing.
Challenges
Wood is susceptible to mould and water which could bring about considerable damage in the structure. Nevertheless, modern wood technologies are committed to solving any major problem that will cause hindrance to viability of wooden skyscrapers.
An unplanned forest management could lead to rapid deforestation, which could add to the adversity of the ongoing climate changes.