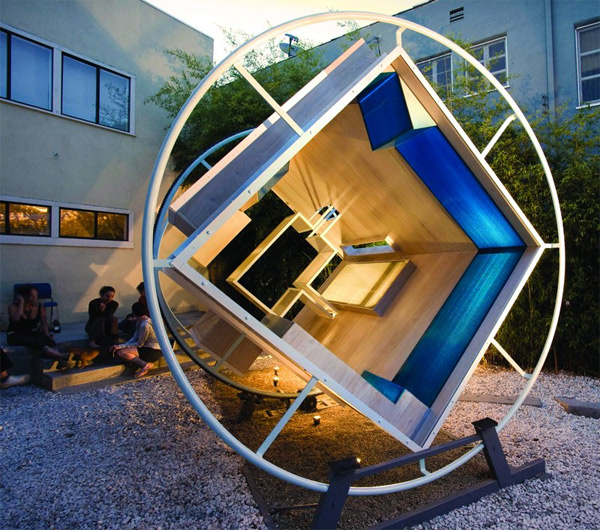 Do you want to experience zero-gravity, but the cost that comes tagged with it is beyond your reach? Or, how would it feel like if your house rotated on its own axis like the earth? Well, architects at Bureau Spectacular have designed an anti-gravity house to make your dreams turn into a reality. Normally all designs are based on gravity, but this Phalanstery Module works in an opposite manner.
The room has been created in a manner which will utilize every surface. It will convert all surfaces (walls, ceilings, etc.) into planes by the power of rotation. The anti-gravity room can complete a full rotation in one hour, just like a clock. This means, every 15 minutes, a different surface gets ready to be used in an appropriate manner when it becomes a plane. The idea will definitely make the orthographic plans outdated and spring some excitement coupled with utility. But, if you are inside the room, be prepared to see two people fall into each other every 7.5 minutes!
Overall, this module will be an experience in itself. It comes wedged with fun elements that will definitely attract a lot of attention. It is a great way to utilize space in a clever manner, but the practicality part (in terms of living in it) is still under scrutiny.
Via: Architizer