Wood, today, has found its usage in everything you can think of! Right from being used for making USB flash drives to building motorcycles and flashlights, wood itself has become a really cool material to create exciting objects. Listed below are five such wooden objects, which throw ample light on the creativity involved in making them.
Wooden Mouse
Handcrafted using Chinese flowering ash, the Wooden Mouse has an out-of-the-box design, which is exactly similar to the spots seen on the planet Jupiter. Measuring 60 x 60 x 55 mm in dimensions, the mouse weights around 92 grams including the cable. This unique computer mouse from Actbrise Electronics works exceptionally well as its cursor tends to move in directors and velocity depending on the tilt, which lies in your hand.
Wooden Flashlight
Jason Damon has crafted this eco-friendly flashlight. Made entirely from wood, the flashlight measures approx. 10 x 2 x 2 inches. Wondering about where the energy comes from? Well, the flashlight has some efficient LED bulbs and it runs on batteries. You can get this flashlight from AreaWare for about $75.
Wooden Vespa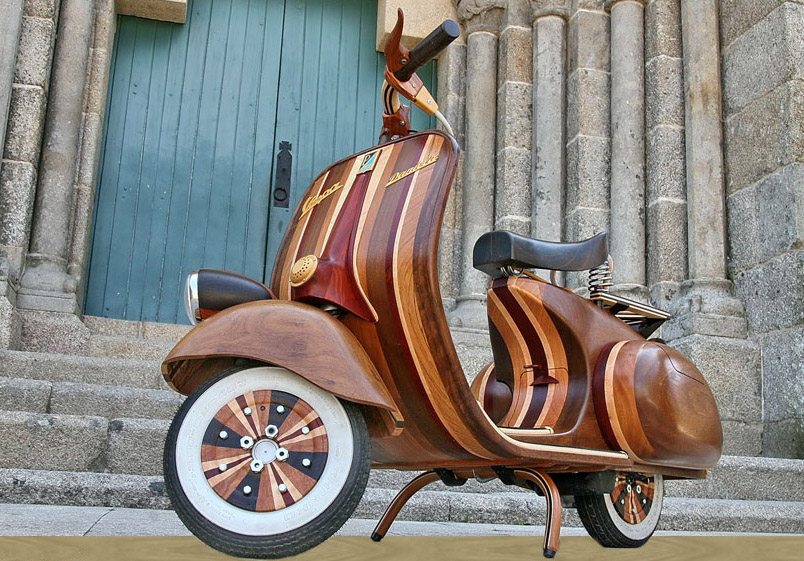 This piece of work is surely going to get more eyeballs rolling! Made by a Portuguese craftsman, Carlos Alberto, the Wooden Vespa has an incredible design and some really amazing curves. The main part of the scooter is made from plastic-coated veneers and steam bent. Its package tray and seat are also crafted from timber.
Wooden USB Flash Drive
Ever thought a flash drive could be crafted from wood? Well, then have a look at this wonderful USB flash drive that resembles a wooden clamp. Both men and women can also use it as a fashion accessory apart from storing crucial data.
Wooden Computer
Marlies Romberg has to be credited for coming up with a brilliant computer made from wood and brass. The young designer who loathes the idea of using plastics for building up computers has come up with his own computer. Including the mouse and monitor, everything has been crafted from wood. Moreover, more importantly, the keyboard has been engraved on the table. Fondly named as the Dear Diary 1.0 by its creator, the computer has support for both Windows as well as Mac including Linux too. In an era, where millions across the globe are joining the green bandwagon, this eco-friendly computer will definitely find scores of takers!