Music lovers are never satisfied with their music systems and speakers. They are always looking for ways in which they can enhance the quality of their favorite music. Nowadays, there are more than many music devices and accessories available in the market. To choose one at the place of others could be difficult. Furthermore, without paying attention to what they really want, people generally buy bulky music systems, which take ages to arrange. Moreover, unless they are wireless, once you arrange them, you can never take them out of the room they are in. Therefore, it is always a better option to buy something like amplifiers for your iPhone. Although these might not be as good as most of the sophisticated music systems, at least you can take them wherever you want.
Eight most amazing amplifiers for your iPhone
The music lovers who use iPhones look for the best amplifier for their mobile device so that they can listen to all the latest songs. Designers understand the requirements of their customers and they wed style with utility while making amplifiers. In the following, some of the most beautiful and unique amplifiers of the world have been listed.
1. Blown Glass iPhone Amplifier: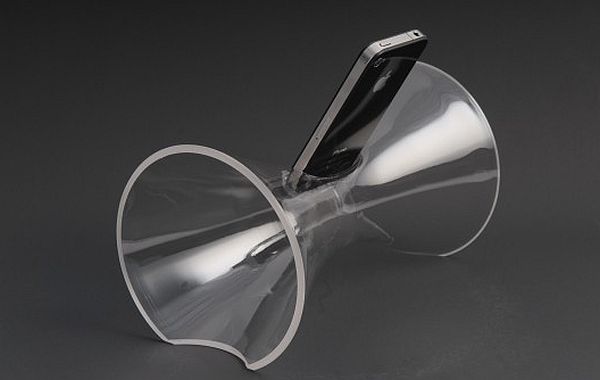 The My Phone Amp is a unique iPhone amplifier that increases the volume of your stored music. Designer Aric Snee has used blown glass to make this wonderful amplifier and iPhone stand. You can put the iPhone on the stand; adjust the angle as per your desire and view documents while listening to music.
2. Voice of CHINA: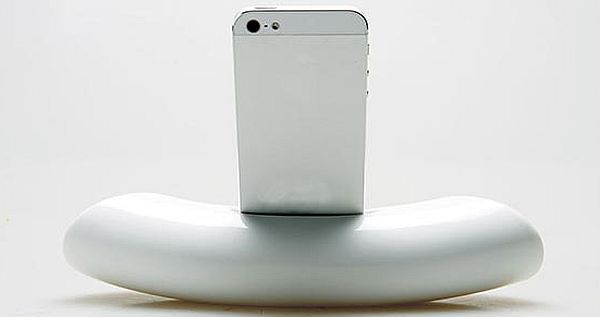 The Chinese are known for their love for all ceramic things. Voice of CHINA is a resonance speaker that improves the quality of sound of your iPhone music. The iPhone has to be placed in a specially created groove. The sound from the iPhone will get inside the resonance chamber through the groove. This device will improve the timber of the sound and double its acoustic intensity so that the listeners hear crisp, lovely music. The elegant design makes it perfect for your car, office desk or living room coffee table.
3. Bamboo iPhone Amplifier: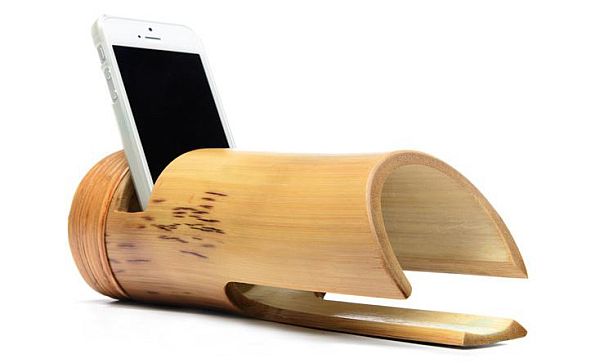 The designers of electronics have started becoming bolder and they are using some very unconventional materials for making different devices. The Bamboo iPhone Amplifier has been made by using 100% organic bamboo and it is very eco-friendly. The unique and beautiful design makes it look like a center table attraction.
4. iBamboo iPhone Passive Amplifier: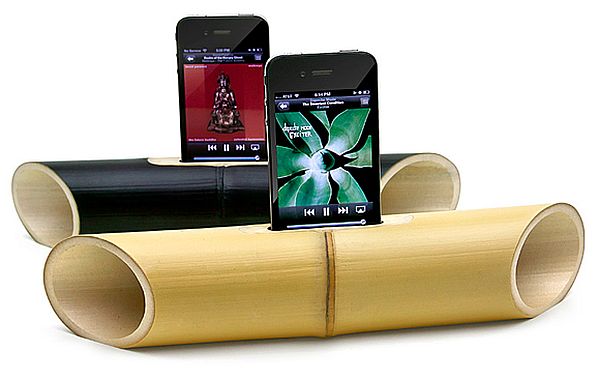 David Ponce has made a wonderful iBamboo iPhone Amplifier. To make the bamboo amplifier stand without any external help he used machine for flattening the surface. There is a hole in the middle for keeping the iPhone. It will cost you around $31.
5. Hexaphone iPhone Amplifier: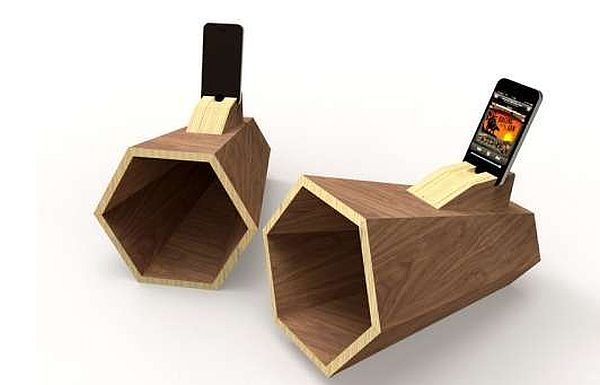 This iPhone amplifier looks like the hand held megaphones that the police use. It has been made using natural wood because natural materials enhance sound beautifully. The tone of the sound will become warmer and more pleasant. It does not have problematic wires or buttons.
6. Wooden iPhone/iPod docking station doubles and amplifier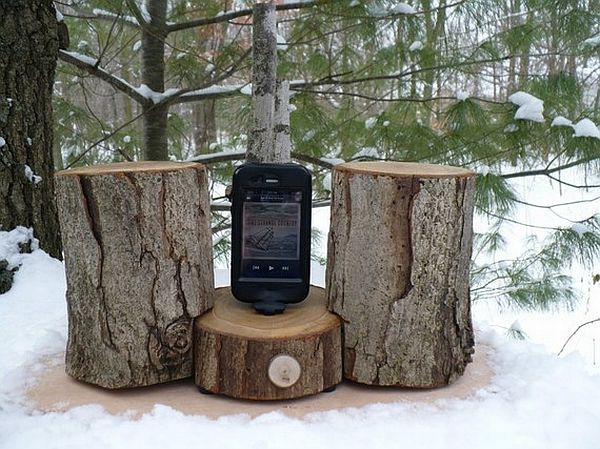 Ever wondered to what other use could your iPhone-iPod dock be put to? Apart from a charge/sync dock, it can act as an amplified speaker system too. There are three logs, each of which acts as a part of the system. There are two inconspicuous logs, which perfectly hide the speakers. This iPhone-iPod dock is made from a natural resource – a homegrown, organic log. It is eco-friendly since the log would otherwise, either rot or will be burnt as fuel.
The system, which includes two speakers and a central charge/sync dock, is placed in a piece of log, each about 5-6" in diameter. You can sync/charge the iPhone/iPod with a computer using a cable with USB port. The amplifier is placed in the center log, which produces a 15 watts output per channel. An impressive output can be obtained as 2" full range drivers are used in the speakers. Though the 7-1/2" high speakers aren't the high-quality, but they are sure to get you grooving.
The specially designed and hollowed out log produces a good pristine sound. The system is equipped with blue LED to signal if unit is turned on or off, along with ON/OFF-VOLUME knob. The lightweight system weighs around 8 lbs, which can be easily shelved. The docks would be customized in a minimum of 2 weeks.
7. iPhone-iPod speaker dock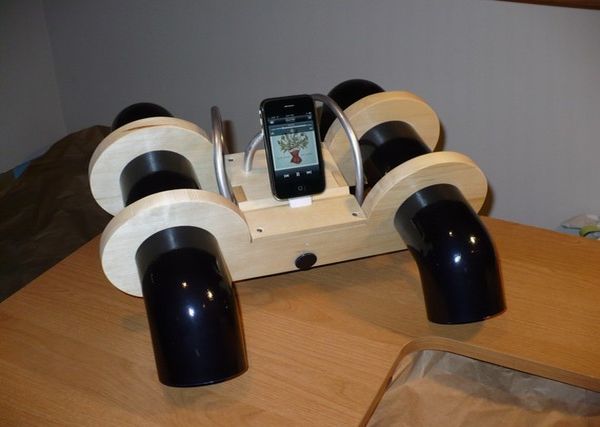 Love for iPhones and iPods has given birth to a lot of additional products that can be coupled with them. A handmade iPhone/iPod/iPad dock has been designed to make audiophiles jump with joy. It comes caked with the essence of delicate art and steampunk traits. A mix of modern with the ancient is what the dock's steampunk looks aim to achieve but whether the device actually looks steampunkish is something that you'll have to decide for yourself.
Apple products that have a 30 pin dock connector can be coupled with it for an enchanting experience. The graceful dock has been embedded with an amplifier that produces 15 watts per channel. It endows the user with a flexibility to charge gadgets as well. Simply, sync the desired device with the help of a USB cable and pump it with life.
The dock comes with attached speakers to make even dead tracks sound lively. The dainty gadget has been crafted from aspen wood, which has been swathed with a coating of polyurethane. The speaker pipes come dipped in a dark blue tone and automotive grade enamel. It comes fitted with a blue LED light to signal the on/off status of the device.
8. Horn Stand Amplifier
We all love our iPhone but it seldom plays music loud enough for an entire room. The Horn Stand Amplifier does just that. There have been many amplifiers in the past but nothing like this one. The horn stand amplifier is one such design, which will appeal to many, am sure. Designed and modeled to amplify the volume levels of the iPhone4 by 13 decibels, this amplifier adorns horns which look like the horn speakers used in the gramophone.
It is made from washable silicon, and you can rest this amplifier both in the vertical and horizontal positions. Since it is non-powered, you do not have to worry about the charge draining from your phone. It covers the home screen quite a bit but again comes with a button through which you can access the home button. It also has a hole with which you can access the iPhone's dock connector. This is a real smart device and is sure will find many takers. Well, why not order this as a Holiday gift? Am sure it will make a great one.
Summary:
iPhone amplifiers are now available in all shapes and styles. Designers are using natural materials and geometric shapes for making them more effective.