Keeping in mind the dearth of popular construction materials like concrete and steel, we need to find better alternatives. In addition to becoming scarce, these materials also have a drastic impact on the environment. Therefore, switching to recycled construction materials is a very good option. Not only these help in saving the environment, moreover, they might also help you save money. Cardboard is one such material. Apart from using it to make cardboard homes, people are also utilizing it extensively to make many other products as well. Let us check them out.
Cardboard homes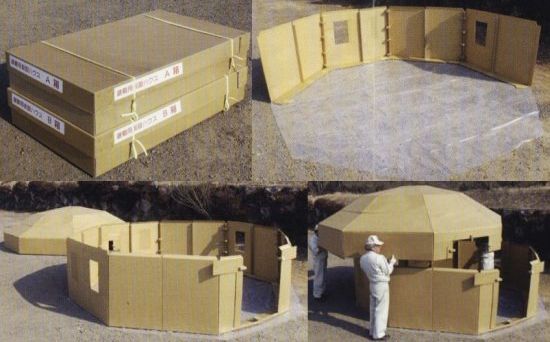 The Gifu Prefecture Regional Disaster Management Center has come up with a rather novel idea to make emergency shelters for earthquake and other disaster-prone sites a lot more livable after a big one strikes. The latest in their modern emergency shelters comprises of a cardboard box puzzle house called the Octagon. The short-term housing solution comes fully packed in two boxes weighing 41 kilograms each.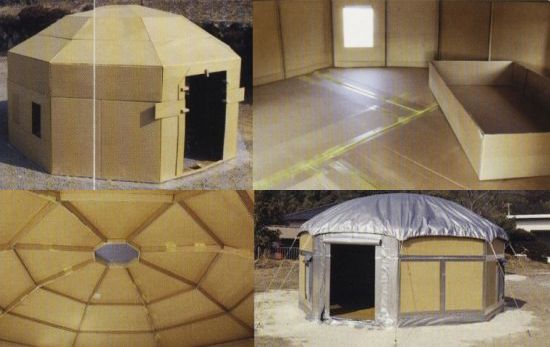 All you gotta do is take them to a flat, dry 6m x 6m area of your choice, open the boxes, assemble the pieces according to instructions, tape the roof together, cut out windows if you like, use the boxing to make a floor, cover the house in waterproof sheets, and in three house flat, you'll have yourself the swankiest emergency pad in the neighborhood!
At 150,000 yen it might be a little on the expensive side and considering how you can't really use it in heavy rainfall and strong winds is a bit of a bummer, but since it gives you a head space of 1.5m- 2.2m and lets you live-in comfortably with five other family members or friends for six months in great comfort, I dare say its kinda worth it!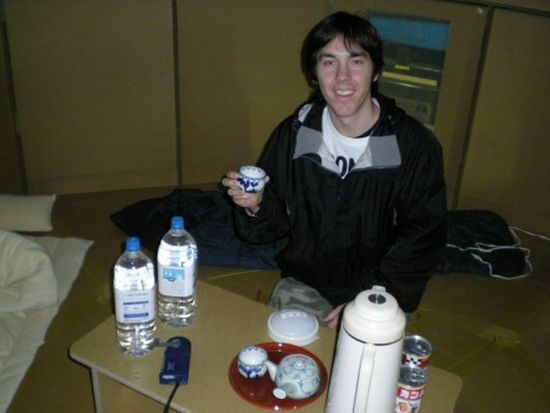 And the best part is, when you're ready to move into a real house, you can recycle the whole house. Sweet!
Long Countdown via Trendhunter
Some more ideas like Cardboard homes that utilize cardboard
1. Nothing agency Cardboard homes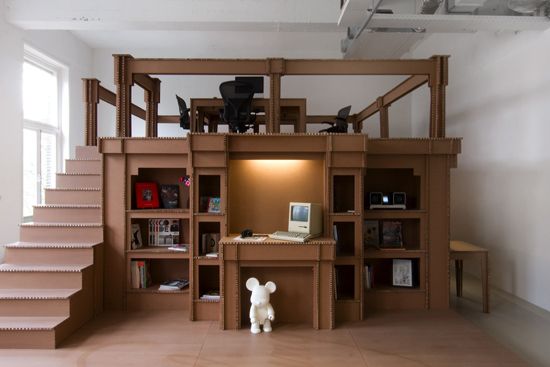 Head to Amsterdam and witness a construction that's quite a phenomenon. There, a commercial creative agency going by the name of "Nothing" has just taken shape. The brainchild of Michael Jansen and Bas Korsten, the Nothing office is a rare construction. It relies completely on cardboard for its construction. Designers Alrik Koudenburg and Joost van Bleiswijk are behind this unusual creation. Everything in the office – walls, beams, tables, shelving and even stairs – consist of cardboard.
The Nothing team was terribly fascinated with the idea of creating something out of nothing. In addition, this idea that's behind the company's name as well. The pictures attached to this bit prove just how much thought has been put into constructing the Nothing office. Spacious, classy and original, the Nothing office is marvelous, and in all probability, cheap as well. And don't read too much into those neat walls. In addition, the designers intend to double up the cardboard as an impromptu canvas for the visitors. A facility already been used by illustrator Fiodor Sumkin. Check out more pics after jump.
2. Cardboard wonderland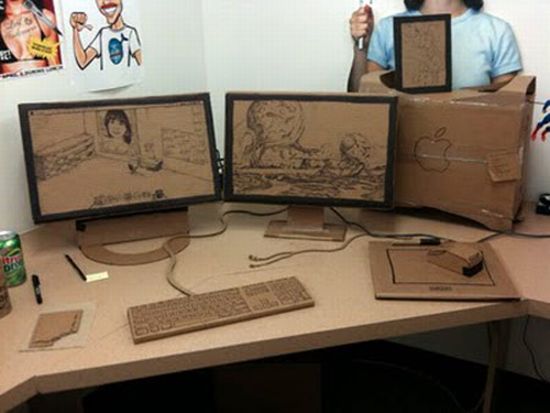 Leif wouldn't have imagined in his wildest of dreams that after returning from this vacation, his office colleagues would welcome him with a prank. Leif was in a state of shock to see his office in an entirely new look. Each object of the office was replaced with cardboard made items. Every thing from bookshelf, the bulletin boards, the computers, and even the chairs were not the same he had left. The food and cold drink cans were also not left untouched. Call it a prank or an art, Leif's colleagues deserve a round of applause for the commendable effort. Check out the video to see his reaction after seeing his office in a new look.
3. Cardboard McLaren M8B
Commissioned by motorsport enthusiast Bob Rubin, artist Chris Gilmour has come up with a full-scale McLaren M8B finished entirely in cardboard and hot glue to commemorate Denny Hulme's historic 1969 Can-Am victory. The cardboard replica of the M8, which is one of the most iconic cars from one of racing's most outrageous eras, features incredibly accurate exterior as well as interior made using only cardboard and glue. Just amazing! To quote former U.S. Treasurer Bob Rubin,
"This car, with Denny Hulme at the wheel, beat the Chaparral in what was probably the pinnacle of competition at [Bridgehampton], I commissioned… Chris Gilmour to make a 1:1 McLaren M8B out of recycled cardboard, using only the original plans from Trojan, found on the Internet, [and] an X-acto knife and a glue gun."
4. Cardboard bicycle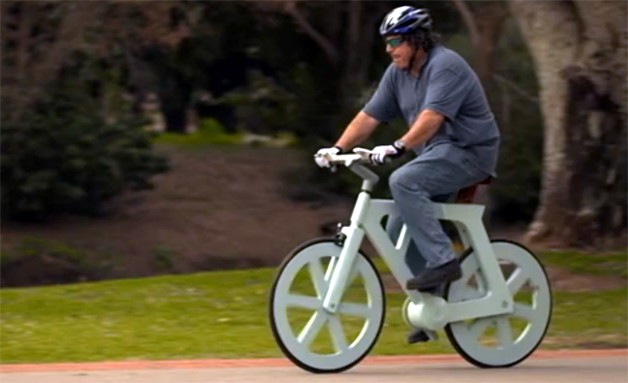 The developed and the developing cities have been witnessing a rise in the levels of pollution in the atmosphere with increasing motor vehicles. This has made the environmentalist and the governments of several countries to look out for ways to decrease the levels of pollution in order to save mankind from extinction.
One of the most safe and pollution-free mode of transportation is the bicycle. However, poor people in most countries are still not in a position to own them, due to the increasing cost of materials. This has prompted many researchers and inventors to think of a cheaper alternative to save the planet Earth from pollution and to construct a new prototype of transport that is cheaper on the pocket and also pollution free. He is confident of the fact that his invention of cardboard bicycle has the potentiality to change the transportation habits right from the poor African countries to the developing and the developed ones.
Izhar is sure that his invention has gone through several tests and after much error and trial method, it is now ready to hit the roads and be produced on a mass scale. It took him around four long years to experiment and make a bicycle out of cardboard that is strong and fit for all types of roads. Furthermore, the main challenge that he faced was to design the cardboard in such a manner to construct a bicycle and after several tests and failures, he got it perfect. Moreover, for testing its durability, the Israeli inventor had the bicycle immersed for some months in a water tank.
5. Environmentally Sound recyclable cardboard radio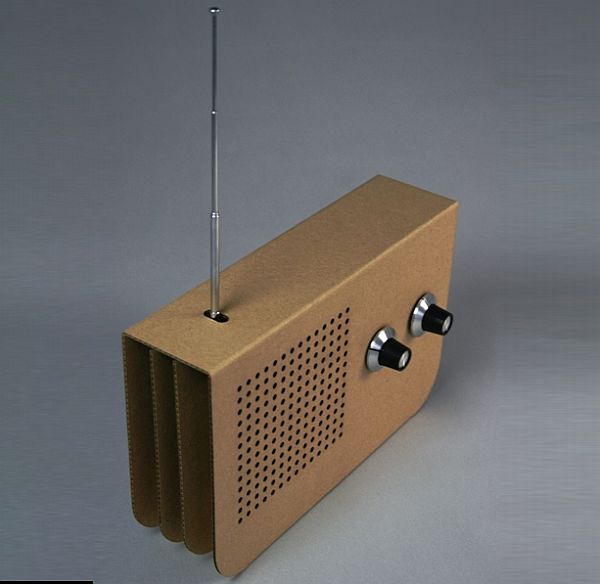 In an era of eco-products, here arrives an extraordinary and unique radio named Environmentally Sound designed by Chris McNicholl. People fond of collecting exceptional items will definitely find this product a good buy. The beauty of this radio lies in its simplicity. The radio reflects the designs of the 1960s; its simple look and cardboard structure also gives it an organic quality.
The thought put in making this radio is sure to leave each of us impressed. It has been designed by just assembling circuits inside the cardboard, which makes the product totally recyclable. Can you imagine a radio as simple as that? The best thing about this product is that no glue has been used!
The basic principle behind the design of this radio is to simplify user interaction. This is possible because the product is supposed to be assembled by the user himself. The radio is available in a flat-pack form and the user can assemble it all by himself.
6. Cardboard Clock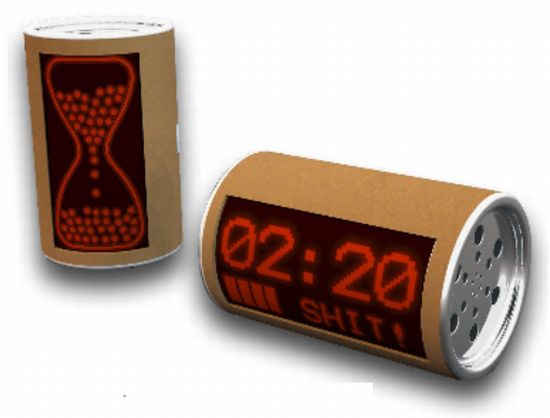 We have seen some of the most unique cardboard objects in the past, but the new "Cardboard Clock" by LA-based designer Ryan Boynton is an innovative timepiece that helps in reducing the electronic waste, other than performing the basic functions of a table clock. Featuring the cardboard body, as suggested by its name, the clock integrates a knob that the user can adjust to control different functions of the clock. As soon as the alarm goes off, user can tip it vertically to switch onto the hourglass or sleep mode that varies depending on what it's being set for.