Fossil fuels are doomed to become a thing of the past. Electric motorbikes would be ruling our future. Therefore, if you are looking to buy one, make your choice accordingly. However, some people are of the opinion that opting to buy an electric bike means you are automatically letting go of the heavy, masculine and metallic bikes. If you too are of the same opinion, then maybe it is the time to let go of that opinion. Electric motorbikes like Tryton MM2 are changing the game. Apart from being eco-friendly, they are offering innovative designs that compete with the best in the business.
Tryton MM2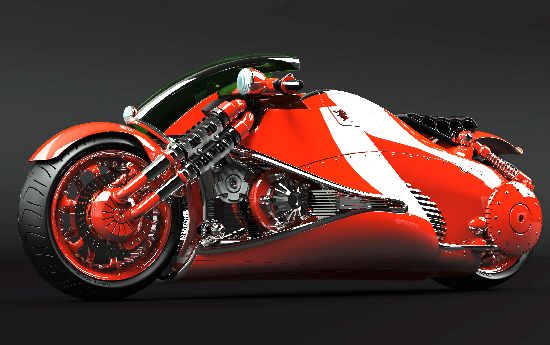 Combining the romance and elegance of classic motorcycles with the performance of modern-day bikes, Boston-based designer Vil Tsimenzin has created a motorbike concept dubbed the "Tryton MM2" that runs on electric batteries to provide a sustainable ride but in style. Featuring the body finished in carbon fiber re-enforced by thermoplastic body panels, the electric motorbike provides a range of about 132 miles on a single charge, while the onboard battery pack can be charged through a conventional 110V outlet in about two and a half hours. Weighing about 215lbs, this is one of the rare zero-emission motorcycles. Furthermore, it can also reach the top speed of 160 mph and reach from zero to 100 mph in 4.4 seconds only.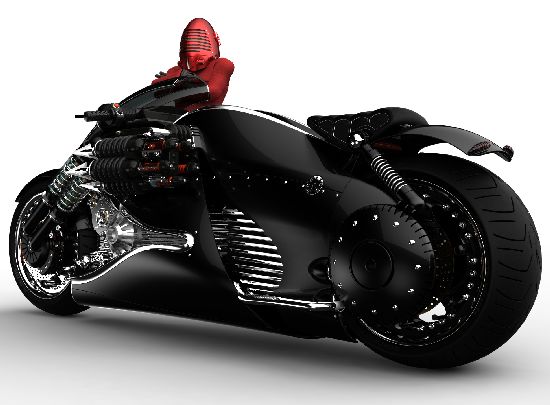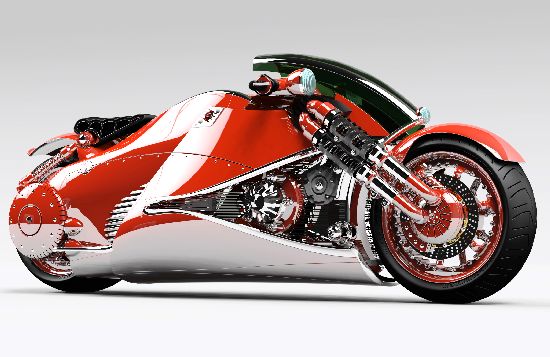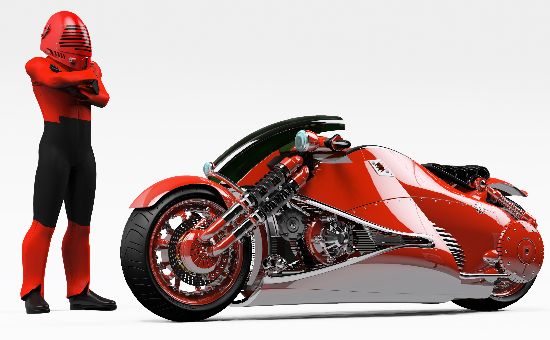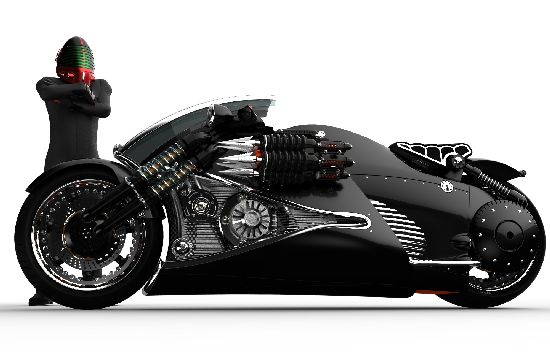 [Thanks Vil]
Some more electric motorbikes like Tryton MM2
1. Eboard Tracker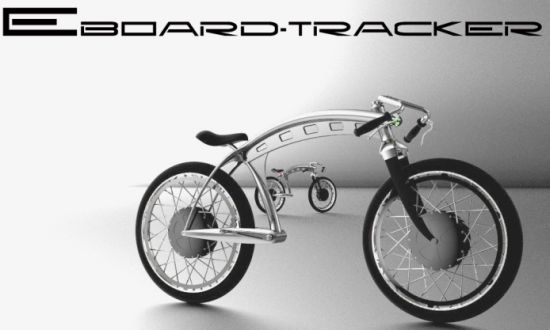 Deriving inspiration from vintage motorcycles, Vicente Jean-Francois brings to you a compact and lightweight electric motorcycle. Dubbed the Eboard Tracker, this e-motorcycle concept features a hub-motor with regenerative braking at rear and a hub battery at front. The frame design gives it the flowing lines and simplicity. Other features include neutral steering, efficient brakes, fat soft compound tires, and an LED lighting system. In case your battery runs out of juice, the pedals with six-speed transmission will allow you to make it to your home without having to push it. Eboard Tracker offers the perfect green, futuristic ride on a historic motorcycle.
2. Zero Moto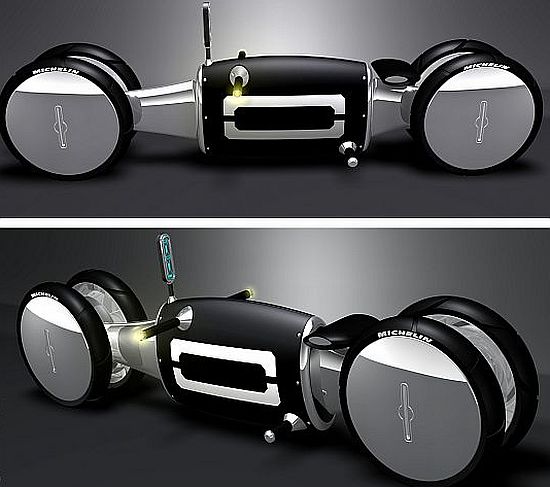 Drawing inspiration from Art Deco Steam Locomotives, designer Wes Rhoad has developed a motorbike concept by the name "Zero Moto" that looks to build upon the electric motorcycles with better speed and operating range. Running on electric motors, located in the front and rear wheel-hub assemblies, to allow in-wheel drive, the futurist motorbike includes an all-wheel steering system for better controls. The front and rear wheels of the motorbike turn opposite to each other to decrease turning radius at normal speed, while on the other hand, the wheels turn in the same direction for quick lane changes at high speeds.
In addition, the electric motorcycle comes with an on-board CPU to monitor the real-time torque control. Reducing the load on batteries with LED headlight strip and turn signals, the Zero Moto also features an LED instrument touch panel to display speed, RPM battery life and so on. Offering an estimated top speed of about 90mph and an operating range of about 200 miles, the zero-emission motorcycle can reach from 0-60mph in just 3.9 seconds.
3. KTM's 'Freeride'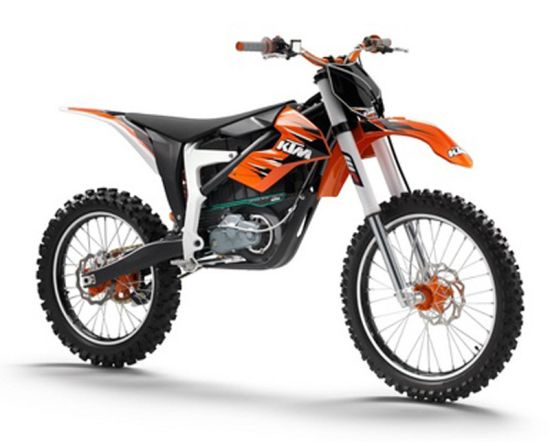 We have seen a number of electric motorbike concepts, but without expecting them to come into production. However, Austrian company KTM looks set for its electric motorbike dubbed "Freeride" to allow an electrifying ride. Presented in two versions, the supermoto for on road and endure for off-road excursions, the Freeride is based around a lightweight delta box frame with forged aluminum components. Replacing the engine with a compact 30 horsepower electric motor, capable of producing 43Nm of torque, to reach the top speed of 43 mph, the new KTM electric motorbike makes use of a rechargeable lithium-ion battery pack for supplying electricity to the motor. The Freeride just takes 1.5 hours to juice up fully, which is good enough for an hour of nonstop runtime.
4. Agility Saietta electric sports bike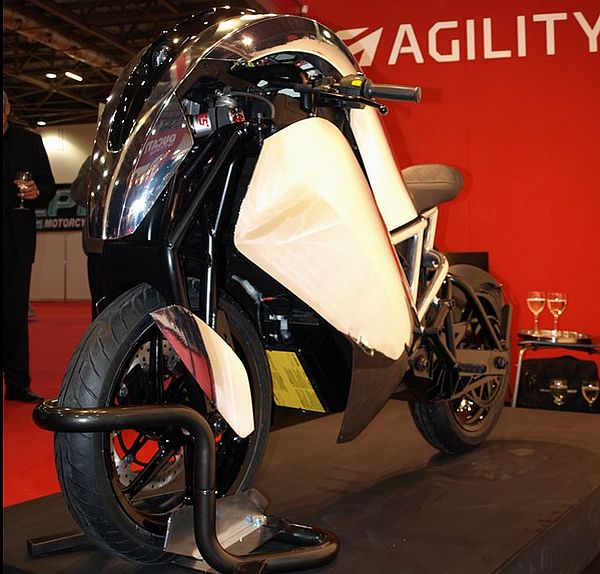 Whenever we think of an electric vehicle, our attention is diverted to electric cars like the Chevy Volt. Though electric bikes aren't new in the market, the Agility Global Saietta attracts people with its looks. A London-based startup by the name of Agility unveiled its first and only product, the Saietta electric sports bike, and was first seen in the motorcycle show in its hometown. The massive hump-like structure in the front makes the bike look extremely front-heavy, but it is actually a shell made of very light materials which channels air into the areas that need cooling.
There's an exposed double wishbone suspension system and the weight balance that deny our first impression of being a bulky, heavy bike. This is due to the whole roaring machine having an 83 percent throughput efficiency. In addition, it consists of the battery packs stashed in the center, just in front of a brushed DC motor with 90 percent efficiency. The overall power to weight ratio of the bike is 675hp per ton.
5. Kobra motorbike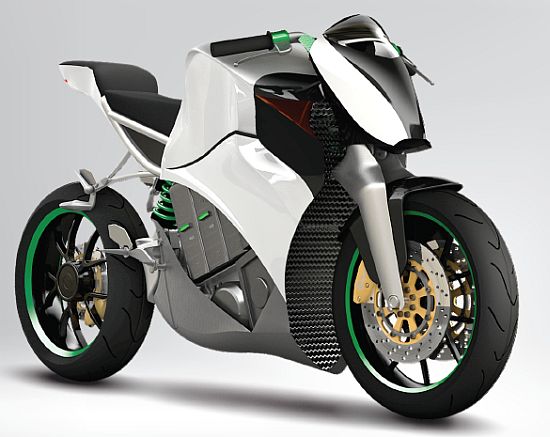 Conceived by Italian designer Cristiano Giuggioli, the "Kobra" is an electric motorbike that allows a smooth ride on both highways and inner-city roads. Featuring an ergonomic form, the sporty motorcycle generates power from an eclectic engine to reduce carbon emissions and make cities a better place to live in. In addition, backing the electric engine is an advanced robotic technology in the actuation field. Therefore, the motorbike adapts its body according to the height and weight of the rider. Moreover, the regenerative braking system recharges the onboard battery whenever the rider uses the break during the drive. I'm sure now you won't mind putting the foot on break too frequently.
6. PG-Bikes Blacktrail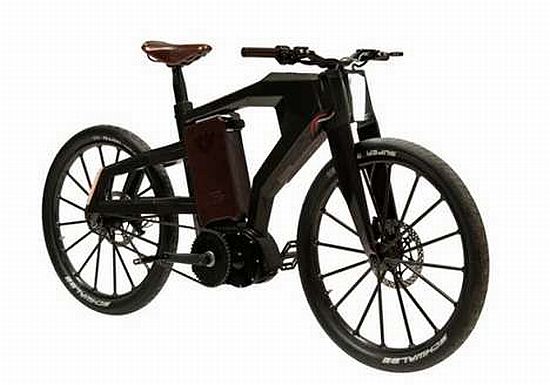 Electric bikes may provide a clean ride, but they have often been condemned for their slow speed, resulting in sluggish commutation. Created by German bicycle manufacturer PG Bikes, the "Blacktrail" is an electric bike with difference that provides a brisk and green.
Generating power from an electric engine backed by a CM 48V lithium-ion battery pack, the zero-emission bike can take you up to 100kph for about for 200km on a single charge of 150 minutes. Furthermore, claimed to be the fastest bike in the world, the Blacktrail is made in advanced materials such as carbon, magnesium and titanium to make it lightweight (19.8kg) and sturdy.
7. Colt electric bike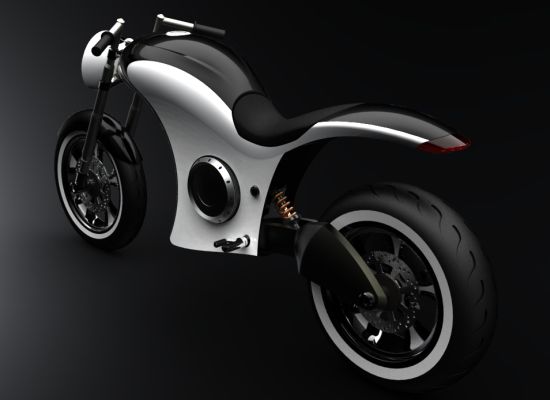 Intended for the year 2025, the "Colt" by designer Raymundo Burgueno is a bike concept that runs on an electric engine to provide a clean drive on city roads. Designed to look modern with a retro feel, the zero-emission bike features an automatic gear system and removes the manual clutch for a smooth ride. Presenting a clean, simple form, the city bike comes with a range of 150 miles on a single charge. Though the bike takes a bit more time for recharging than filling up a gas tank, but there is nothing like a sustainable ride that reducing your carbon footprint just makes up for the extra time.