Being a modern parent, there's nothing more important for you than your baby's safety. Gone are those days when you could let your baby play in the open. Nowadays, it is quite different. No matter whether it is the concrete pavement or the metal railings, the threats to your baby are countless. Therefore, to tackle them all, it is necessary that you wrap up your baby in comfort and safety, whenever you take her out. This makes the role of baby carriage more important than ever. Before buying one, however, you should consider several details like fabric and mobility, etc. Therefore, for your reference, here is step by step stroller and 9 other baby strollers that would definitely serve this purpose.
Step By Step stroller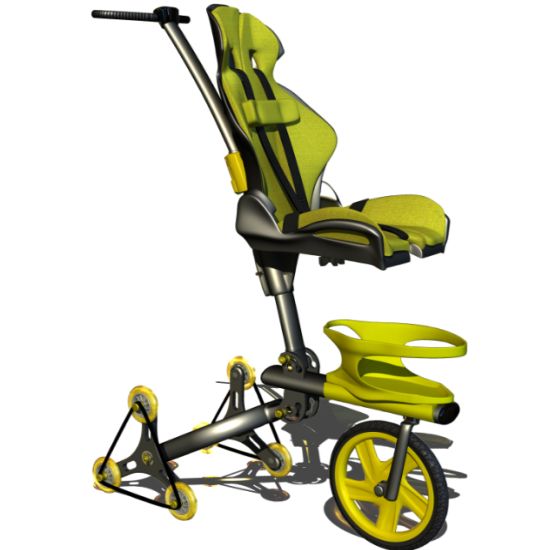 Strollers may be a safe and easy means to move your baby on flat surfaces, but the situation becomes a bit dangerous when parents have to move upstairs, or downstairs for that matter, with their baby in one hand and the stroller on the other. Addressing the issue, Mexican designer Arturo Arino has come up with a unique stroller named the "Step By Step" that moves on the stairs as smoothly and swiftly as it moves on the flat surface. One of a kind, the radical stroller features a system of tripod, which makes it easy to pull against holes or bumps in the street, while the big tire up front clears all the obstacles with ease. Therefore, the Step By Step stroller is not only safe and comfortable for both babies and parents, but it also presents a fashionable design to keep them up with modern trends.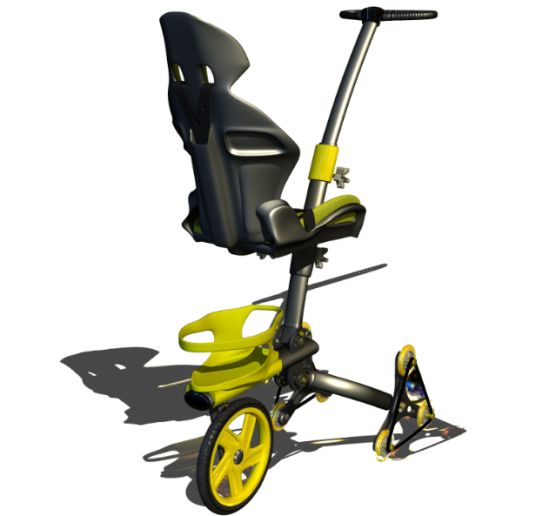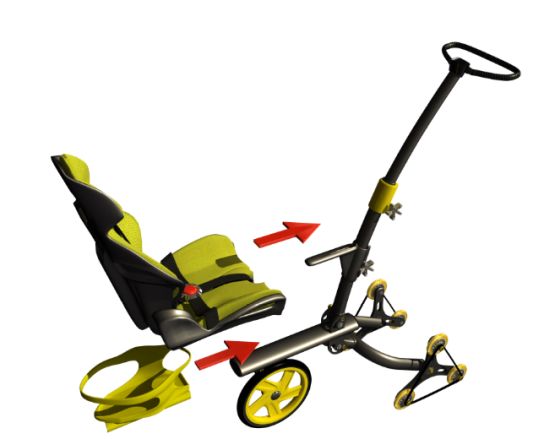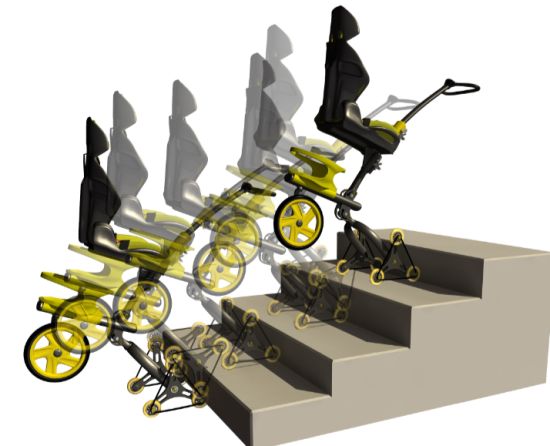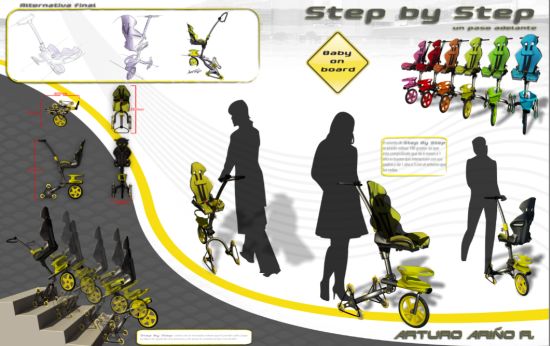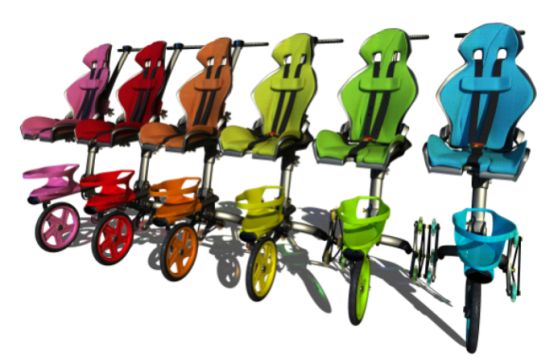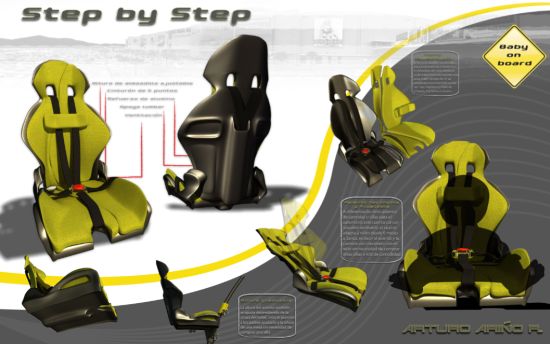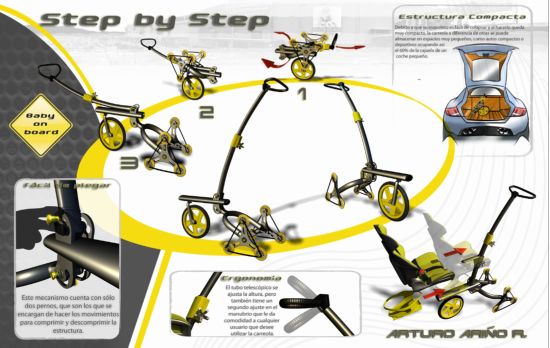 Some more stroller ideas like Step By Step stroller
1. QuickSmart Back Pack Stroller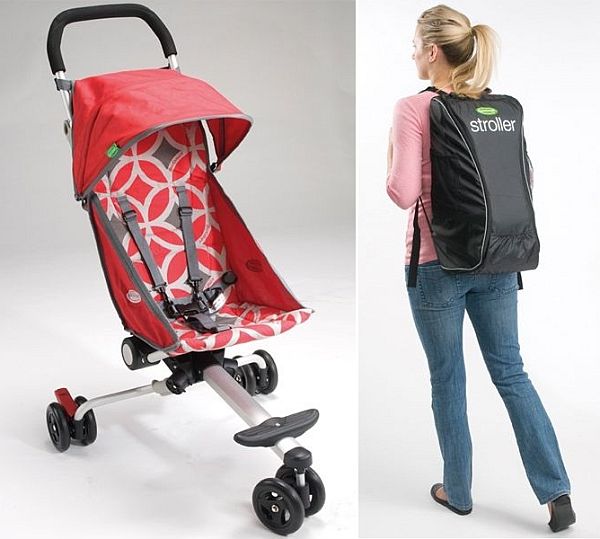 The stroller is a blessing for those who have small kids. But, when it has to be carried around while traveling, the same blessing can turn into a nightmare. Keeping this major drawback in mind, a lightweight baby carriage, named QuickSmart Back Pack Stroller, has been designed by Funtastic Ltd.
The design has been conceived keeping in mind parents who travel a lot with their kids. When not in use, it can be folded using four simple steps and put around the shoulders like a back pack. It weighs just 3.9 kgs and can be carried in an airplane as well. Normally, parents have to carry their child when traveling, which can lead to a lot of trouble, but not anymore. The sturdy design has been made using aluminum alloy and durable plastic, which ensures absolute protection. It is quite comfortable and can be maneuvered with ease.
It has been designed with a minimalistic approach, which in turn has minimized material wastage as well. When folded, the stroller measures just 53cmX33cmX23cm giving it a compressed feel. It adheres to all the Australian Standards and can be squeezed in tight places because of its size. The wheels can be replaced with new ones when damaged and won't cost much.
So, if you are thinking of buying a stroller, then this compact, lightweight and easy to carry QuickSmart Back Pack Stroller is the best option. Collapse or spread it in a matter of seconds and make it bow down to all your travel commands.
2. Segway-based 'O' pram/stroller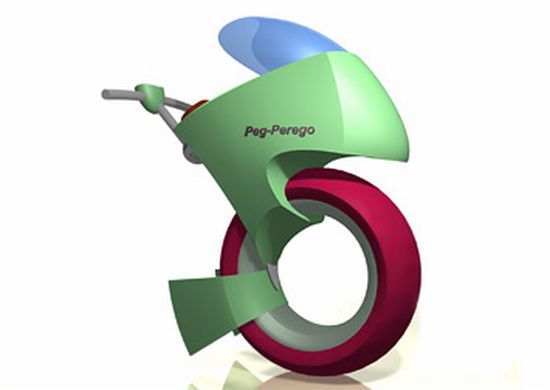 Every object is getting hi-tech in this modern era. Therefore, it's not fitting that only adults have all the fun. Bringing technology to babies, designer Meni Keenan has proposed a unique baby stroller. Dubbed the 'O', this pram places seat above the hubless wheel to ensure a safe and comfortable ride. Based on the Segway Personal Transporter, the futuristic pram touts a gyroscopic mechanism to keep the stroller balanced at all times. Easy to control, the O pram/stroller just needs a gentle push to move it in a particular direction, allowing an effortless trip.
3. The Roddler
The recent ABC Kids Expo at Las Vegas witnessed a new revolution with the introduction of a new type of stroller – the Roddler. The innovative concept and high-end craftsmanship of this unique stroller is admirable by all standards.
The Roddler is a patent-pending design from Kid Kustoms. It takes the strolling experience to a new level and gives a whole new meaning to baby strollers.
The Roddler uses state-of-the-art technology in each of its manufacturing processes. Aircraft-inspired metal composites are used in the making of the collapsible, lightweight monocoque chassis.
The paint job and accessories used are the best in the industry.
4. Baby-Going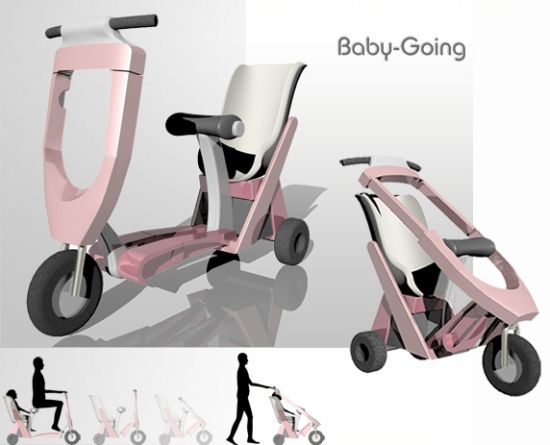 Visiting the marketplace with young kids for everyday shopping often become tiresome, for you have to push the stroller while you shop, together with carrying your purchases all the way back to your car. Offering a way out for parents carrying babies, designer Lotta Tu has come up with an electric scooter that doubles as a stroller for your babies. Dubbed "Baby-Going," the scooter cum stroller is an ideal vehicle for short distance traveling. With Baby-Going, now you may move your young kids with you to the marketplace without worrying about parking for your scooter.
5. Retro Baby Carriage: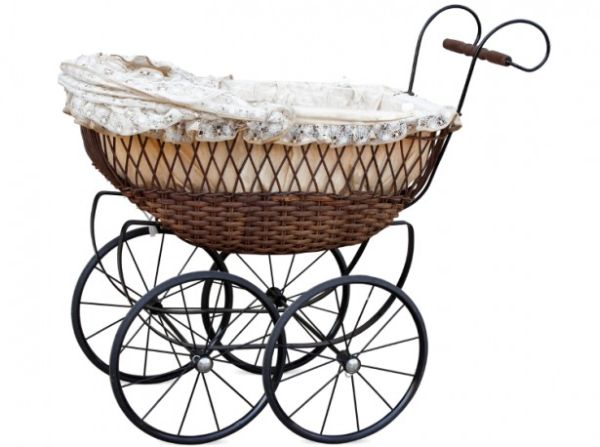 If you have a special liking for retro things, this Italian baby carriage will be a perfect choice for you. Designed by Giordani Bambino, the amazing baby carriage has a 1950 based look and is very good to protect your baby from people unnecessarily disturbing him, especially if you are a celebrity.
6. Bike Baby Carriage: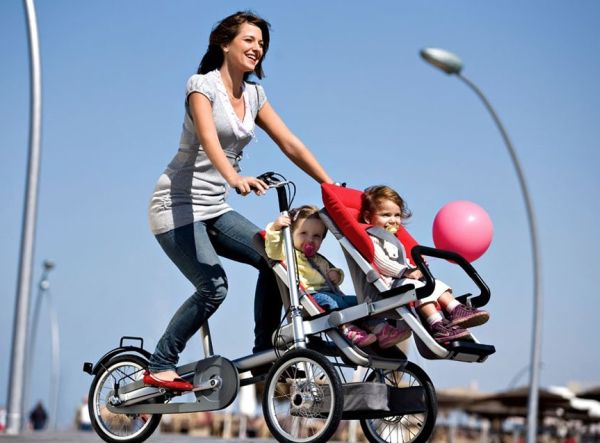 This is a fabulously designed carriage as it allows you to carry your baby in the most stylish way while you can also have a ride around the town at the same time. The bike carrier makes it easy to bring the goods from the market and can bear up to 80 kg of weight.
7. The Monster Baby Carriage: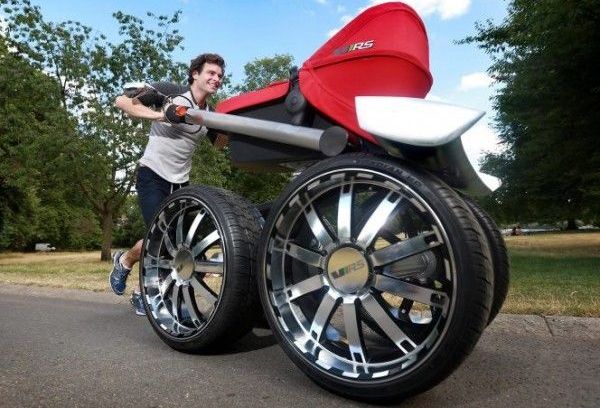 This baby carriage is the invention of Elmer Presslee and is an icon of monstrosity carved with acute attention. The baby's sitting position is such that it sits upon the Cyclops making its eye popping out. You can explore Elmer Presslee's website if you are in search of more such nightmare creations.
8. Samsonite's Traveler Baby Carriage: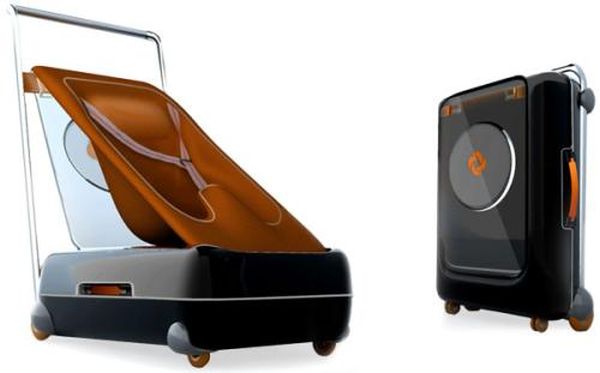 This is a travel suitcase combined with baby carriage. This stroller was primarily designed for a competition based on the theme of travelling along with children and toddlers and without doubt, it won the competition. Stroller is a smart looking suitcase that can be easily converted to a foldaway baby stroller. You can manage your luggage effectively. At the same time, it can help you carry your baby comfortably with the help of this unique baby carriage.
9. Eco-friendly Baby Carriage: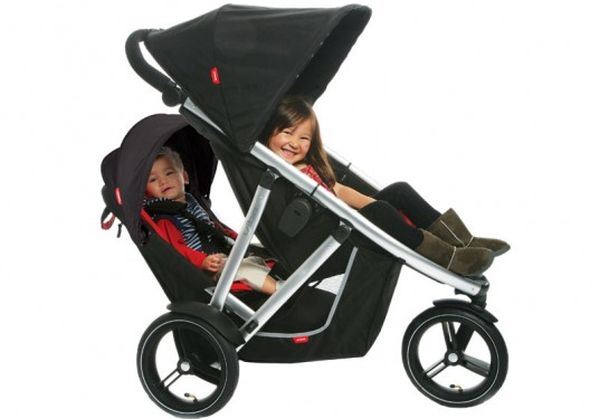 The concept of environment-friendly is becoming popular. Therefore, the concept has not remained confined to adults but has also reached the child level. Even there's a range of eco-friendly baby strollers out there. For example, this amazing baby stroller by a Japanese student is completely made of eco-friendly materials. In addition, it uses solar energy as its power supply that might be used to run baby toys.