No matter how uniform they might look now, it took thousands of years for our house designs to evolve to the present form. Nothing makes this more evident than seeing some extremely innovative house. These make us realize the truth. That is our house designs are still in constant flux. They are still constantly searching for an ideal form. Put in the need for sustainable, movable and affordable houses in the mix, and the situation becomes more uncertain than ever. However, to satisfy this very creative need, artists from all around the world are coming up with experimental housing ideas like Roll it.
Roll It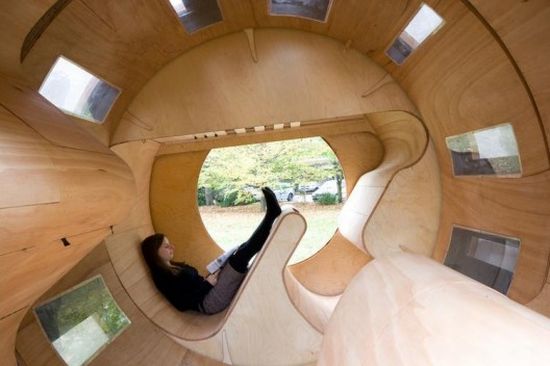 A joint venture of different departments of the University of Karlsruhe, the "Roll it" is an experimental house that offers modular space inside a minimal housing unit. Separating the house in three different sections, i.e. a bed and table, an exercise cylinder and a kitchen with a sink, the flexible unit presents an outer shell with the four support rings over a rigid inner shell, enveloped by a translucent membrane that also works as advertising space. While the running surface of the roll is maintained by attached thin wooden slats to the membrane.
Harnessing natural light and cooling through circular openings in the sidewalls, roll it features a series of 15 mm thick laminated OSB panels, which also covers the support rings, as inner cover to protect the residents from moisture and cold.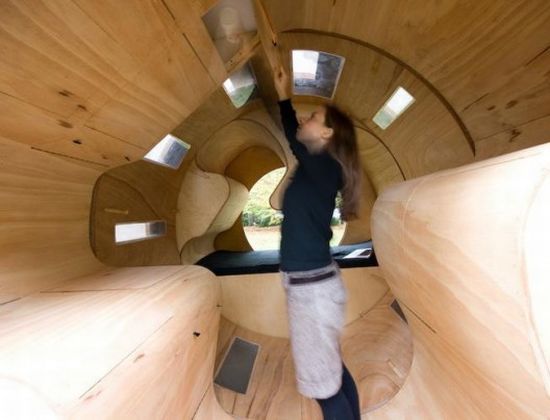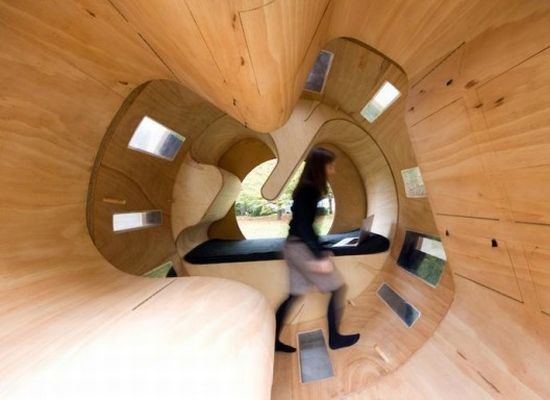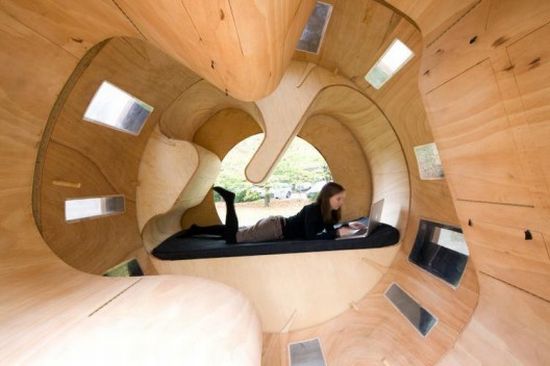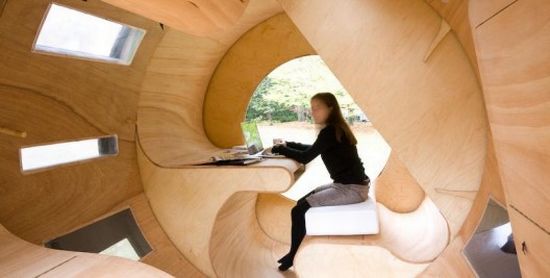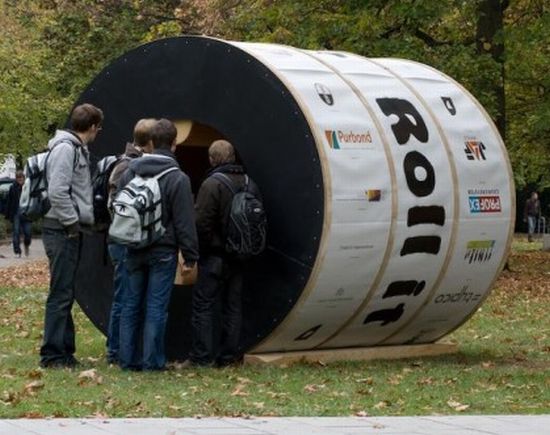 Some more experimental housing ideas like Roll it
1. Jenga-inspired Next Generation House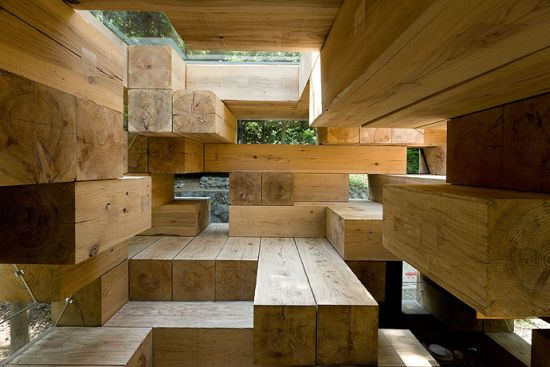 If you're looking for an eco-initiative, the Next Generation House certainly isn't it. Created by Sou Fujimoto Architects, the eccentric house draws upon the classic Japanese tower building game of Jenga and uses a whole lot of rectangular cut cedar logs in its structure. If the gross misuse of forest resources doesn't irk you enough, then the fact that the insides of the house offer only a 13'x13'x13′ cube space and that too in bits and pieces here and there will get your brains frying for sure.
Apart from offering tenants an unbelievably cramped and claustrophobic space, the house also demands that you use only the hard wooden surfaces for all furnishing purposes like seating, sleeping, eating and storage too!
Not sure how many people will actually want to spend a weekend in this high-on-eco-price ramshackle joint but the picturesque view of the River Kuma in Kumakura, Japan might just sway your mind about this atrophy.
2. Waterpod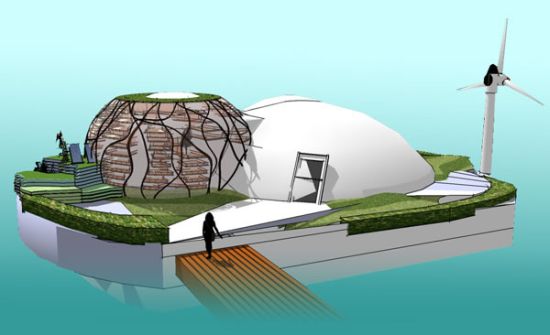 The fast pace in which world population is increasing and usable land is decreasing, we'll have to soon explore new limits of habitation to survive in the future. Searching for an alternative living model, a New York based team of artists has come up with an innovative design of floating habitat that will shelter human beings even in some of the most adverse conditions. Named as 'Waterpod,' the floating house is a triple-domed island that will fulfill all its energy requirements from natural sources. Finished with recycled wood, metal, plastic, fabric and other materials, the Waterpod will support alternative energy and vertical agriculture irrigated by the purified water from the Hudson River. The structure will measure about 80 x 25 feet and will function as a single or separate unit.
The Waterpod will not just be an architectural marvel but it'll also offer a safe and sustainable living for the inhabitants. The floating house will employ a hybrid solar/ wind system, powering all the on-board equipments, for its energy requirements.
3. Thinnest house in the world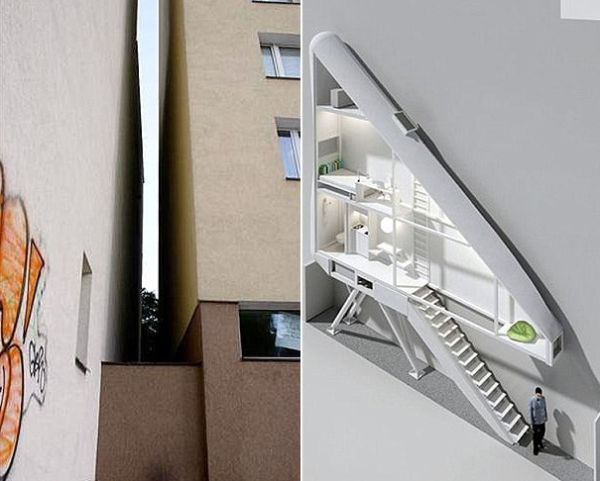 You might have heard about the tower block in Warsaw and the old tenement block back in Poland, but you might not be aware of the fact that the narrow alley amid these two buildings will be the site where the world's thinnest house will stand. Yes, you heard it right that the house will be the thinnest ever building built in this world.
The house has become a matter of interest for many people now. If you think that this will be small affair, then you are wrong as it is a four-story building with a lounge, bedroom, kitchen and a bathroom, and all that you need to live a comfortable life. This house will stretch back up to 40 ft approximately and will be only 60 inches wide. However, in place of a normal traditional staircase, people will have to move up to another floor with the help of ladders. Well, this feature makes the house even more intriguing.
Anyone who will occupy this thinnest house for the first time will have an experience of a lifetime. Earlier Norman Davies, a British historian, was going to be the first person to stay in the thinnest house of the world, but as he turned down the offer, Etgar Keret, an Israeli writer got this opportunity.
4. Walking House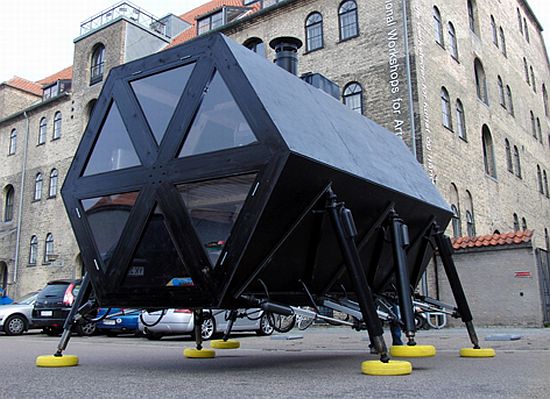 Nomadic life in the lap of nature may look alluring from a distance, but it is perhaps the toughest existence for human beings. Nomads roam around confronting the furies of nature and climate, to earn their lively hood. However, imagine a nomadic life amidst lavish towns and metropolitan cities. Of course, it may sound one of the craziest ideas, but 'Walking House', which is a modular home, allows people to live a secluded nomadic life amidst the hustle and bustle of crowded cities. Moving slowly but steadily at 60 meters/hour speed, residents can enjoy the peaceful nomadic existence, evading the sub-prime crisis of metropolitan life. Inspired by the 18th century wandering European Romaní carriages, the nomadic house fulfills all basic needs and that too without troubling the surroundings.
Just like roll it, walking House is a ready dwelling that is available in the market. It comes in a basic 3.5 x 3.5 x 3.72 HWL dimension, which can be altered according to the needs of the dwellers.
Walking House is designed to keep moving, fulfilling its energy needs, like charging gadgets and running electronic products, through solar and wind power. It makes use of rainwater and a solar-powered water heating system, supporting sustainable or eco-friendly lifestyle. The walking house is so flexible that you need not adapt yourself according to the house; rather it adapts itself to fulfill the needs of the residents. Walking House is a specific project, initiated by Wysing Arts Center, Cambridgeshire.
5. Experimental Summer Home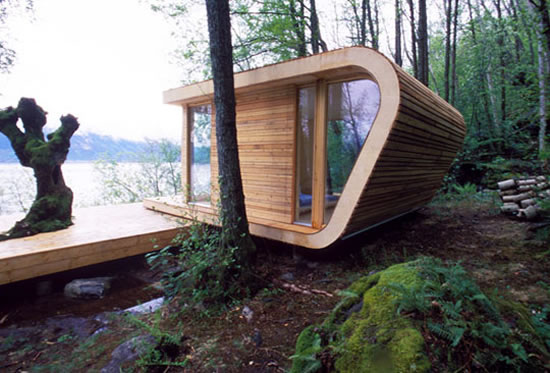 Fresh graduates and inexperienced beginners always face this loop where the job industry asks for experience and till you don't get employed how do freshers get to experience!
After completing their studies, architects Todd Saunders and Tommie Wilhelmsen decided to skip the loop and venture into the big bad world on their own steam. Their project, the Summer Home at Hardanger, displays their talents and showcases their potential as budding architects. Besides the actual structure, what really makes them worthy of praise is the clever designing of the boardwalk. In spite of the trees in the path, the duo included them into the track, creating a harmony between man and nature.
This is what true designing is, leaving natural surroundings intact while offering the ultimate in luxury. Overlooking a fjord in Hardanger, Norway, the Summer House is an architectural splendor that takes inspiration from the beauty that surrounds the abode. A simple installation that captures the mood of the landscape, this house offers a relaxed atmosphere to the residents. After all, summer homes are meant for the alternate life, where one breaks free from the shackles of daily routine.