Whenever someone is not well, mobility might be one of the first things that suffer. No matter whether it is a permanent mobility issue or temporary, it affects your life drastically. It makes you miss out on life. However, with modern mobility aids like potential energy walker and other mobility aids in this article, it won't be much of an issue. These not only assist you in walking but thanks to their portable designs and multifunctionality they are never a burden. In fact, with their help, anyone with moderate mobility issues can get the benefits of public transportation. These would significantly help the disabled in coming at-par with those who are not.
Energy Walker
The Potential Energy Walker by Benjamin Carr is a mobility aid for people who require assistance to move in developed paths and streets. Suitable for both indoor and outdoor use, the walker by the German designer incorporates new materials to achieve a fold down design, enabling easy storage as well as transportation, as it easily slips in the boot space of an average vehicle. In addition, the users can adjust the walker to suit their height, covering a large range of people. Moving on hub-less wheels, the PE Walker apart from being functional also touts an ergonomic design. The mobility aid comes in a variety of shades, adding some color in the otherwise bleak life of the disabled.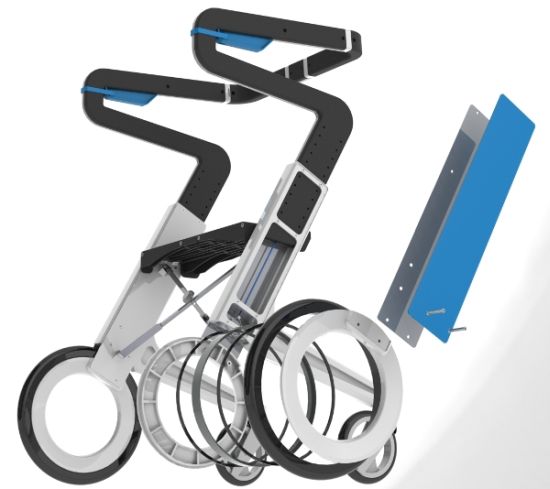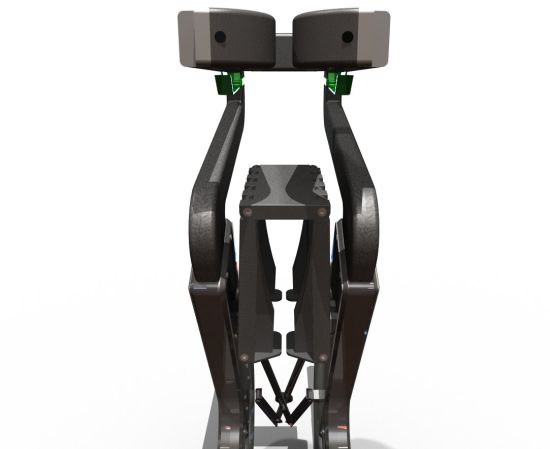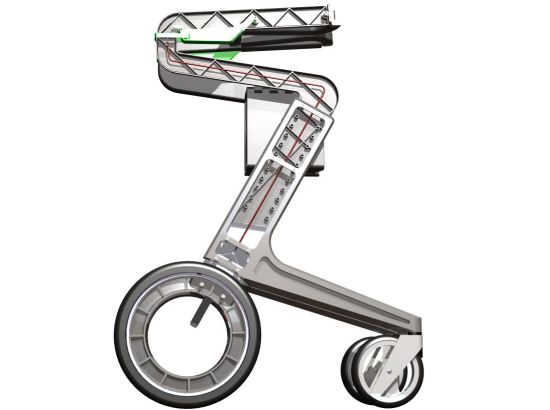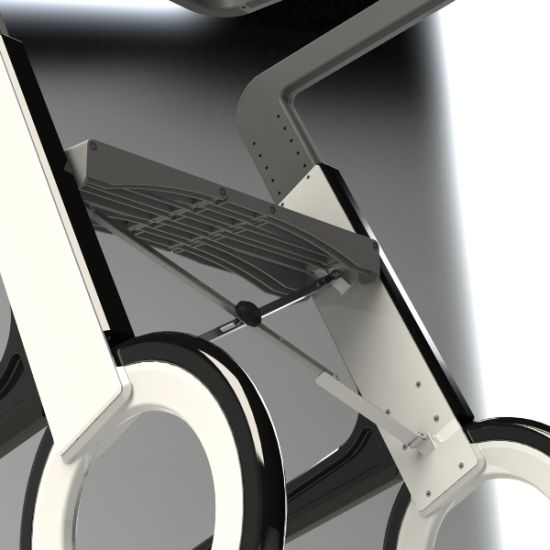 [Thanks Benjamin]
Some more mobility aids like Potential Energy Walker
1. Self-Balancing Solowheel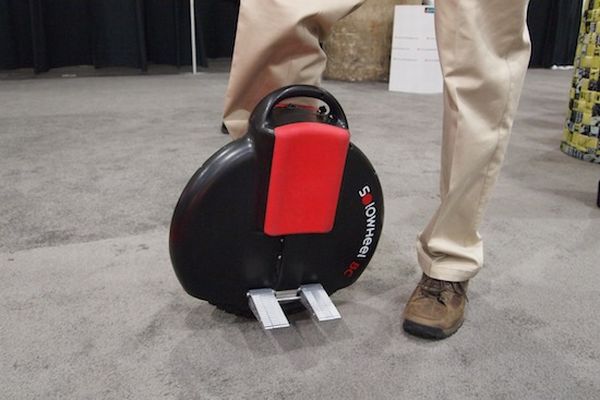 If you happen to be a walker to your workplace or love, then this single-wheeled, environmentally friendly Solowheel is the modest transport device you can opt for zipping around. To ride on the Solowheel what you have to do is to rest your foot on the foot-resting paddles and learn the balancing act. Though initially you will find the balancing part a little awkward, as there is no place to lean or balance your hands, you don't need to lose heart as it will take merely 15 minutes to balance it like a skilled rider.
It runs on chargeable, 1,000-watt lithium-ion battery which can last up to two hours or 12 miles after single charge. Its hidden gyroscopes enable the rider to turn it in any direction. The rider can ride and accelerate by leaning forward and slow down by leaning backwards. Weighing 20 pounds, you can achieve a maximum speed of 12 miles per hour on it. In addition, for the first-time users, the only challenge to use this seat-less, convenient and economical invention is the balancing of feet on both sides of this unicycle.
2. Electric personal mobility vehicle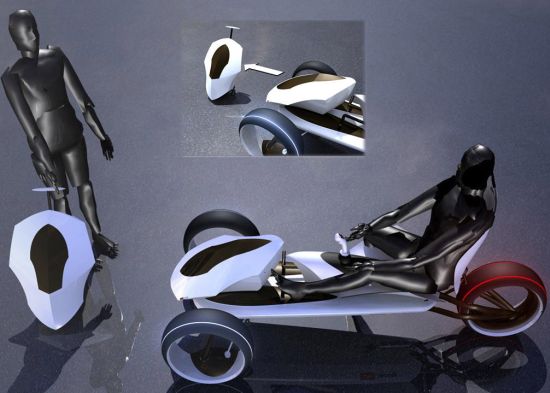 Envisioning the future of urban mobility, designer Siddharth Rane has come up with a personal mobility vehicle that makes transportation easy and fun for people of all age groups. Entitled the "Aprilia Skateboard," the mobility device apart from being safe and practical also helps in sustaining the environment. Controlled by a joystick, the personal mobility vehicle allows in-wheel drive as it runs on hubless wheels with built-in electric motor. Integrating headlight and tail light on the front and back wheels respectively, the Aprilia Skateboard locates the battery pack and electronic neatly underneath the seat. Moreover, wqhen not on the road, the urban vehicle folds in a compact size for easy parking underneath your bed.
3. Triblade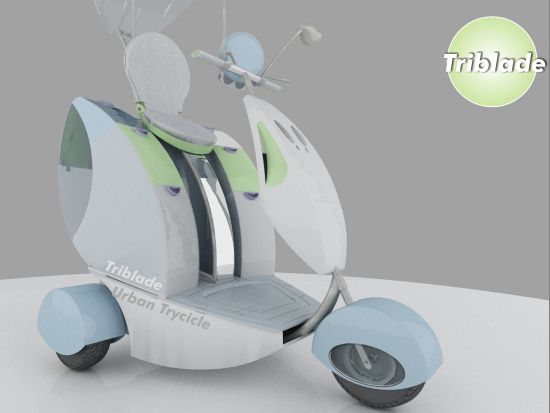 The "Triblade" is an urban delivery tricycle designed for merchandise transportation that apart from protecting the health of the workers also expands the correspondence and merchandise quantity in time, in comparison to the tools used at present. Based around a chassis which supports the basic propulsion elements like engine and gas tube, together with the brake, wheels and transmission system, the tricycle covers the entire set with the hull, which is rigid enough for a high cargo capacity. Ideal for medium and long distances, the hybrid vehicle includes powerful tires that provide support for both the load and the structure. Importantly, the urban tricycle can adapt according to varied needs and conditions and can be used for security control in the airports and other importation places.
4. In-Rapido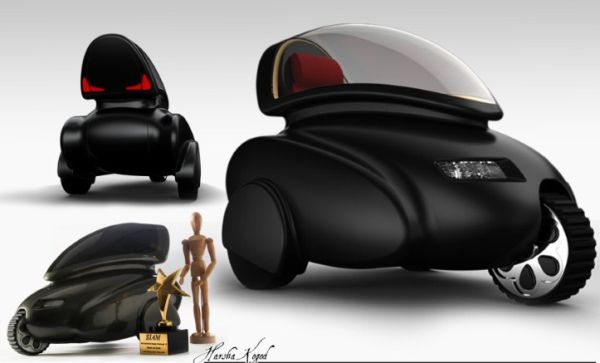 As India is growing at a fast pace, a concept personal mobility vehicle seeks to match up with its swift progress. The powerful monster, dubbed as In-Rapido, will fit in the lives of the urban Indian of 2016 without much trouble. 'Rapido' means swift/rapid in Italian and 'In' means India here. People who are on a hunt to possess vehicles that dictate a style statement will be impressed by this Personal Mobility Vehicle. However, the ever-increasing tempo of the country and its people will demand a proficient, compact and reliable means of mobility and "In-Rapido" will be an answer. The side doors for getting in and out of the vehicle are missing. This will not only save parking space but also add on the style meter of the beast on wheels.
Two electric motors are wedged on the wheels which propel the vehicle. Powering the motors is the green energy of fuel cells. The rear has two cameras which display the videos captured on the driver's screen. With this, the DRM's (digital control maps) are also put on view.
In-Rapido is an Intelligent Vehicle (IV). It comes embedded with many of the prominent car sensor technologies. These include low speed ACC (adaptive cruise control), LKA (lane-keeping assistance), night vision, AFS (adaptive front lighting), advanced parking assist, collision warning, headway advisory, road surface condition monitoring, pedestrian detection and rollover countermeasures.
5. 'Explicit' personal mobility vehicle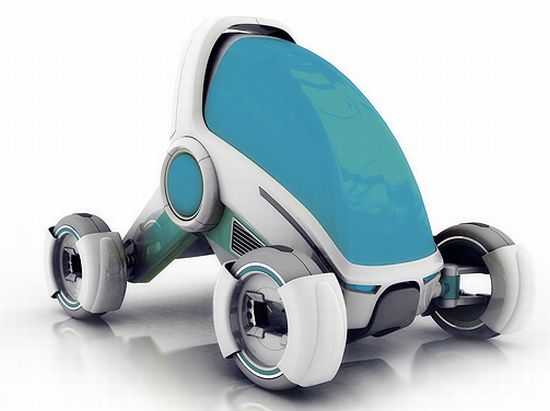 Heavy traffic on city roads has forced designers and manufacturers to look toward smaller vehicles as these can be of immense help to the physically challenged. Designed by Kenyon Yeh, the "Explicit" is a personal mobility vehicle that allows brisk as well as safe commutation in urban environments. Inspired by the sharpness and clearness of the visibility, the single person city transportation vehicle is designed to adapt different situations and change its shape according to speed and parking purposes. Featuring a compact sporty design through hard and smooth lines, between straight and curved, the Explicit also integrates a trunk or storage at the rear for long or heavy-duty traveling.
6. The Tank Chair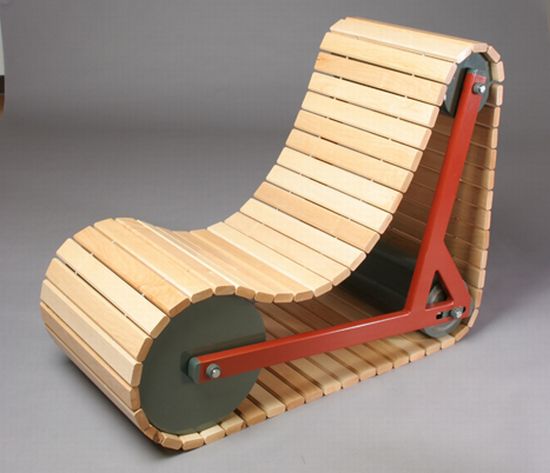 For all those who believe furniture need not be strictly utilitarian, designer J-Michael has come up with an outside the box piece of furniture that will just attract the attention of the guests visiting your place. Hailed as the "Tank Chair," the funky rolling chair will possibly allow users to move effortlessly around the room or garden without leaving the seat. Very unlikely, the cool looking chair isn't inspired by the treads of an army tank, rather the designer drew inspiration while working at an equipment rental store. The Tank Chair might not look comfortable to sit on, but it'll definitely turn out to be an interesting seat for your kids, who'll simply enjoy rolling on it.