Keeping in mind all the design trends that might dominate our future, designers are coming up with innovative furniture designs. Concepts like minimalism, sustainability and mindfulness might trend in the future.  These concepts would be shaping not just our modern thinking but our modern furniture as well. We all want our furniture to be useful. At the same time, we don't want it to take too much space. Moreover, we don't even want it to have an intense presence. There are only a few types of furniture that satisfy all these conditions. Following furniture prime example of the same.
Furniture climbs the wall in space harmony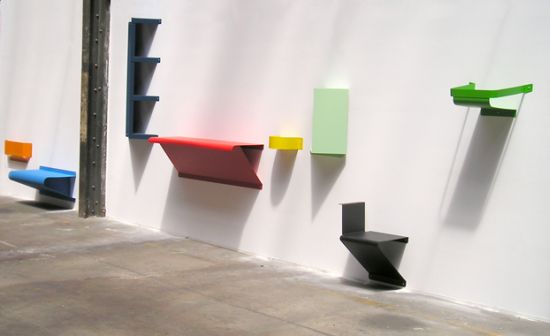 Designed by Joachim Jirou-Najou, the Portée series of furniture units uses walls as a support. Originally a part of his degree thesis, the Portée collection was exhibited in 2005 by the Gilles Peyroulet & Cie gallery. Moreover, it was also presented in Milano by the Luisa Delle Piane Galleria. The collection includes a bench, a chair, a consol, shelves and four storage units. These consist folded, lacquered steel. Joachim Jirou-Najou says that the Portée mural furniture frees the floor space and the wall becomes part of the work, opening up endless possibilities. The Portée corresponds to a contemporary way of life in need of space. Hung on your wall, it's more than just another piece of furniture.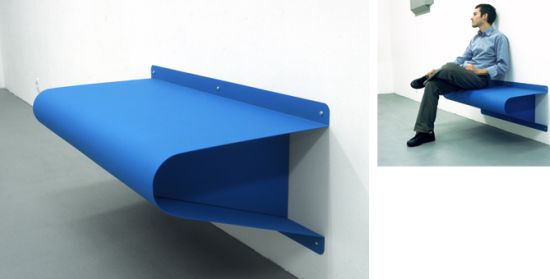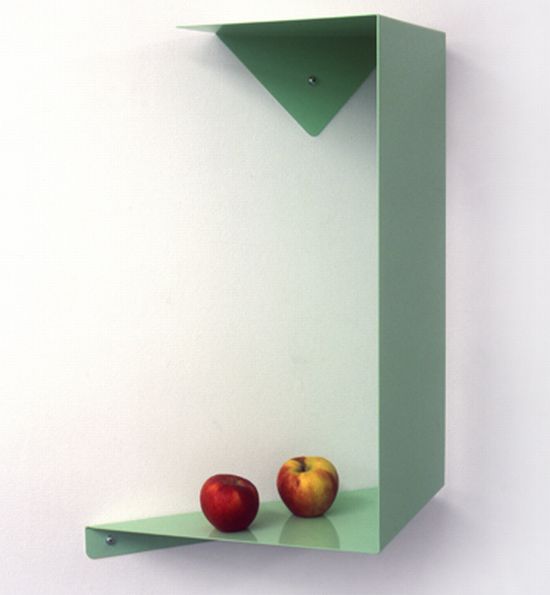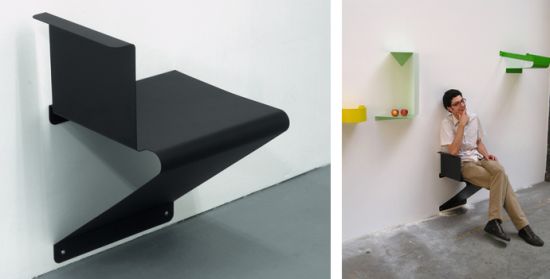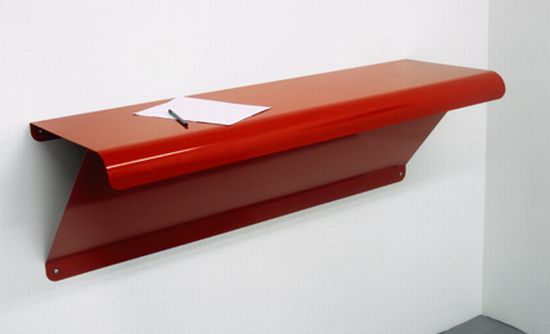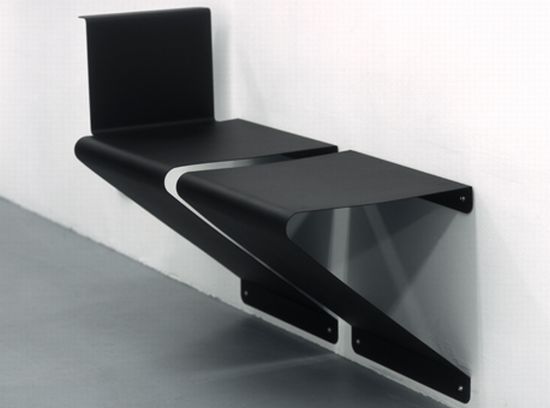 Via: JoachimJirouNajou
Some more innovative furniture ideas
1. Morfojet Armchair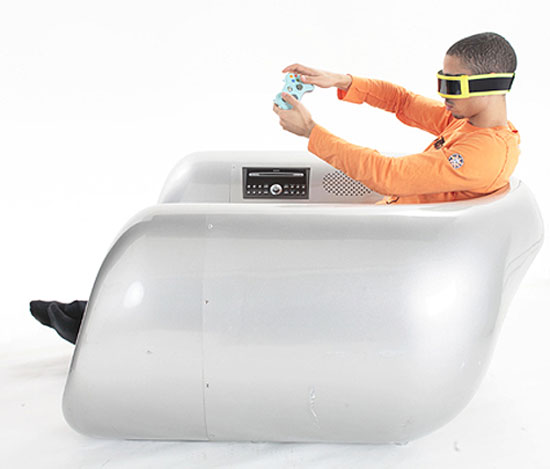 We have already parked some interesting automotive designs (in form of furniture) in our living places, giving them an amazingly unique and fresh look while enhancing the décor. Taking automotive furniture to new heights, designer Gianni Pedone is out there with a unique seating. "Morfojet Armchair," claims for Morfonauta that boasts jet engine turbines as armrests. Slated to launch in upcoming Milan Design Week, the Morfojet Armchair featuring an aerodynamic design, also presents an inbuilt entertainment unit, a CD player with speakers, enclosed by the synthetic exterior. Not sure, if the jet chair would be able to give the same feel or comfort as a jet seat in the real aircraft, but it definitely will attract the attention of your guests and be an issue of conversation.
2. 90° Furniture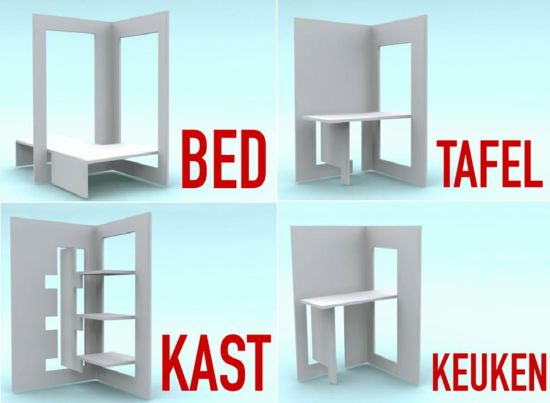 Multi-utility furniture is all the rage these days. And keeping in tune with that a duo of Dutch designers has popped up with a piece of multifunctional furniture that modifies itself into a bed, a table, a kitchen, a closet and much more. Strangely named '90° Furniture,' the functional piece of wood or cardboard is a portable unit, which easily slots in all type of living spaces. The closed panels of the revolutionary furniture unwraps in a 90° angle, making the unit smooth and uncomplicated.
3. A intersection B furniture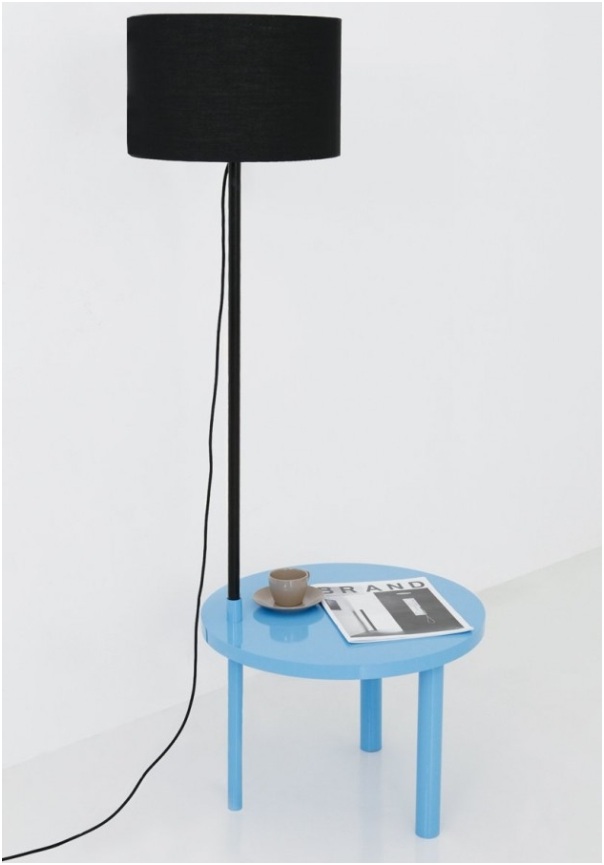 How do you make a basic set of tables, chairs and a lamp more interesting without going through the process of actually adorning it with hand carvings? Well, Kim Myung Hyun found a way to get the furniture to fit together. It createz interesting shapes to make sure his line of absolute basics could sell for a higher price. According to the Korean designer, the new line called "A intersection B". It is designed in a way that allows it to be combined and fitted together. This creates a number of interesting and unusual combinations and shapes.
---
Depending on the situation, we can fit each element in the collection into another to make the best use of space. We can do this while presenting a very personal interpretation of interior design. Usually, people use stackable or foldable designs to make their furniture more suited to versatile use and design conditions though Hyun wanted something intrinsically different and modernist. To allow people to optimize their floor space while creating a design that reflected their own personal taste, he created this range of furniture that allows them to do the same.
The entire line comprises of a book-box, a desk, a stool, a tea table and a black stand. These basic elements can create more than 20 different styles of furniture. By sharing the legs or attaching a transparent leg it creates the illusion of a surface hanging in mid-air. All the elements are completely functional and independent of each other. Moreover, they offer a great degree of usability. We can even combine them together to create a new kind of furniture. The collection exhibits a range of stunning colors that allow them to create a stunning visual impact as well.
4. Slicebox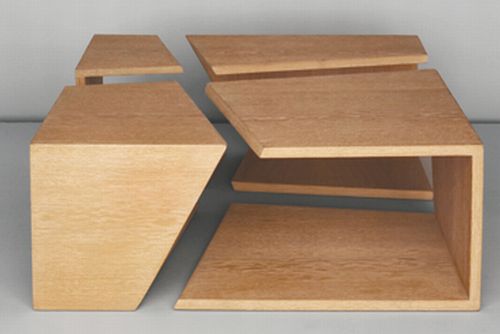 Congratulate Voon Wong and Benson Saw for their commendable out-of-the-box ideas! This piece of bewildering furniture can be used together to give a split effect or can be used as individual side-tables. The varied angles and random measurements are quite appealing to the eye. Slicebox derives its name from these haphazard slices of furniture that if put together make a shape and if kept otherwise, can pass for being very original!
Finished in Oak veneer MDF, this wood is classic and the design is modern. There is no reason to not get this, it offers best of the both the worlds.
5. The TIO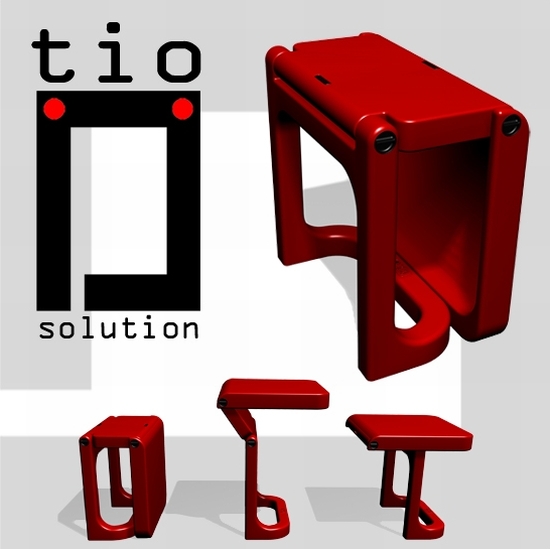 The TIO concept is a single piece of furniture which has three interconnected parts which can be configured to form three different pieces of furniture – a stool, a table and a side table. The entire setup is constructed with three rotationally moulded glass and polypropylene parts interconnected with aluminum pins. And, all you need to transform this piece of cool kit into different pieces of furniture, is to push the spring loaded buttons and rotate the corresponding piece to make it an all new piece of furniture. Very convenient and very handy.
Leigh has mainly focussed on the needs of small cafe owners. Despite that, there is absolutely no reason for this piece of very functional, space saving furniture to not be a part of the urban, space-starved apartments. The TIO concept. comes in a range of bright, and look-at-me colours. It  can sit just as comfortably in your one room apartment as it can in a neighborhood joint. You can sit on it, dine on it and even do some pending work on it. In addition, the TIO can take it all and still look very chic and stylish. Though the TIO is still a design concept, it's sheer practicality and convenience will make sure it sees a commercial launch in the near future.