If technology grows at the current pace, it would be a great advantage for the students of the future. They can no longer blame the lack of infrastructure. In fact, no matter what the talent the student has, he or she can use apps and gadgets to exploit it to the fullest. Particularly in the field of designing and animation, these technologies prove highly beneficial. With the help of assistive software and technology, even a mediocre student can venture into such fields. The only thing that we are now supposed to do is to inculcate such innovation in our education.  This Multi-function Design Table is one such gadget which could be of great help to our engineering and architecture students.
Multi-function Design Table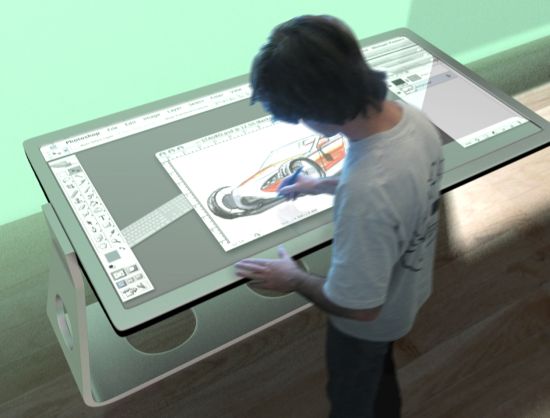 Designing is a professional job and requires a lot of equipment. Apart from that ir also requires a special knack of creating something out of the blue. Making the sketching and drafting tasks a bit easier for designing professionals. Designer Michael Powers has devised a drafting table that combines all the designing tools together on its touch sensitive surface. Integrating a 19″ monitor, together with virtual keyboard and mouse on the touchscreen surface. The table comes built in with speakers, markers, tape, rulers, a digital camera, external hard drive, power strip and paper.
Designers can load and arrange digital sketches wirelessly on the table, which can be saved in folders for future use. You may even make a copy of the sketch to edit for on the spot ideation. With the backlit surface, users can give presentations in the daylight. The Multi-function Design Table is just ideal for teamwork or collaborative tasks. As it bends to become an 81×37″ digital blackboard, allowing easy access for all the members.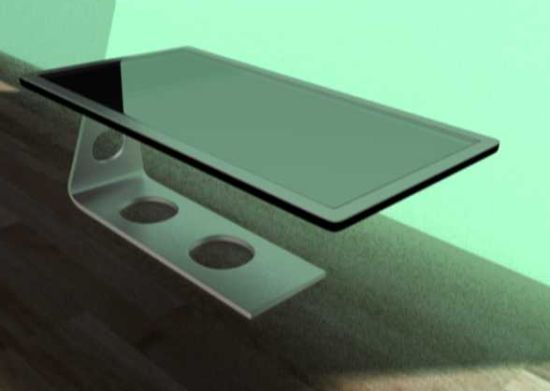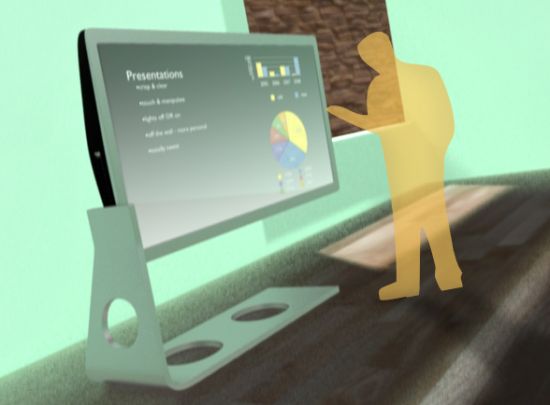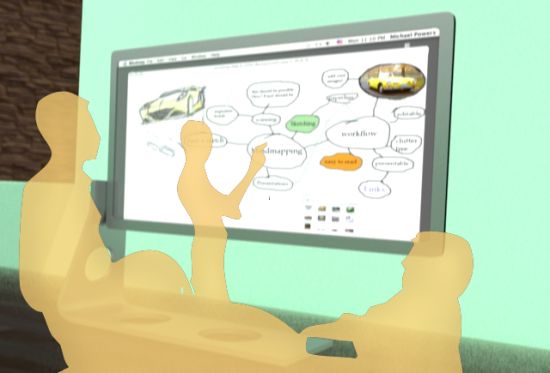 [Cheers Michael]
Within the last few years technological evolution has reached such proportions that it is becoming hard to even keep track. Whether it is the automation industry or aviation, nanotechnology or computer sciences, progress is taking over at a spell bounding pace. Computer and IT continue to spearhead this revolution and tech trends in computers 2019 will carry on this tradition. The progress may seem minor to the average person. However, even the most slightly tech-minded folks will see how revolutionary this year could end up being.
Some more latest trends in technology
Latest trends in technology often affect business and cultural growth; but the ideas and vision at stake today are so radical they might change the landscape of everything. At no time in history is this more applicable than in 2019. Let's have a look at all the wonders that 2019 will bring in computer technology.
1. Smart homes of 2019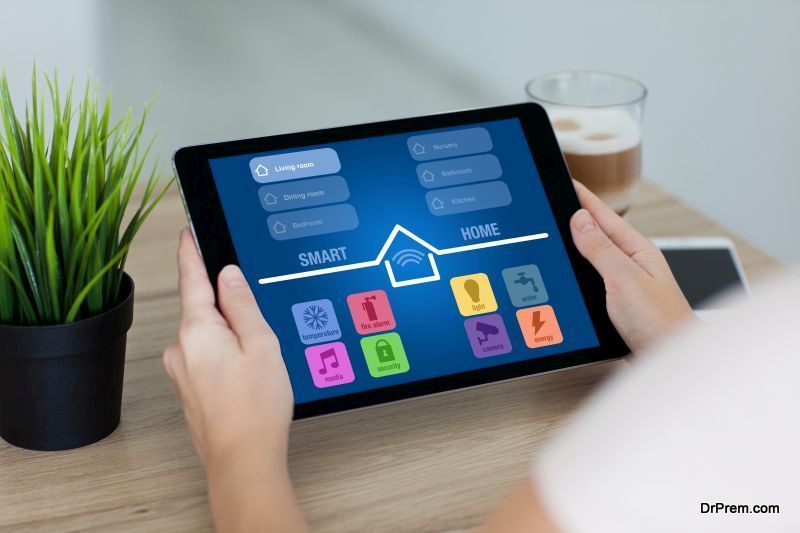 One of the finest examples of latest computer technology in 2019 is the advent of smart home products. It will surely be on the list of the most desired list of gadgets – come boxing day or Christmas sales. Smart home equipment have had a massive spike in interest ever since Amazon released Echo. Moreover, new products are being launched at a rapid pace.
The smart home is uniformly connected with great Wi-Fi speeds. With Apple and Samsung jumping into the foray, latest trends in technology are achieving remarkable feats. Speakers, fridges, lights, and even gardening accessories will be smart in 2019. Another result of high-tech computer technology in the smart home category is the beefing up of the security system- from VOIP based security systems to smart doorbells, video door phones and IP cameras, 2019 promises to be one hell of a year for smart home enthusiasts.
2. Automation and Robotics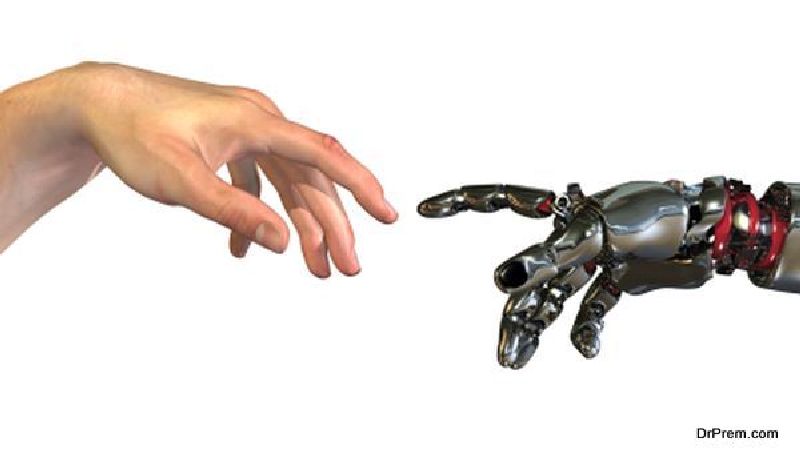 Automation and Robotics are another sector getting a lot of talk time. All statistics and soothsaying aside, a lot of processes and functioning tasks are set to be overtaken by intelligent robots in the coming years-  from dirty grunge work in sewers to assembly line manufacturing jobs in the airline and automobile industry, tech trends in computers 2019 are going to revolutionize the robotics industry.  However in the near future- and we are talking as early as 2020, many predict that even fields like accounting and law could be taken over by robots.
These ideas are staggering, but there is also a negative aspect attached- this entire takeover would imply job losses for people in an ever increasingly competitive and populated planet of ours. Many estimates predict 47 percent of the entire workforce of the United States could be at a risk of being laid down in the coming years – thanks to machines taking over.
3. Tech trends in computer 2019 and digital currencies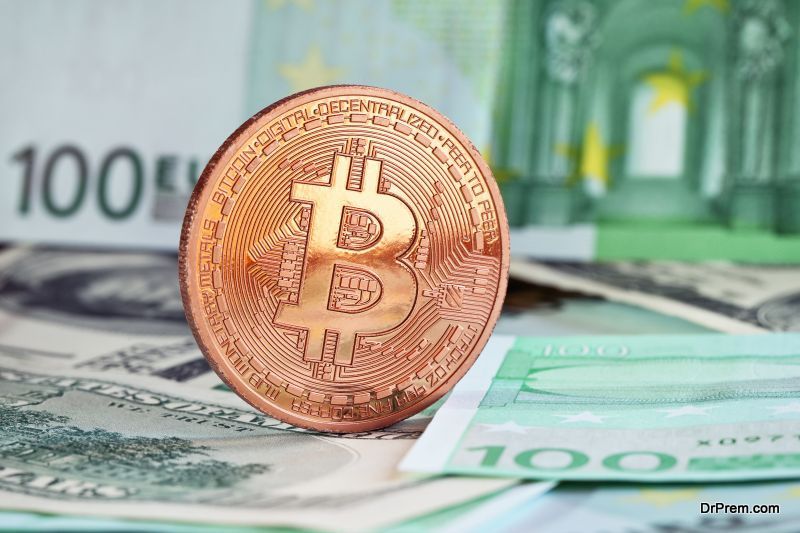 Another popular tech trend continuing its upswing is the digital currency. Everyone by now has heard of Bitcoin; but there are other companies vying for a share of digital monopoly- Ethereum, Dash, and Ripple are just some of the names becoming commonly traded currencies. As 2019 progresses, it shall become apparent that this could very well be the future of currency.
Latest computer technology 2019 and onwards will have a massive stake in cryptocurrency; as a matter of fact, such is the interest that even the offshoot industries related to digital currency like Cybersecurity are becoming hot commodities and these companies are even indicating an interest in entering the stock markets and pursuing an initial public offering. Tech trends in computers 2019 will have a huge impact on the likes of Bitcoin and other crypto companies, and vice versa.
Final thoughts
Computing power is like a nucleus of a cell- a powerhouse fuelling changes and tech trends in computers 2019 is showing us why.  Everything from the IoT devices to the giant robots working on a jumbo jet to currencies which in technicalities don't even exist is a result of computer technology making enough technological advances to virtually change the face of society.
Perhaps no other time in history have changes been so fast and so extreme. What is next to come? Quantum computing? Singularity?  No one is too sure, but results indicate a steep change in expectations as we race towards 2020. One thing is certain: The technological landscape is changing rapidly and we must keep up, not just in 2019 but much beyond. We have no other option.