In cities, it is often hard for people to earn a living. However, if you have some bring ideas and little cash to spare, then that's no problem. There's no dearth of coffee drinkers in the cities. Therefore, all you need to do is, be accessible and make sure your coffee tastes good. If you can assure the second, then first is no issue. With coffee shop on wheels you can be present anytime anywhere. In fact, depending upon the frequency of your sales, you can even be present at multiple locations on a day. Great idea, isn't it? Let's see what more this coffee shop on wheels can offer.
Coffee shop on wheels
Designed by Daniel Milchtein, this Mobile Coffee Shop is as cool as a wine bar on wheels. The whole coffee shop is fitted inside the truck. It carries coffee machines that hopefully make cappuccino, latte, macchiato or ristretto at the touch of a button. The bar stools can be taken out anywhere you want to set up your coffee shop. Forget the features; this mobile coffee shop is all about the neat and inviting design. If this thing gets real, I would love to stop by for a cup of hot coffee. More shots of the stunning coffee truck after the jump…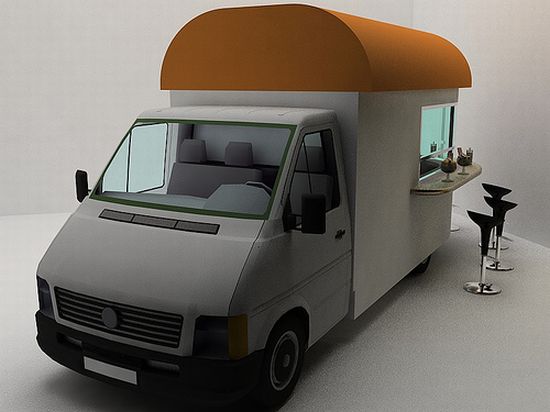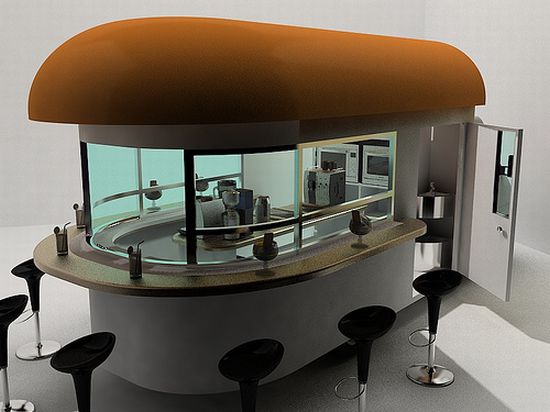 Via: Design-Milk
Some Portable Coffee Machines Designs for Coffee Shop on Wheels
From convenient and portable to multipurpose space saving, modern coffee machines are smart and perfect for contemporary kitchens. These amazing coffee machines are bound to be a hit with coffee lovers. Here are five innovative coffee machine designs that are perfect combinations of style and functionality, which bring in an element of novelty in the modern kitchen.
1. Hot steam painting coffee machine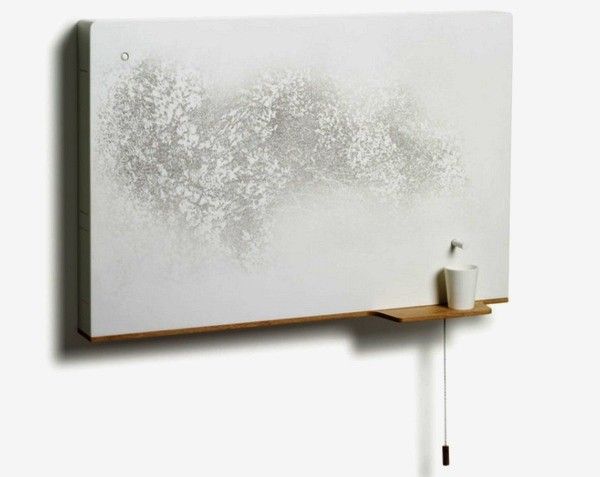 This coffee machine is for the creative-minded people who will absolutely adore the wall-mounted machine that looks more like a work of modern art. Made by Nespresso, this coffee machine is a combination of decorative appliance and functionality to give your wall a painting like look. When the water begins to heat, the steam automatically produces an image on the white canvas that disappears, once the water cools down.
2. Interactive coffee machine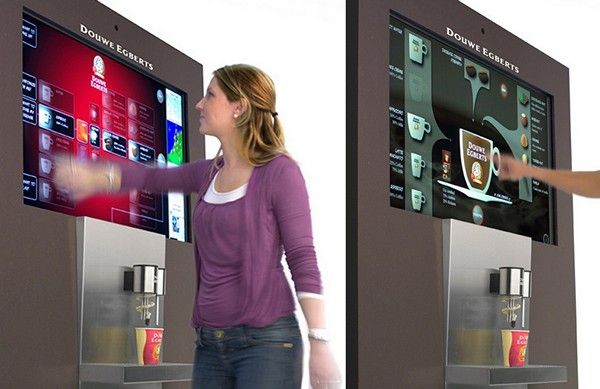 The Interactive coffee machine from Douwe Egberts Coffee Systems is the latest trend in terms of interactive devices. Called BeMoved, this coffee machine has Wi-Fi internet access, along with a big touch screen. You can use a variety of ingredients in this machine and make some amazing drinks, both hot and cold. In fact, the interactive machine talks to the user about the weather forecast, currency rates, and latest news, while making the drinks.
3. Space saving folding coffee machine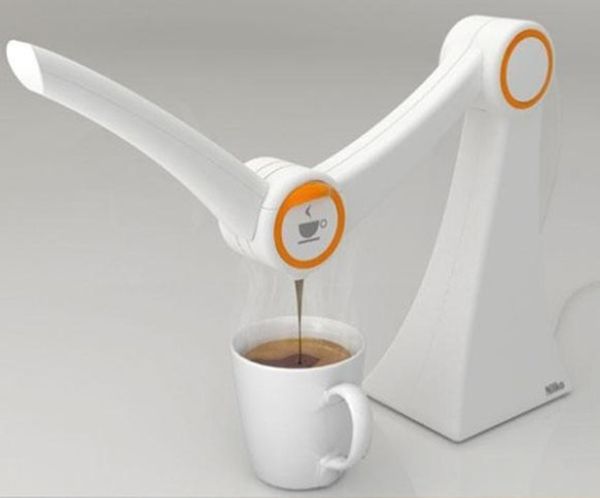 Called Nilko IMO, this stylish space saving folding coffee machine made by Alisson Wilson Stroher, a designer from Brazil, has a gorgeous white and orange exterior. Featuring an attractive and compact design, the ultimate utility coffee machine is just ideal for smaller kitchens. In fact, it also features a design wherein the user can change the angle and height of the machine.
4. Theme Decor Coffee Machines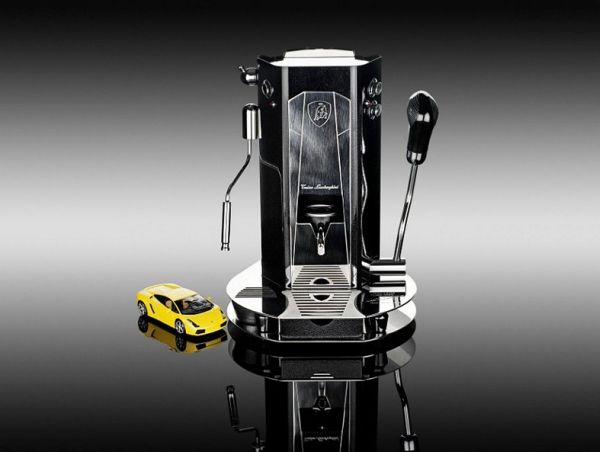 There are exquisite designer coffee machines that draw inspiration from various themes like cars. These designs are very innovative and unusual, making them perfect for luxurious, large kitchens.
5. Handpresso Coffee Machine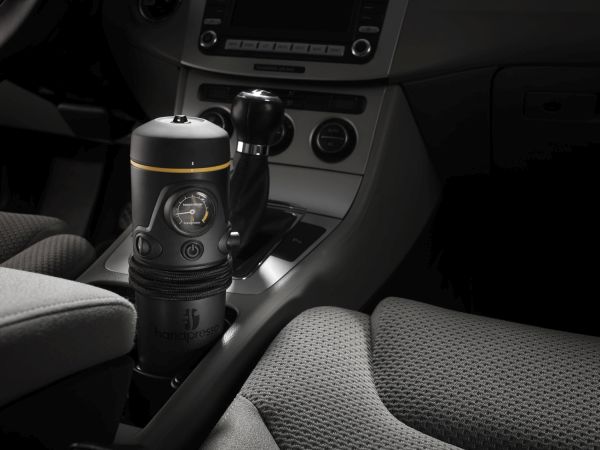 The Handpresso Auto Machine is a unique and compact coffee machine that you can use inside a car with ease. It takes barely two minutes to make a cup of coffee, once you connect the machine to the cigarette lighter. Add the disposable filter bag, coffee, and water to have a cup of hot coffee at the click of a button.
6. Mypressi Twist: World's first portable espresso maker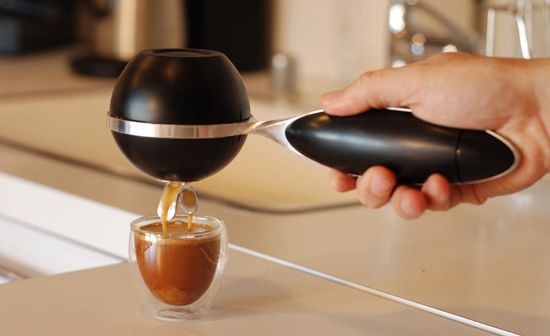 When every gadget or appliance in our homes is getting portable day by day, there is no reason for coffee makers to remain static and bulky. Redeeming one of the most cherished home appliances worldwide, the Mypressi has introduced the world's first fully portable espresso machine. Called "Twist," the portable coffee machine is stylish, lightweight and effortless to use, while promising an extraordinary coffee experience on the go. Powered by a revolutionary pneumatic engine without any external power source, the Twist is finished with medical grade polycarbonate with aluminum frame and just weights 16 ounces.
Using 100% recyclable standard gas cartridges, producing about eight single or four double shots per cartridge, the state-of-the-art coffee maker is as small as it easily fit into a briefcase or handbag. All the users have to do is simply insert a cartridge into the pressure chamber, fill the basket with fresh ground coffee or a coffee pod, together with the upper compartment with hot water, and finally pull the trigger to produce one or two shots of espresso. Moreover, the Twist flaunts an easy-to-clean design, ensuring absolute hygiene and durability.
7. Zero electricity Espresso Maker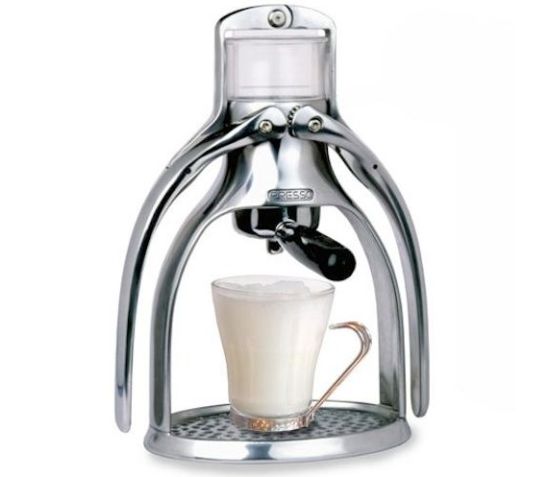 Brewing a cup of coffee during or after a stressed day at work gives a soothing experience, but if the brewing could be done without leaving any carbon footprint, it just doubles the essence of your cuppa coffee. Designed by Patrick Hunt of Therefore Design, here is an eco-friendly coffee machine that not only features a minimal design but also uses zero electricity, making your brewing clean and green. Made in 100 percent recyclable pure grade aluminum, the sustainable coffee maker is easy to handle. All the user need to do is pour the hot water over the coffee grinds and press the handles to squeeze the coffee into his cup. Easy to clean, the Espresso Maker also includes a coffee machine, portafiller for double espresso, adapter for two single cups and a milk frother. The zero electricity coffee maker is available at Matteria for €109 only.
8. BMW Z Series inspired coffee machine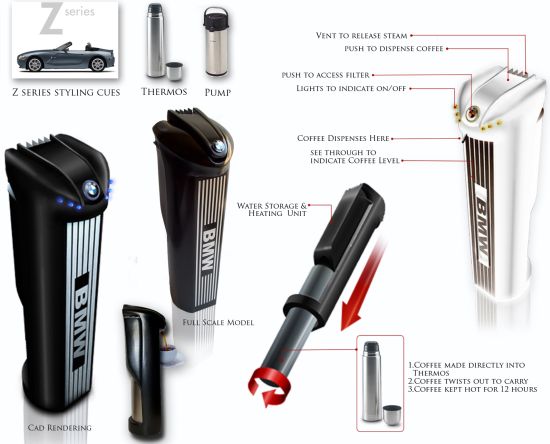 My auto fanaticism restricted me to think of BMW as brand that rolls in some of the most fabulous cars in the world. We can say, I was blindfolded, for there are other products that too bear the famed moniker from Germany. This product is not a road scorcher, but an instant coffee maker, that brews coffee directly into the thermos. You can then carry the coffee along in the car, giving you more resilience for a longer drive, on a chilly day. It would indeed be the perfect complement, if the saloon you own, bears the same moniker as your thermos does. The coffee-maker has taken styling inspiration from the Z-series models, so you could hit the complement nail on the head, if you own one from that line-up.
Summary:
These innovative coffee machines will not only make a comfortable addition in a tight kitchen space but would also add an element of futuristic appeal to the way you make your cup of coffee.