After a tiring day at work, all of us need rest so that we can start the next day fresh as a flower just out of bud. However, for many of us, this is something very hard to do. Nowadays, most of us are busy checking our smartphones when it is time to sleep. And that's not all. In addition, most of us go for bed designs popular in the market. We rarely customize our bed designs according to our particular needs. We can easily do this if we take a look at all the bed designs available in the market and make a wise decision. Here are, for your reference, some of the popular bed designs in the market. However, there are some who can't afford good bedding. For them, it is best if they choose something like the disposable cardboard bed.
Disposable cardboard bed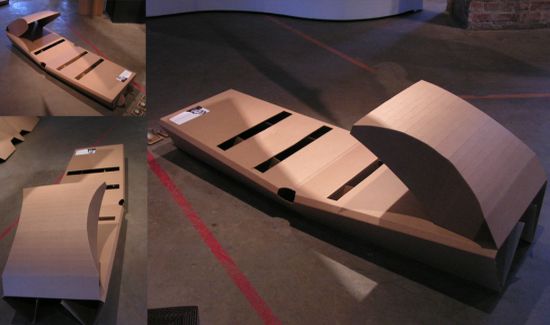 Homeless people are a serious problem for every government. Providing them with shelter is another problem. However, we cannot ignore their welfare. So, won't everyone be happy if there was a solution in sight without stretching the coffers too much? A young Russian designer, Nikolay Suslov, has now popped up with a cheap but innovative bed design that may prove handy for poor homeless people worldwide.
Taking inspiration from the chaise lounge and different kind of beach chairs, the cardboard bed has five layers of corrugated carton containing waterproof substance, which makes it durable in all seasons. The height of the bed is about 20 centimeters that keep the users on a good height from the wet and cold surface of the earth.
Design Status:
The Disposable Cardboard Bed is a concept design that if it came into production will be a good pick for homeless wanderers.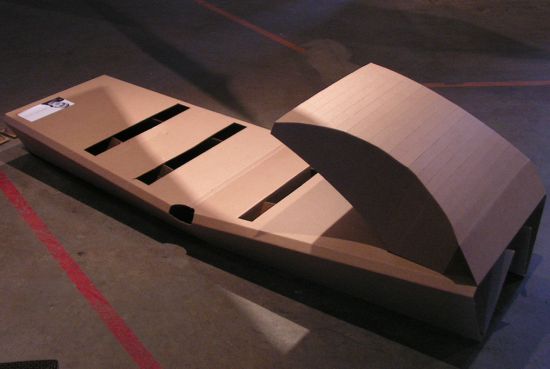 Usability:

The low price disposable bed is not just handy for the homeless people, moreover, they can also use it as portable seating for viewing open-air concerts and on the beach where people often look for a convenient place to lie down. Moreover, the cardboard bed is recyclable that helps in sustaining the environment.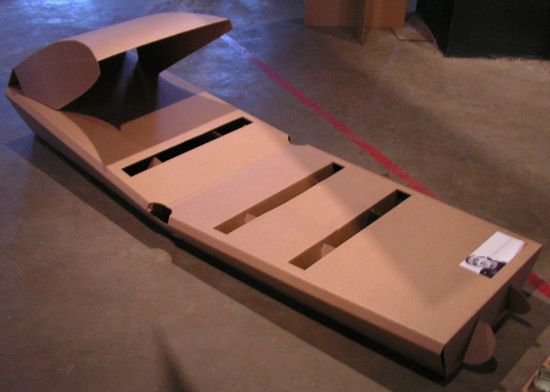 Designer:
Nikolay Suslov is a student designer from Saint Petersburg, Russia. He is studying Industrial Design from Saint Petersburg State Academy of Art And Design.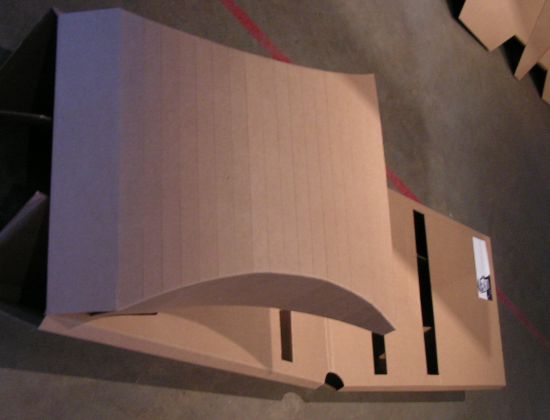 [Thanks Nikolay]
Some more creative beds similar to Disposable cardboard bed
1. Cosmo Bed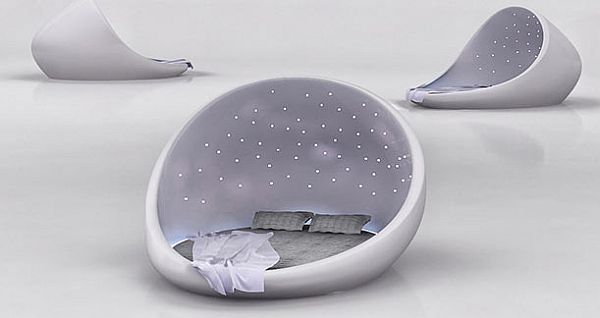 If you are looking for a bedtime with starry night, then look at the creative Cosmo bed designed by Natalia Rumyansteva. Designed in the shape of an egg or capsule, this unique bed gives you the assurance of a relaxing sleep. The bed features an audio system for those who love to sleep while listening to music. LED lighting system on the roof of the bed provides an illusion of sleeping under the stars, and shows exactly where the bed got its name. Other features on offer include an alarm clock, and an aroma dispenser that adds further to the relaxing touch of the bed.
2. Letto Zip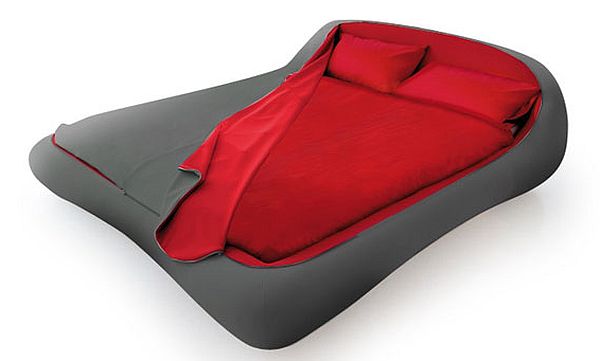 Letto Zip bed is a dream come true for people who do not like making their beds. Made by Florida Furniture, Letto Zip is a clean and sleek bed that offers freedom from the hassles of bed sheets. You can easily change the appearance of the bed by simply zipping or unzipping the stylish cover of the bed. The bed has a perfect blend of curves on the frame and an elegant design, making it quite a dream bed.
3. Enignum Canopy Bed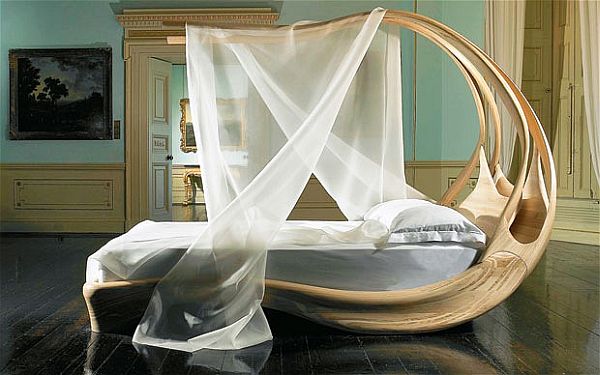 Enignum Canopy Bed by Joseph Walsh gives a feeling of enclosure and security. The bed has silk canopy that creates a warm, cocooned space on the bed. The wooden part of the bed puts together thin layers of wood bent into the desirable shape.
4. Col-Letto Bed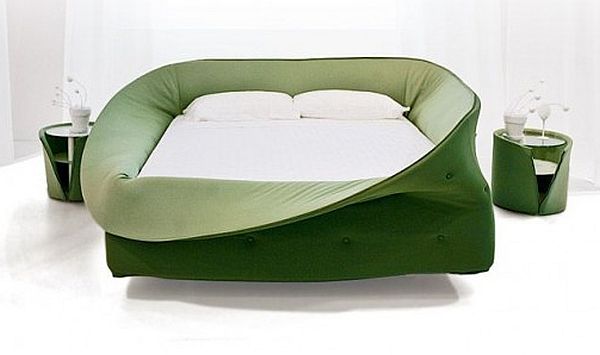 Col-Letto Bed promises you a comfortable and cozy bedtime. The bed has a foam ring encircling the mattress. This ring, or the "collar" as it is called, can be left open at the sides of the bed, or be completely rolled up or down to mimic a turtleneck. Furthermore, you can set the pullover collar according to your mood from open to half-closed. In addition, if you want to remove the foam ring, you can achieve it by just adjusting the fitting system attached to it.
5. Castle Bed: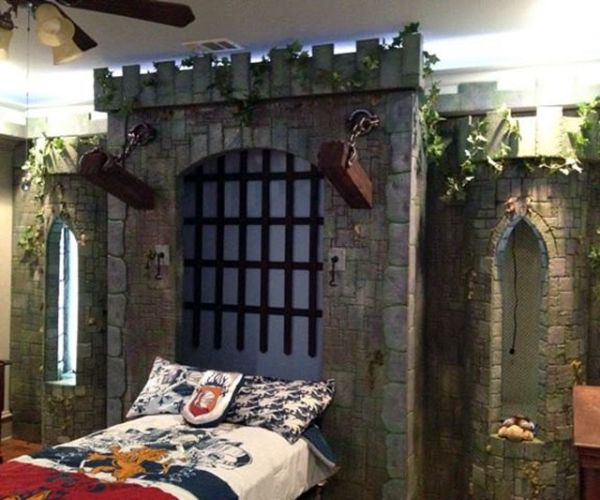 This is the most coolest and amazing of all the Murphy Beds. The façade of castle pulled down by a drawbridge is now ready to be used as your bed. Built by Tiny Town Studios, the exclusive bed can be yours if you are ready to spend a fortune.
6. Piano Bed: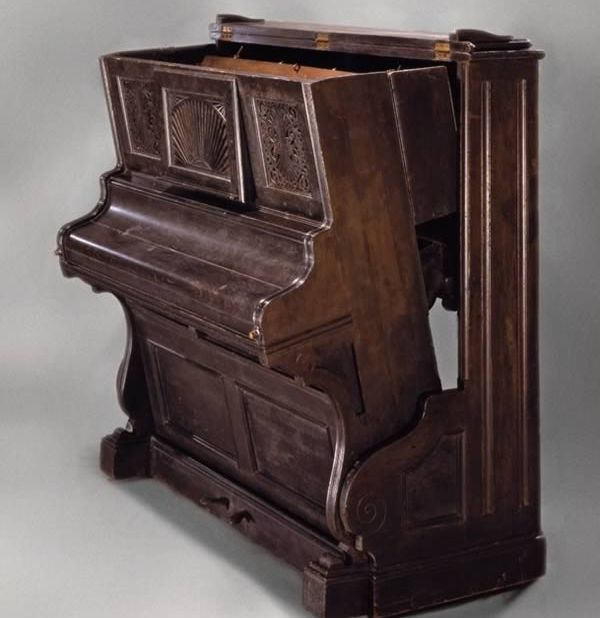 This is a convertible bed in the shape of a piano and takes you to the era of early twentieth century. The bed is perfectly suitable for large families, which live in small houses and are looking for less space consuming options. The bed at the same time is very cozy and comfortable.
7. BedUp Ceiling Bed: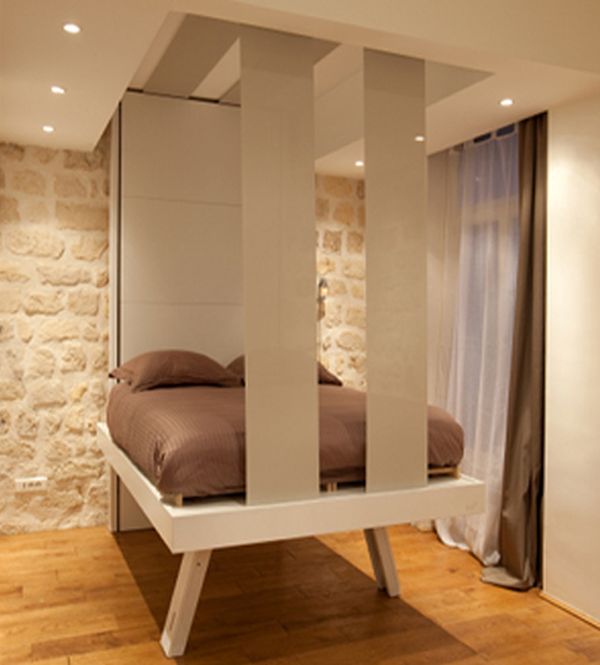 This designer bed is again a perfect example of space efficient furniture and comes from the house of Decadrages. The bed is suspended from the ceiling and can be accommodated in a mere four square meter area of any apartment. In addition, during the day the under ceiling storage of the bed facilitates integrated lighting and at night it comes down like an elevator which eliminates the need of moving the furniture from one place to another.
8. Red Nest, Hidden Bed: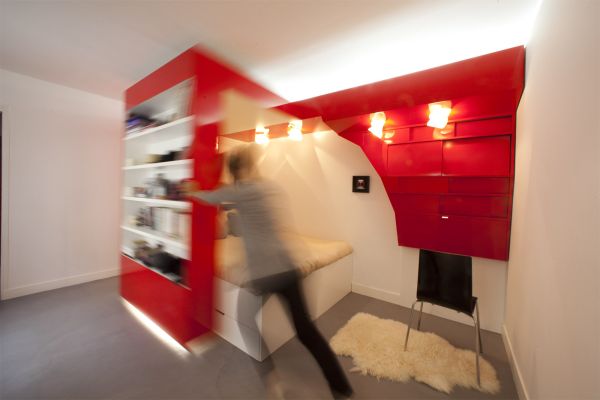 Created by Paul Coudamy from France, this incredibly designed bed has a beautiful in built hidden bookshelf and this shelf acts like a mobile block that regulates the opening of the bed. Furthermore, the bed is painted in carmine red gloss-paint, which best suits, the contrast matte white walls.
9. Boxetti's Wall Bed: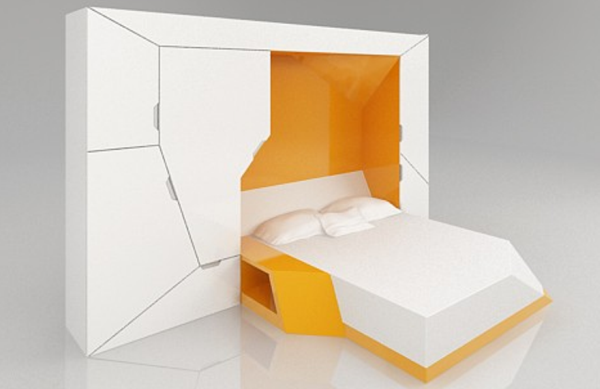 Designed by designer Rolands Landsbergs from Latvia, this amazing bed contains everything that is required inside a bedroom right from the bed to the wardrobe. The bed consists of a series of modules and each part or module of the bed can be pushed or fitted back inside the bed after it is being used. The minimalistic design feature suits to all space crammed apartments and studios. In addition, there is also a spotlight for providing light, which is fixed above the headboard of the bed.
10. Up and Down chaise Lounge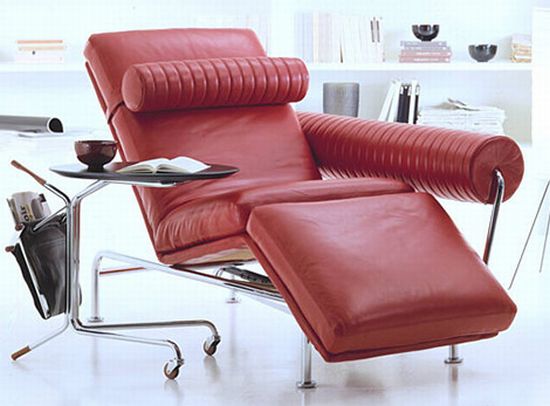 Up and Down chaise Lounge is an iconic piece of furniture which didn't weather with age. It continues to provide the same level of comfort and luxury it promised to lend it was designed for Italian furniture brand i4 Mariani by architects Ammannati & Vitelli way back in 1999. Fashionably upscale stylishly elegant lounge chair leaves you heartened with the comfort it guarantees.
Square in shape the lounge is cushioned with non-deformable expanded polyurethane which gives the chair an eternally fresh and smooth look. It is stylishly upholstered in fabric or leather, of your choice. What makes the Up and Down lounge chair a luxury at your fingertips is its motorized polished chrome frame which helps the chaise to go from bed to sofa.