At present, the biggest investment that most people make in their lives is that of buying a house. However, for many of us it isn't feasible. It could be either because we don't have money or we don't like to remain at one place. In either case, going around living on rent at someone else's terms isn't what everybody likes. To overcome this, you can either buy an inexpensive urban house or you can set up your home in a trailer. Nevertheless, before buying either, we suggest that you check all the travel trailers in the market.
Read More: 12 – Modular homes for urban nomads
When are travel trailers ideal for you?
If you love to travel without compromising the home comfort, travel trailers can be a good option to make your expedition memorable. Best for family road trips, travel trailers let you get into the RV lifestyle and enjoy every bit of your journey with minimum fuss. Here we have some of the most amazing travel trailers to make your trip unforgettable one.
8 Amazing travel trailers for urban nomads
1. Airstream Sport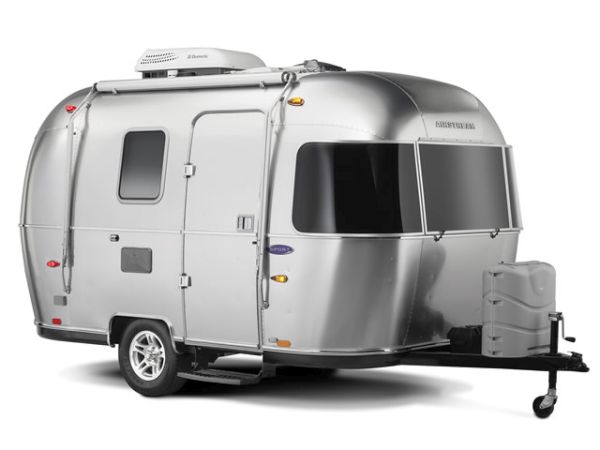 Airstream is one of the renowned manufacturers of travel trailers. They are in this field from past 75 years and serving people with unique, luxury travel trailers. Weighing between 2,900 pounds and 3,600 pounds, these trailers can be towed by SUV and pickups with ease. Offering 16 to 22 foot floor area, these travel trailers comes equipped with a sleeping panel, a wet bathroom, LED lights, exterior showers, and other things.
2. Dutchmen Aerolite
Dutchmen Aerolite offers lightweight travel trailers that can make your road trip an amazing one. Featuring all facilities that you will require during a family journey, the trailer includes king sized bed, bathroom, camp kitchen, and a triple side layout. Dutchmen offer a wide range of layout designs like 15 floor plans and 18 and half footer with bunker extensions.
3. Heartland RV north trail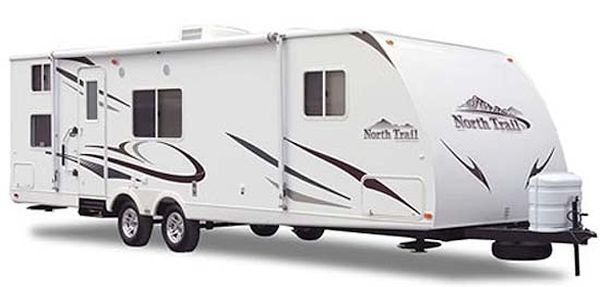 This is one of the coolest travel trailers available in the market with a 36-foot double queen sized bed and has a lightweight body. Heartland RV north trail comes with a dry weight of 6,399 pounds with a triple way layout. The distinctive tan sidewalls and black accents make it look attractive and beautiful. It also offers an outside kitchen with radius counter top and many other facilities that are required for an unforgettable travel.
4. Motorcycle travel trailers

Apart from traditional travel trailers, here we have a motorcycle travel trailer to enhance your traveling experience. Featuring a small car towed by a motorcycle, the travel trailer has ample space to keep the important things, including an external bathroom and kitchen, which you require on the go.
5. SUV Travel trailer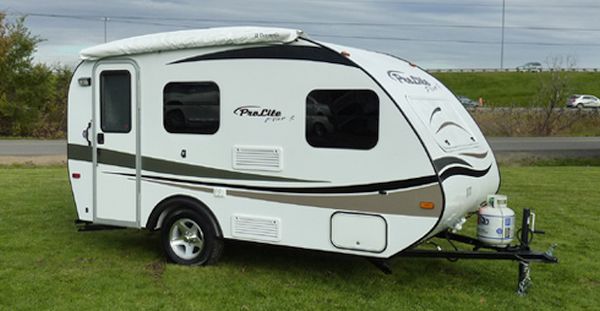 The SUV Travel trailer, as the name suggests, can be towed with a SUV to move your travelling stuff wherever you go. Blending 1940s' model with a modern touch, the SUV trailer has adequate space to accommodate a couple or small family in comfort, so that they can enjoy the luxuries on the go.
Travel trailers help you move luxuries of modern life with you wherever you go and make your family tours memorable. Modern trailers come equipped with a kitchen, shower and sleeping areas and offer optimum comfort on the go.
6. Mehrzeller: Polygons visit classic trailer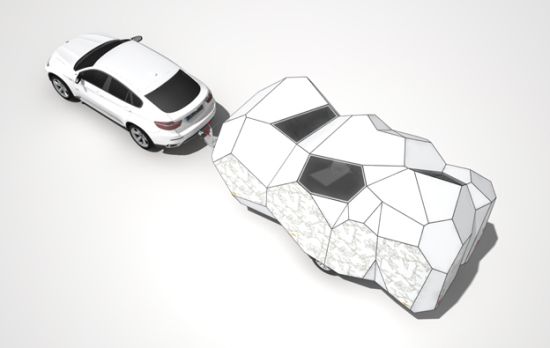 Caravan Salon Düsseldorf, Germany these days is abuzz with several RVs. A latest design that has had everyone talking is Mehrzeller caravan concept. Mehrzeller means multi-cell and the design is an apt reflection (or vice versa) of the name. The concept is sponsored by BMW (no less). In fact, it is the brainchild of two designers from Graz University of Technology in Austria: Christian Freisling and Thersa Kalteis.
This Caravan Concept is quite different from the designs that people traditionally associate with the product. The classic trailer contains both inside and outside several polygonal structures. This reconfiguration is not, however, owes its inception to the company; instead, customers take part in the entire process and use an online "Konfigurator" to customize the vehicle to the very core. This means that each vehicle is quite unique from all others. Ultimately inside, each of the cells has a different function to perform. There's a little conflict with the basic aerodynamics that vehicles usually conform to. But what the heck, the vehicle is cool! And obviously with the luxuriously white, wood paneled and bizarre interiors, it could have been anything but less. More images follow.
7. Multipurpose trailer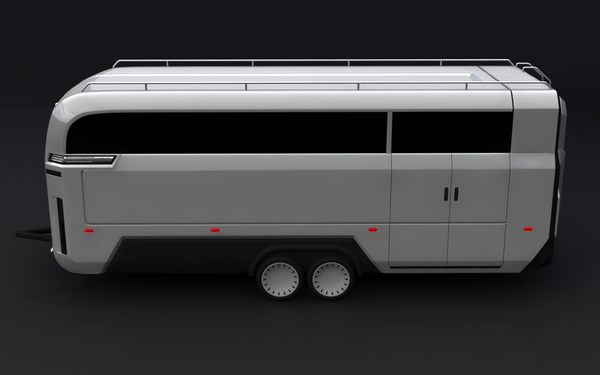 Planning to put up a stall at an exhibition but darn, how to carry all the stuff till there. To cut all such woos, a versatile trailer is at your rescue. It has enough room to stock all the stuff one desires. Adding to the whole charm is the flexibility to modify it as per ones wish.
The whole creation, designed by Johan Repko, is nothing but contemporary, hence will blend perfectly with the current atmosphere. The trailer will help narrowing the gap between the customer and the manufacturer. It can be brought to use in diverse fields and can easily serve as an area where a doctor can see patients or a first aid room to heal wounds. Don't have enough money to invest in a showroom and the rents are sky high, don't worry, just place all your stuff in the trailer and welcome customers to a whole new shopping world.
Far away from office and want to call an urgent meeting, simply ask everyone on a business trip to gather in the cute yet compact trailer and intelligently use it as a meeting/ conference room. Convert it into an office, an instruction room or a security base, the choice is yours. Just instruct it once and see it act according to your whims and fancies.
8. One-off MINI Cooper S Clubman and Airstream concept trailer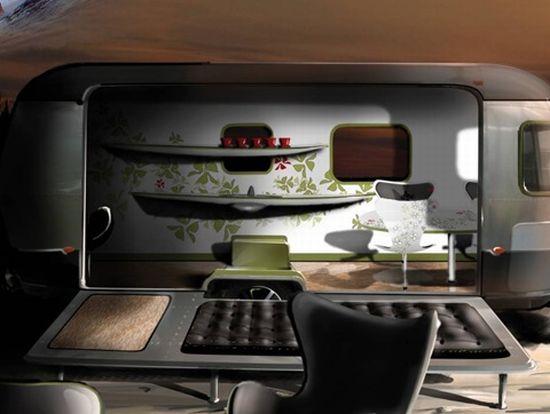 Camping trailers are always a great idea, especially when you are least interested in staying at the usual camping sites in the wild. Lately, MINI and Airstream Inc. have joined hands for a concept trailer that draws inspiration from the outdoor surfing lifestyle. Designed by Copenhagen-based Republic of Fritz Hansen, the one-off Clubman Cooper S and Airstream concept trailer measures 22 feet and comes with stylish furnishings and smooth wood paneling. Inside the trailer, you will find Arne Jacobsen's Egg and Swan chair and a table with four unique "Series Seven" chairs. Now, that is more than enough space for you to entertain your family and friends.
The waterproof interior and a fold-out sun bathing bed further add to the "modern surfer" feel inside the trailer. The 175HP MINI Cooper S Clubman with a twin-scroll turbocharger and direct gasoline injection pulls the trailer and it boasts a jet black finish with black "wetsuit" neoprene accents and green trim. The MINI Cooper S Clubman and Airstream Trailer Concept will be showcased at the Interni Design Energies exhibition at the Salone del Mobile show in Milan.