As Woody Allen once famously remarked, 'Culture is the illusion of permanence'. Nowadays, with modernization, we are slowly watching our old cultures die and new cultures emerge from their ashes. However, the best thing about the new cultures is that they aren't stiff and stringent like the old ones. You are free to change them according to your needs. Dining, which in earlier times used to be a practice unique to every culture, is also changing. Nowadays people dine in a variety of ways. Our trending designs in dining tables bears a testament to this fact. In fact, furniture like dining pod are surely taking dining to a brand new level.
Read More: Futuristic home furniture concepts for you to love (or hate)
Dining Pod

We all know that sitting down at the table over dinner has always been one of the best ways for the family to bond and connect. However, these days no one has the time to sit down for a family dinner. Turkish designer Fatih Can Sarıöz, however, feels that the concept needs to be revived and hence deals with the theme in his special dinner furniture. Dubbed as Kure, it is designed like a flower that opens up to a full-fledged dinning table. Shaped as a sphere when closed, it can occupy any corner of the house. And only when the sun sets down, you can bring Kure to life. Fitted with a light source in the center, the base too glows with blue light.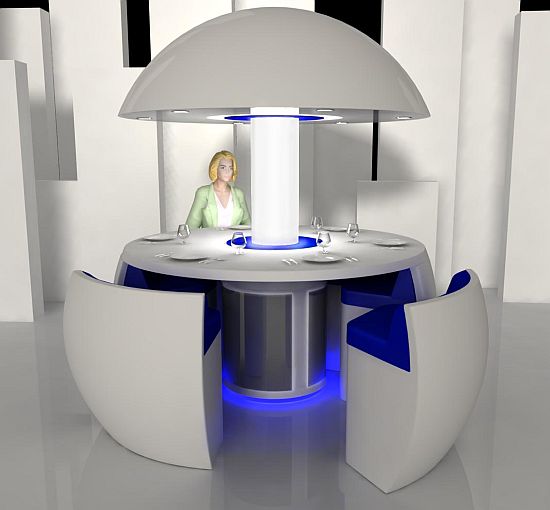 Usability:
The pod-like form accommodates six dinning chairs which can also also be used otherwise. An alternative set of furniture that aims to bring the whole family together at meal times, Kure doesn't really help to save space. The sphere seems to occupy almost equal room when closed or in use.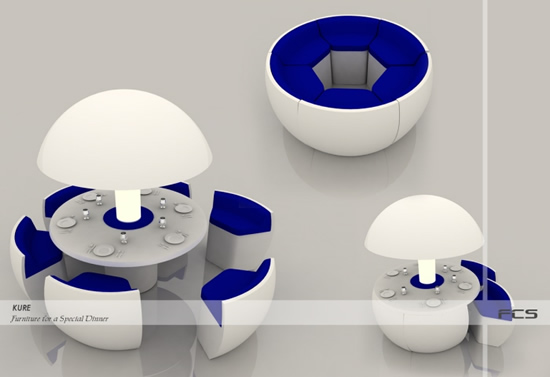 Via: Coroflot
About the Designer:
Fatih Can Sarıöz has studied at Mimar Sinan Fine Arts University and specializes in the fields of Industrial Design, Interior Design and Exhibition Design.
Some More Innovative Dining room furniture
1. The 7100 Dining Desk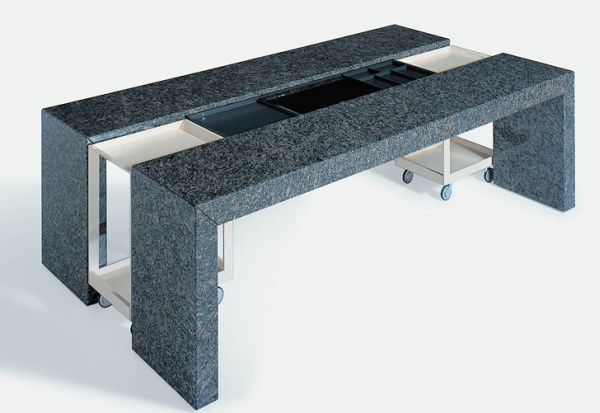 The principal feasting table in our rundown is the adaptable eating table from Draenert. This is a multi pragmatic bit of furniture that pulls separated from the center, making space for a metal stroller that you can make utilization of to carry the sustenance from the kitchen or hold the champagne and a resourceful zone that can oblige a cutlery box, the serving dish or a hacking board. A product of characteristic stone or MDF-polish, the 7100 Dining Desk is ideal for a up to date lounge area.
2. The Cervino Dining Table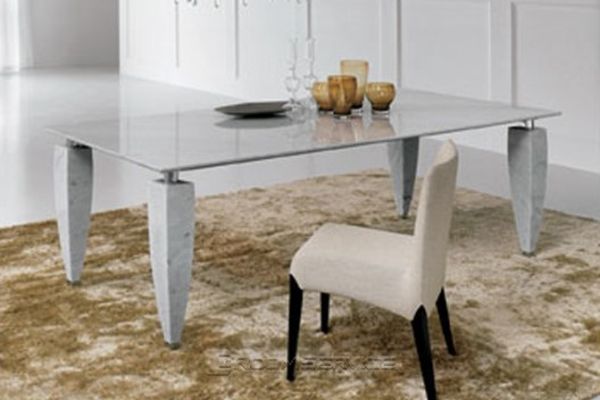 Resting on marble legs, the Cervino Dining Table might be found at Italian furniture designers  Cattelan Italia. Attractive shades of ash caught in the marble legs and surface make this feasting table an imperial decision. Completes produced out of metal offer the bit of furniture the advanced touch it needs to be suited for a progressive and up to date home.
Read More: Some of the most popular Italian furniture brands
3. The Action Dining Table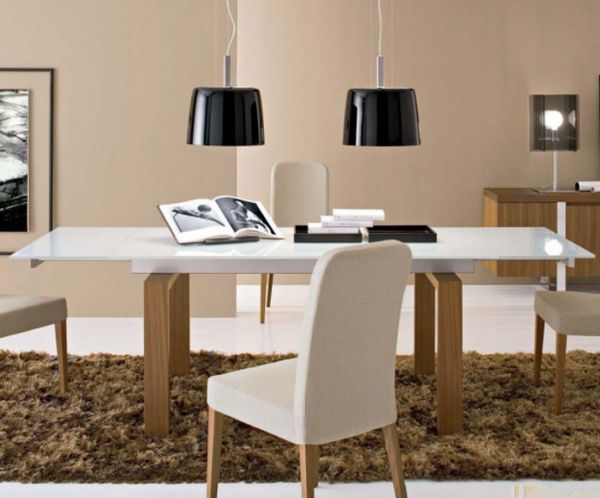 This feasting table named Action is a multitalented silk steel secured table that can have space for up to 10 individuals because of its extendible glass top. A delightful configuration and the likelihood of picking between a broad reach of accessible completions makes the Action Dining table a solid contender for your lounge area. Makers from Arredamenti Diotti offer varieties for the legs and surface of the table: the legs are accessible in silk steel, oak, wenge, dark or white gleaming lacquered and calfskin in cream color, while the surface could be decided to be a silk-screened treated glass in dark, espresso and additional white.
4. The Ping-Pong Dining Table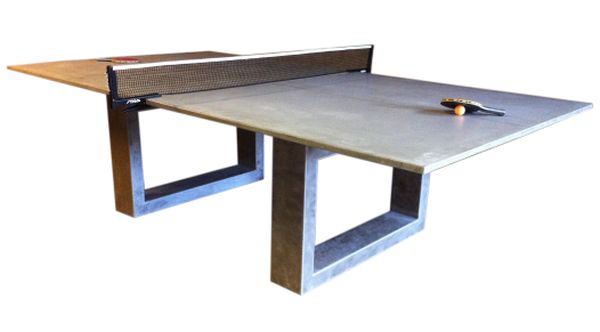 The Ping-Pong Dining Table was outlined by Singaporean creator Hunn Wai. It has the confirmed extents of a ping-pong table, complete with an exquisite blossom course of action that additionally serves as a net for the amusement. Gold lacquered French extravagant examples decorate the edges of the dark table surface. The table rests on six hand-lathed timber legs.
This resulting table originates from Italian inner part outline and furniture firm Arredamenti Diotti. It comes in two colors, dark and white, with a glass surface. Joining up to date plan with excellent style, the Tavolo Dining Table has a wooden dark or white lacquered structure, secured with in dark or white treated glass. Up to date and hurling lines make the eating table a motivating blend of inward exemplary with external advancement.
5. ComforTable: Multicultural table bends to your dining needs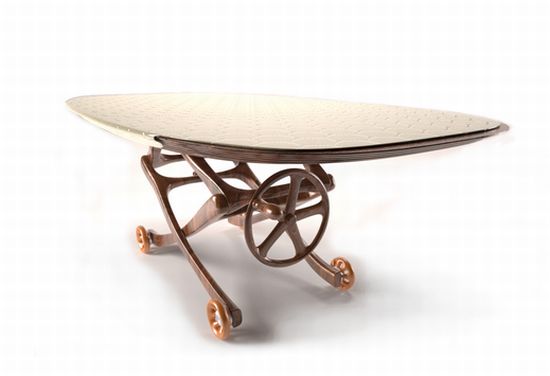 Commissioned by the D'arc Studio, Italian designers Camillo Vanacore and Carlo Miatello have developed a multi-cultural table that bends to the needs of different users not only within the family but also in different societies. Users can adapt the table to their favorite ways of dining and seating. All they need to do is rotate the wheel underneath the table and change the height. The heavy-duty yet simple mechanism gives it a retro look, turning the table into a piece of art for contemporary apartments.
6. Digital Dining Table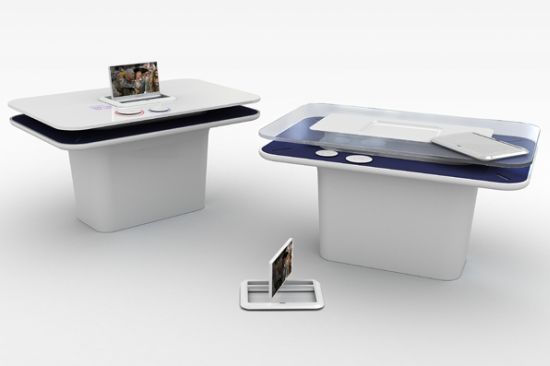 As more housewives are turning to working, particularly women in city environments, there has been a rapid change in the life patterns, especially eating habits, of the urban families due to their unchecked routine. Providing a solution to the problem, designer Sang Hoon Lee has come up with an innovative dining table called the "Digital Dining Table" that introduces the functions of a refrigerator and a warmer to the dining table, making a more convenient setting of a dining table for all the members of the family.
Featuring a TV set installed in the middle, which make dining alone more fun or possibly to record your slack eating behavior, the multifunctional table programs optimal temperatures for different foods, served not just on the dining table but within the drawer as well. The digital dining table comes with a transparent surface, assisting the users while serving food from the underneath drawer, which turns opaque as soon as you start eating, so you have an attentive and healthy meal.
7. Manzanita Dining Table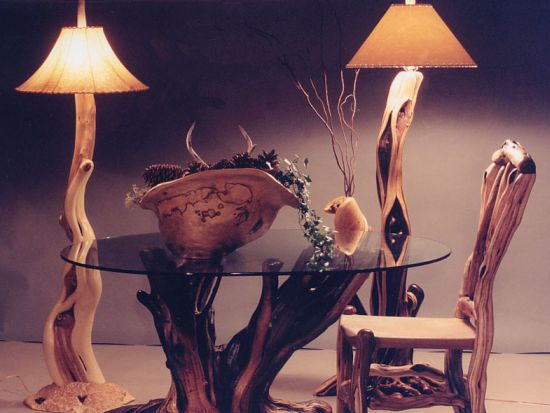 Just check out the dining table depicted here. Confluence of Manzanita wood and Gabriel Romero's innovative art makes it, indeed, something you may call splendid. A look at this dining table, unfolds nature in an exquisite style, be it table, chairs or lamp structures standing just close by. Having candle-light dinner in such a natural but luxurious surrounding would, indeed, be memorable moments, adding spice to your life. Moreover, dining on it would be just like rendezvous with nature! Isn't it?
8. Vitreous enamel poker & dining table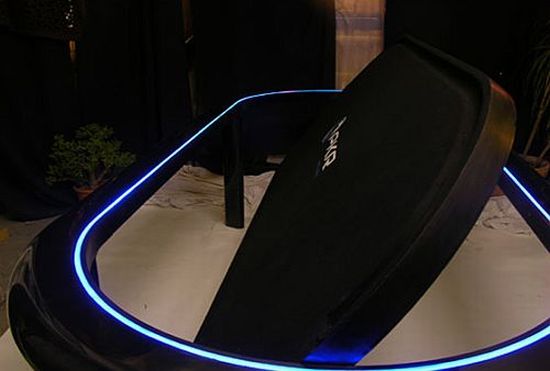 Commissioned by Jez San of PKR, British designer Lee J. Rowland has developed a glossy poker table that rotating its surface to become a dining table. Inspired by ultra hardwearing furniture finishes, the multipurpose table features patented motor technology from Maxon, which helps it rotate its surface gyroscopically through an ultra slim skeletal frame. Finished in vitreous enamel, aero panel, glass and steel, the poker dining table can be hailed as one of the finest convertible tables in the world. All the users need to do is rotate its surface to convert the poker table to a dining table.