We are ever discovering new problems in the world. However, to top it, we are also discovering new solution. Especially when it comes to the disabled, living in the fast-paced modern life is particularly challenging. Nevertheless, to help them overcome this challenge, designers are coming up with modern aids. Ranging from mobility aids, hearing aids to even navigational aids and prosthetic limbs, the assistive technology is changing the lives of the disabled and the elderly for good. It is a highly positive signal that designs like Flamingo Crutches are becoming mainstream. These assure that there is a brighter future, at least for the disabled.
Flamingo crutches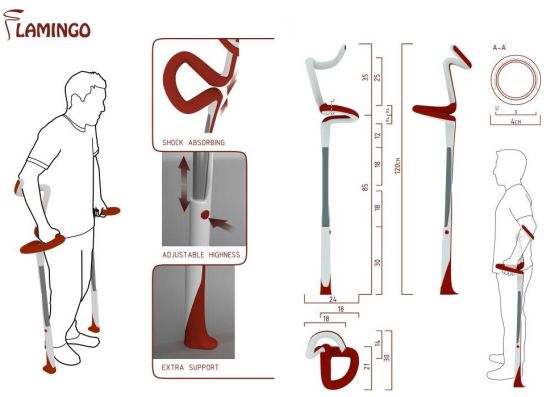 Designed by Turkish designer Can Guvenir, the "Flamingo" is a crutch that aims to solve the important ergonomic and usage problems of the conventional crutches. It aims to do so with its simple and aesthetic form instead of the using mechanism. The Flamingo provides holding alternatives by its continuous form in order to divide the pressure in the hand while holding the handle, which is the biggest problem of conventional crutches. The shock absorbing and self amortization properties improved by the handles allow not only the weight which the arms have to carry getting less but also walking getting more continuous.
The solidity and durability of the upper part is improved by the injection on the shaped aluminum structure. The Flamingo crutches are customizable therefore the user can adjust the height of the crutch by the button at the lower part. Elastomer parts are embedded on polycarbone parts to get a soft texture and also to prevent the sliding of the hand while holding. The continuous elestomer part is used on the lower part due for continuous and extra support.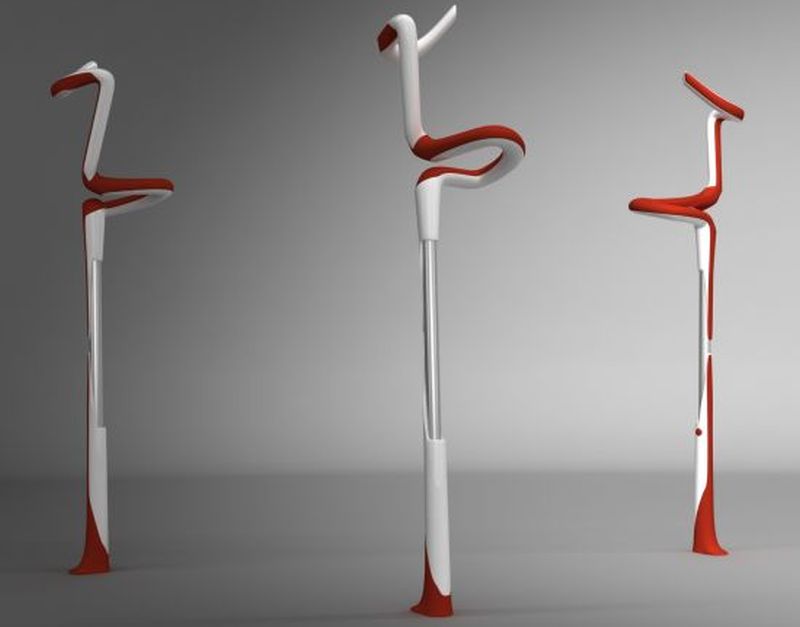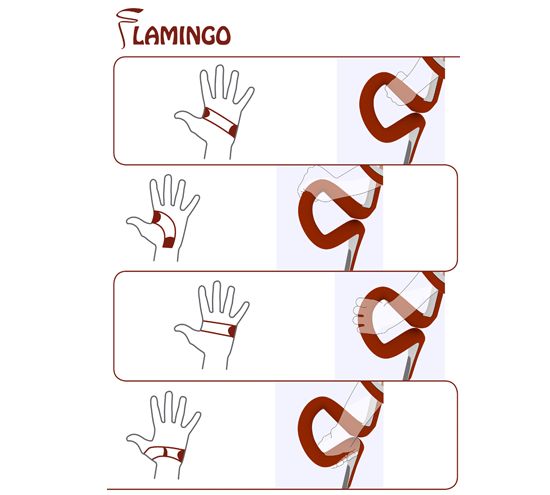 [Thanks Can]
More innovations for the disabled like Flamingo crutches
1. Collapsible Crutch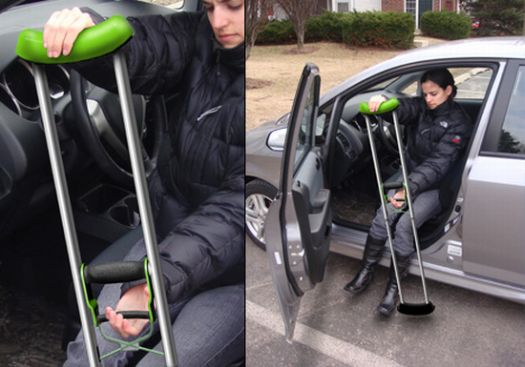 Not since the Transformable Crutches have I seen a mobility aid as versatile as this Collapsible Crutch by designer Jonathan C. Smith. Users often find it difficult to carry their large and bulky crutches while traveling or moving in or out of vehicles. However, the Collapsible Crutch is a supporting aid with difference that not just bends to a smaller size for easy storage but also alters its height to accommodate different users. Above all, the Collapsible Crutch can exceptionally increase its load bearing capacity so diverse users could use the aid with equal ease.
2. Redesigned Crutches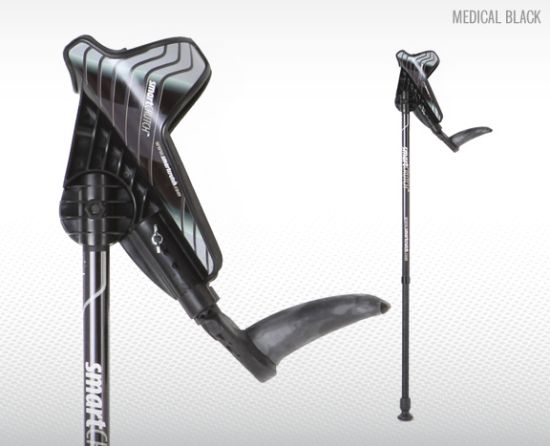 For the physically debilitated people with walking difficulties crutches are the only means to help get around with their daily chores. Only they can translate the pain and agony caused by traditional crutch design to their hands and or/underarms.
As if this wasn't enough the best crutches in the world help you safely climb up the stairs by holding just the railing. By setting the arm cuff angle to about 70-80 degrees, you can hold the unused crutch in the hand of the side that's using a crutch for support, leaving your other hand free to hold the railing. Smart indeed!
3. Comodo transformable crutch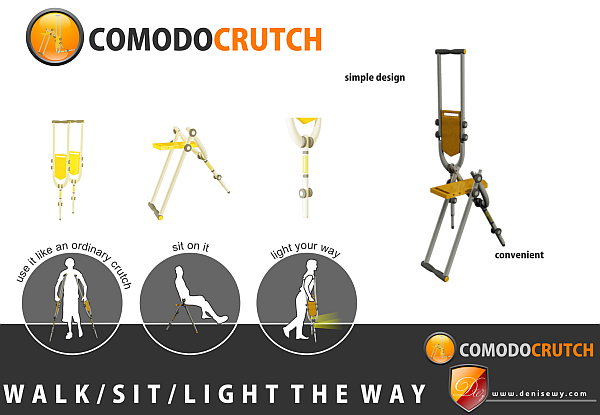 The other day, I was out of my station with my aged father, who is a paralysis patient. Though traveling on train was not a big deal with him, waiting for the train was definitely an unpleasant experience, especially when all the seats on the platform were occupied. And that's where the COMODO Transformable Crutch, that I read in one of the blogs, scrolled under my retinal screen. Comodo Crutch, designed by Denise Kim Wy, who works as a freelance Graphic and Industrial designer, is an underarm crutch that transforms into a comfortable chair in a minute or so.
With the help of nano-nylon plastics, aluminum and rubber, the young neuron came out with this design, which could be a real help to society. There is thick cloth in the middle part of the crutch that acts as seat when transformed into a chair. I am quite sure such transformable chairs would soon hit the market.
Wait, before you jump to pics, there is something that you still need to know. The best part of the this Comodo Crutch is that it has a inbuilt flash light in it that will be helpful for the disabled when they walk alone in dark.
4. Bionic Ear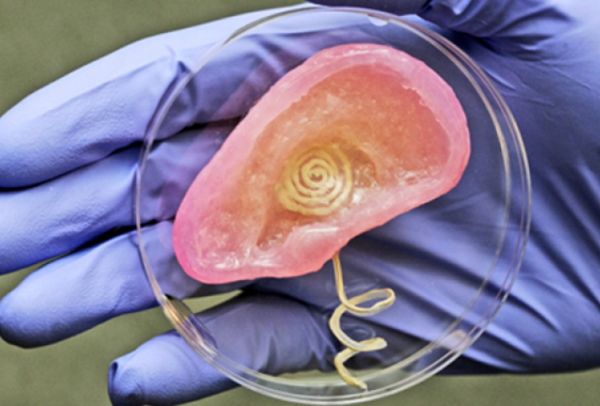 Scientists and doctors at the Princeton University created a remarkable bionic ear. It has an antenna embedded inside it to help a person hear better than normal human ears. This was made possible by merging electronic into the mammalian tissues with the help of 3D printers. This fully operation organ consists of 2 entwined layers of tissue and circuitry. It was achieved with the help of standard 3D printing and electronics provisions.
5. 3D Printed Custom Prosthetic Limbs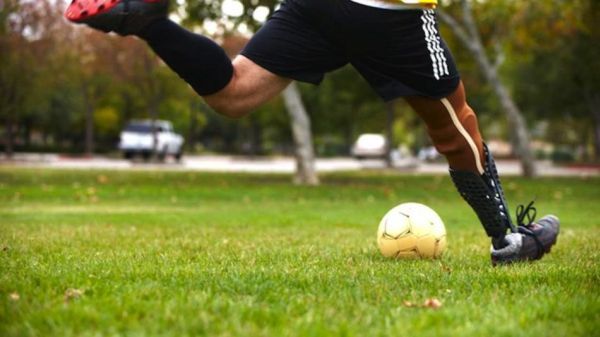 Prosthetic limbs that can really function efficiently alike their original organs are really a blessing for amputees. Bespoke Innovations creates custom-based prosthetic limbs based on the interests of their customers after interviewing them for a while. They use rapid prototyping, i.e. 3D printing, to create these limbs based on the requirements of a specific user. This art of creating limbs is absolutely brilliant and has a great future as well.
6. Magic Arms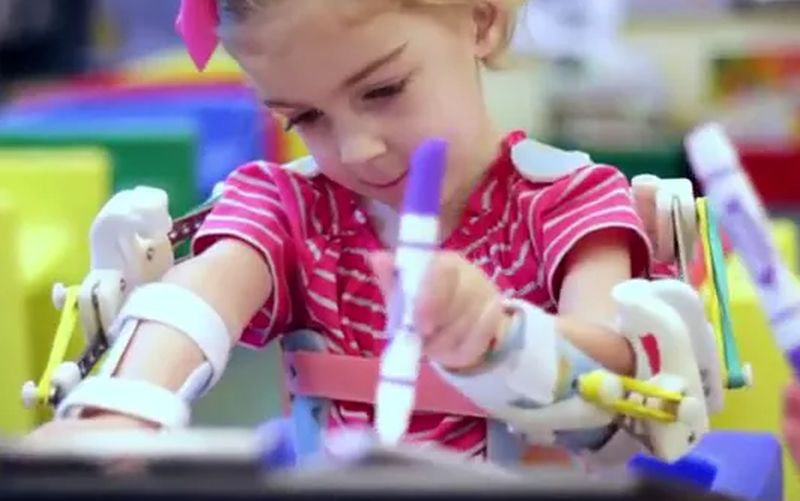 Image Source : cnet4.cbsistatic.com
Emma, a two-year girl was born with arthrogryposis multiplex congenita (AMC), a disease that causes joints to become permanently fixed. This disease made it impossible for her to move her hands. She was later taken to the Nemours/Alfred I. DuPont Hospital for Children where researchers fitted the little girl with a lightweight Wilmington Robotic Exoskeleton (WREX) that helped in increasing her arm mobility. This extension was produced using a Stratays Dimension 3D printer along with a jacket that fits over Emma. Her arms were fixed to the mobile exoskeleton later.
 7. 3D Print Prosthetics at Home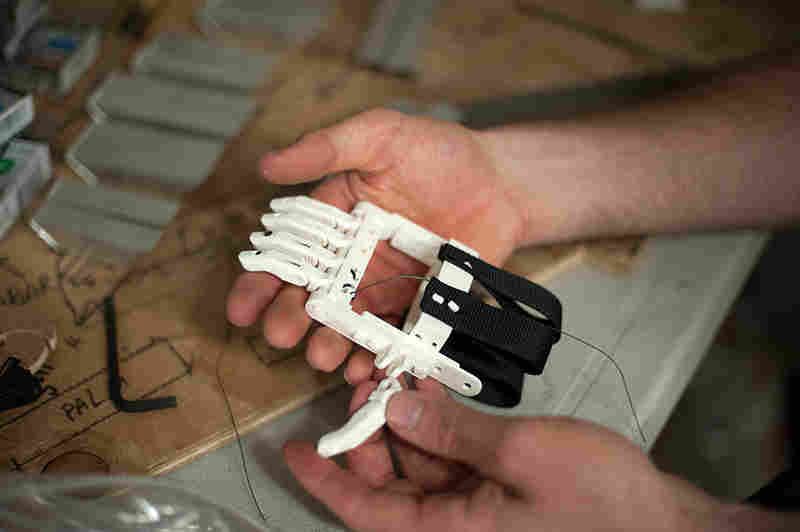 Image Source : media.npr.org
With the 3D printing technology being more accessible to the world, amputees can now develop prosthetic limbs on their own at a cheaper price. Ivan Owen and Richard Van first made a working prosthetic finger and then, a working prosthetic hand with the help of a 3D printer. Their vision is to provide prosthetics to all the people needing them at no price, with help of donations.
8. 3D Prints face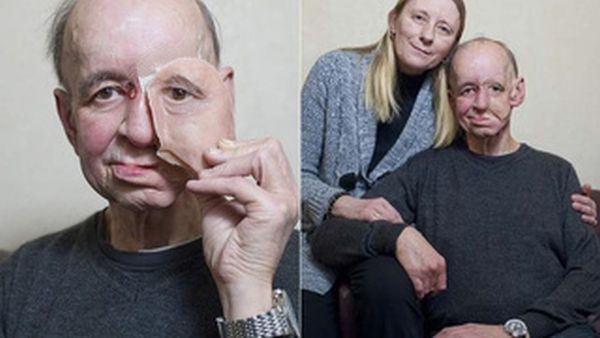 Eric lost half of his face as a result of an operation to remove a huge tumor from his face. This led him to be totally dependent on tubes directly supplying food to his stomach. Later doctors conducted facial scan to recreate half of his damaged face with the help of 3D printing using nylon plastic. Now with the help of this perfectly fitted print, Eric can now eat and drink normally. Moreover, this trial has led to the implications of producing prosthetics at a lower price than now.