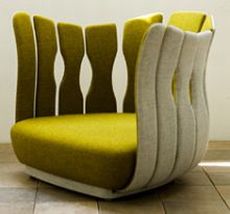 The creative team of designers from Leif.designpark, namely Takashi Ueno, Takashi Ueno and Keizaburo Honda have created this amazing design for a lounge seat.
This art piece, as I would prefer to call it rather than just another design in seating furniture, is adequately named as Tsubomi.
Tsubomi means a flower bud in Japanese, growing in the forest of KuKunochi, about to blossom. Same theme goes for this lounge chair which is created for the user to relax and feel its warm quality, henceforth bringing the brightness blooming in him after a weary day.
Via: CubeMe
Image: 1