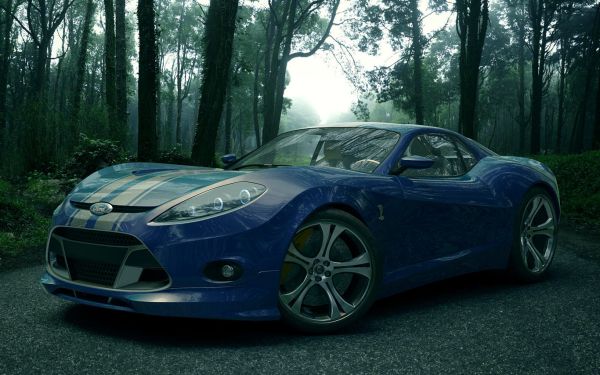 Here's an exciting news for the racing folks, who keep scanning about the new hot wheels. Ford Cobra concept is all here to steal your heart for sure! Designed by Andrus Ciprian, Ford Cobra Snakehead concept could be developed by Ford-Shelby collaboration. If we look at the concept, as the name suggests, the design of the car resembles a cobra's head. The hood of the car looks like a snake's mouth and the roof of the car as the elevated center portion of the snake's head. Even the tail of the car resembles the back portion of a snake's head. Therefore, the designer named it as Ford Cobra Snakehead concept.
If we compare and contrast this concept with other well-established cars, the Ford Cobra Snakehead concept car's hood has been inspired by the recently rolled out Ford Fiesta and Focus models. However, this concept is much more sporty than those cars. The best part of the design is the wheel arches, which are said to be extremely muscular with special attention to the front part.
While the looks are undoubtedly awesome, the designer says that the performance is going to be world class. This Cobra Snakehead concept car accommodates two persons, including the driver, like most other sports cars. The rear part of the car's design reminds us about the classic GT40s cars. The kamm tail design adopted by the designer for the rear end adds extra beauty to this design.
Looks apart, the car is said to offer great comfort to the driver as well as the passenger, making them feel that they are in their own cockpit, thanks to the long and high center console. The designer mentioned about the looks and the comfort but skipped the technical specifications, probably because that's not his role. Once the design will be okayed by the company, the design engineers as well as the mechanical engineers will plunge into action to draw the specifications, including the gearing system, mileage, engine and cylinder. It's then that we will get to know as to how much speed can one experience while pushing the accelerator.
Therefore, if you are looking for the information on gears and all, you need to wait for some time. All in all, the design seems to be quite impressive and it is most likely that the company will nod for this design.
Via: Diseno-art