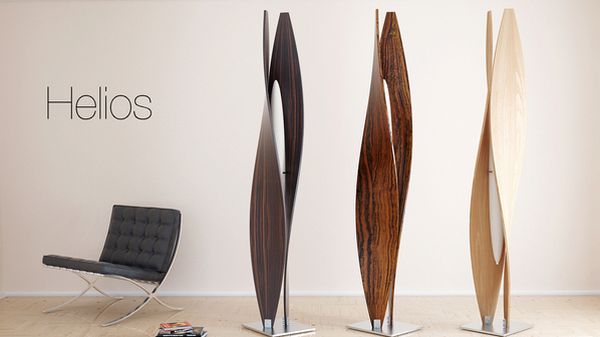 If you wish to light up your room in a manner that showers sumptuousness, then Helios will be a perfect choice. The lamp has been designed by Milos Todorovic, which will blend flawlessly with a contemporary living style. Milos has given an all new meaning to floor lamps with such a brilliant conception. In Greek mythology, Helios was the personification of the sun and was considered as a handsome God.
The lamp comes wrapped with the same dazzling aura that will liven up any dead place. It has been crafted from flat plywood, which has been given a preferred outline by cutting. A 90 degree central axis torsion is applied to shape the cut parts. Both the pieces are mirror images, and two bolts are used to place them on the stand in a secure manner. A matte glass ellipsoid is sandwiched between them to lend an artistic appeal.
Helios will give out warmth and make you slip into a serene state. The lamp's dainty façade will decorate the area it is positioned in. The illuminating piece comes enveloped with a positive energy flow. Even during daytime it will touch your emotional side and make you submerge in its sparkling features. Helios will definitely prove to be an expertise in indoor lighting.
[Cheers Milos]