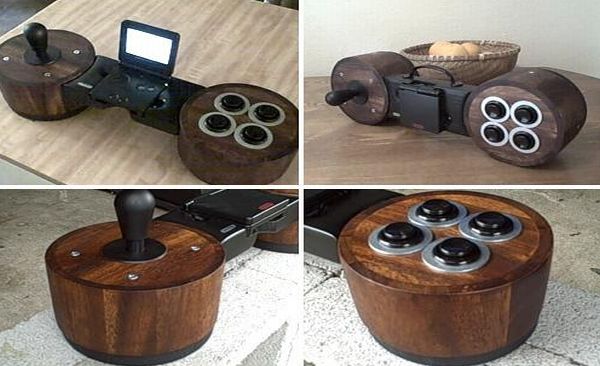 It looks like something you would find in a long-dead great-uncle's forgotten country home's neglected attic, but this Nintendo Game Boy GBA SP Arcade Tabletop really makes you realize just how badly has the recession affected the economy! The wooden wonder basically makes a mockery of all the hours of research that the good folks over at Nintendo spent streamlining the design of the original Game boy into the compact wonder that filled most of our collective childhoods.
The oversized tabletop is a work of art in itself and we have absolutely no complaints against its beauty as a craft. The flagship launch product from Toy and Television Games, the Game Boy Advance Arcade Tabletop is crafted out of acacia wood and American steel that promises to outlast even the most enthusiastic gamer since the battery lasts up to 15 hours. The AGS-101 model which forms the basis of the tabletop has been modded with only the Start, Select, and Light buttons in place and functioning while all the other original action buttons have been plated over.
The interesting thing about the mod is that you can link up to three Game Boys to the machine or combine a Gamecube and a Game Boy Advance Player and play your titles on a TV. You can also use the thing to watch movies and you can even play Arcade ROMS using a Game Boy flash cartridge. The tabletop arcade can run virtually all the classic Nintendo classics including Mario, Donkey Kong, Tetris, and Street Fighter, as well as all the other classics from the Game Boy line.
Just in case you had misplaced your own copy, the gizmo comes packed with a pint-sized amplifier and an imported, boxed copy of Street Fighter 2 Turbo Revival. Till this point and perhaps as an extremely rare collector's item, the concept looks good and may even make a great conversation piece for hardcore Nintendo fans, but the thing is basically an abomination and a grotesque caricature of both the arcade machines of yore and the Nintendo handheld tradition. The tabletop is set to retail at $399 which is almost as much as a new Wii and makes this concept sound less pleasing as a bargain!
Via: Oh Gizmo