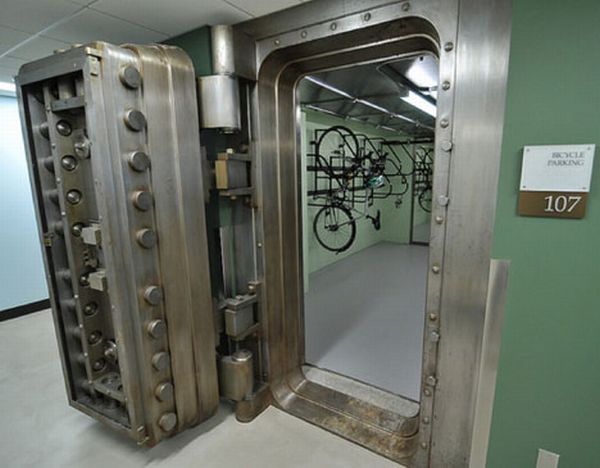 If one goes by the first look, then it seems unbelievable to witness a high security 16,000 pound vault door safeguarding something like bicycles. But that's what has happened in Portland. Tenants of a 12-storied building are actually parking their bikes in one of the two former vaults of an ex-bank which no longer operates from the building. Through a novel idea, the vault has been converted into a parking area for two wheelers.
The news becomes all the more relevant in the backdrop of the arrest of Meth-head bike thief who prowled on the streets of Portland armed with a hacksaw. The 38 year old Bart Simon Paul was arrested and charged with with Possession of Methamphetamines, but later he admitted to have carried out the hacksaw incident. He also pleaded innocence by explaining that the bike he was targeting was an abandoned one.
Though the re-purposed heavy doors create an impression of an impregnable security they can provide, those doors are the rigged ones in reality, and cannot close or lock. However, the bikes are closely monitored by the video cameras fitted inside the two-foot thick walls of the vault.
The building that houses the vaults was constructed exactly a century ago in 1911. Called The Spalding, the bank building is mentioned in the National Register of Historical Places and used to be known as Oregon Bank Building.
Via: Core77/Bikeportland