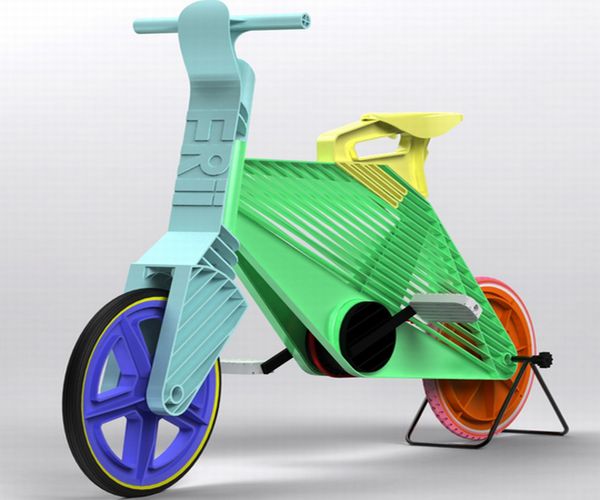 If you thought that the above bike has been made by a child using LEGO blocks, then read ahead. What looks like a child's play has been brought to life by Israeli designer Dror Peleg. A student from the Bezalel Academy of Art and Design, Peleg has designed this colorful creation named Frii. What looks like an ordinary bicycle has been crafted from salvaged materials like plastic.
The designer has made good use of injection molding technology, which has been given an attention-arresting facade. Unlike conventional metal bikes, Frii is eco friendly and vows to keep the surroundings clean and green. The bike can be modified as per a user's advantages and won't consume much labor.
The vivacious bike has been given wheels that measure 20 inches and are "flat tire"-proof. The material used for crafting them has been inserted over the wheels. The wheels have a shorter fork that gives added strength to the construction. To craft the bike, the bearings are placed into the mold before injecting. Plastic ribs have been used in an ingenious manner, which adds a lot of muscle. Additional stability is ensured by the presence of a bottom that has been shaped like a pyramid.
Frii is very colorful and lively, and the usage of recycled plastic makes it a favorable option for environment lovers. So, ride on this eye-catching construction and fetch unending praises.
Via: Designboom