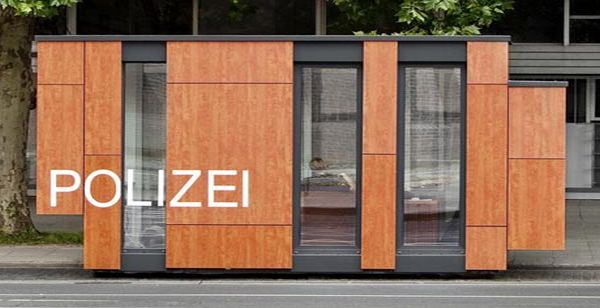 Nowadays, citizens have to experience problems frequently when they lose their belongings or face any criminal incident. Usually, individuals report such incidents at their nearest police stations. But, have you ever seen a police station move down to you when you are in trouble? Well, now it can! German architects at the bureau of architecture, Gesamtkonzept, have made the concept of a mobile police station turn into reality. In fact, they have already designed a mobile police station for the Turkish Consulate by turning their VW bus into a mobile office, which can be parked on the roadside.
Gesamtkonzept has designed the mobile police facility by using mobile containers with a covering of laminated panels. These laminated panels have been given a wooden-look finish and contain window panes from floor to ceiling.
Similar to the aforesaid project, Gesamtkonzept has recently completed the design for a mobile police station in Hanover, Germany. This mobile facility is placed to be used as a replacement of an old and not-so-attractive police vehicle that had constantly been protecting the Turkish consulate in the Nordstadt district in Hanover. As the old bus looked misplaced and clumsy, the Nordstadt Police Department decided to go for a modern-style mobile station that could act as a transparent workplace for police officers. But, the department desired an easy and not-so-expensive solution.
Gesamtkonzept has met these architectural requirements skillfully in their design. They have given the station a matching architectural style and contrasting color scheme according to the surrounding structures and environment. Architects have introduced an insulated, curtained and well-ventilated mobile version of the police station. The curtained rear facade and insulated roof and walls have eliminated the need for an air conditioning system inside the station. Supported by the steel frame of a mobile container, the station has managed to offer an open and transparent look and feel.
Such a modern, elegant design helps improve the work quality of police officers, and Gesamtkonzept has successfully met the police department's requirements to offer the same. The station has a significant feature of being mobile with an eight-square-meter compact effective area. On top of it, architects understood the initial idea and completed the whole project of creating and beautifying the mobile police station within a time span of just one year. So, if that is the quickness to bring in high-quality conceptual changes, you may also expect to see one such mobile police station in your area soon!
Via: Dezeen