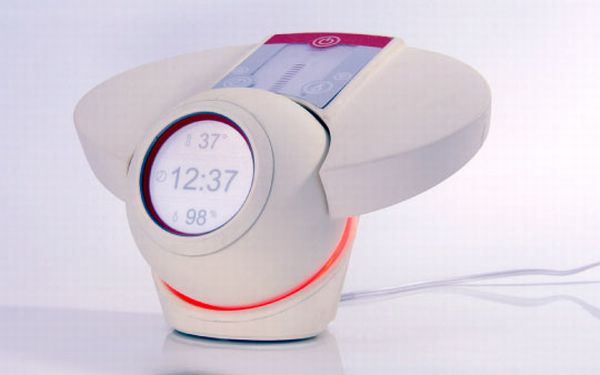 For people suffering from Rheumatoid arthritis, even the simplest daily chores may at times present the greatest challenges. The long-term affliction is a painful and disabling condition which can lead to an increased loss of mobility and functioning if not treated properly. With no known cure for RA, more and more experts are recommending the use of special tools that improve hand movements and advice patients to perform regular exercises that would maintain joint mobility and make muscles stronger. Other less stressful therapies for immediate pain relief include heat and cold treatments. The Mundo is one such medical concept which aims at providing patients with a specialized device for such a therapy.
The device, created by Dutch designer Emiel Teesselink, uses heat and cold to improve circulation and helps patients manage their discomfort at home. The handheld device comes with a charging station that allows patients to use the device for as long as required without worrying about changing batteries.The spherical center of the Mundo provides a specific focus point with a centerline dividing its visage. The display provides all the necessary information, allowing users to monitor their stats as they go along.
The control panel is located right above the display and allows users to select different modes. An ellipse wing with a slight convex curve allows the device to be easily gripped by patients without putting any undue stress on their joints while horizontal slots along the back of the device allow easy ventilation and prevent excessive heat from harming the electronics.The device is currently just a concept but with alternate therapies gaining ground, we may see it in stores soon enough.
Source: Emiel Teesselink