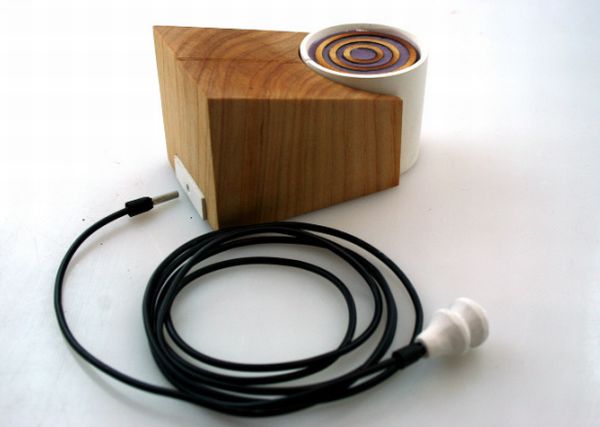 Music players have undergone a lot of change in recent years. From the quality of music to their aesthetic appeal, everything has been taken care of by the designers. Sam Stringlrman has crafted an appealing MP3 player concept that will force onlookers to slip in a state of awe with its attention-grabbing looks.
Drawing inspiration from a song by John Frusicante named Dark/Light, the MP3 player forms a direct connection with human emotions, just like the song's video. The wooden circles wedged in the ceramic hand-held pot are laser-cut from a large sheet of MDF, which has a thickness of 3mm.
The pot on which these pretty circles are placed, has been crafted from paper clay. This looks like porcelain, but makes the pot porous that gives the flexibility to alter the thickness of the material. The pot is filled with silicone mixture and then silicone circles are placed in it. The circles and silicone,when dried out, flexes to form a bond with the product.
The handmade headphone port are attached to the MP3 player, while the white colored piece (made of paper clay) forms a pleasant contrast with the wooden structure. The docking station has been crafted from Macrocarpa slab and further dipped in Linseed oil. all toy need to do is plug in your earphones and set on a musical journey with the MP3 player concept. Moreover, it allows you to couple your iPod to enjoy your favorite playlist.
Via: Samstringleman