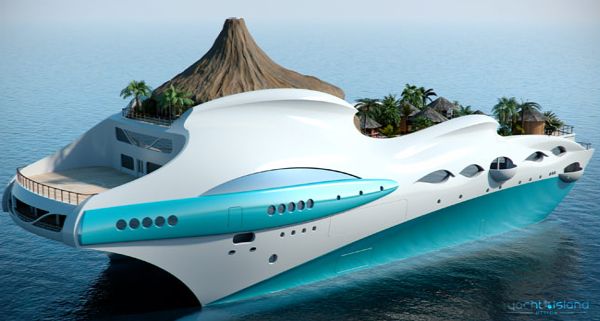 So the above-pictured conceptual yacht is set to redefine Noah's Ark all over again. Like the way Noah created his own little niche on the boat, similarly, the Tropical Island Megayacht is going to prove to be one such design in itself.
The designer has aptly toyed with the idea of how rich people want to splurge in luxuries. Keeping this in mind, the MegaYacht has incorporated a helipad, a volcano which shoots water instead of lava, the biggest swimming pool possible and everything else you can just possibly imagine .
The 90m long yacht is one luxurious piece of art. Capable of sustaining a top speed of 15 knots, the boat is every dreamer's paradise. Your friends can drop in anytime, thanks to the inbuilt helipad. You may even consider going for a dip into the ocean with the kayaks attached to the lower deck of the boat. If all these are just not enough, then simply lounge in the private spa or the VIP suites with attached balconies.
If you have the money and the heart to spend it, then don't think twice for this concept can turn into reality the moment you want it to. Once the setting is done, there would no looking back. The boat shall be your oyster to explore and you can while away the time lounging in the Cabana sometimes.