When compared to other means of transportation, apart from being eco-friendly, bikes are also more conducive to peace of mind. Giving up your car for a high-tech fab looking bike is a choice you would definitely not regret. Here are certain futuristic bikes that are worth giving up your bike for.
Futuristic bicycle by Wisconsin-based designer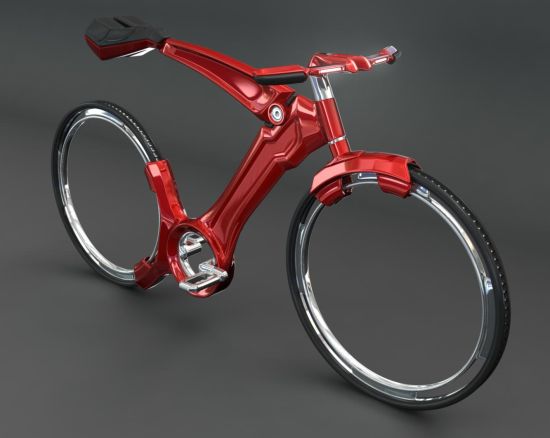 With new advancements in materials and manufacturing techniques, modern or futuristic products are becoming minimal, presenting simple though attractive products. The futuristic bicycle by Wisconsin-based designer John Villarreal features an identical bike design that removing all extra parts from the body and wheels not only looks gorgeous but seems to promise a comfortable ride. Featuring a lightweight body, possibly finished in carbon fiber or power coated aluminum, the futuristic bicycle also integrates LED lights on the handlebar and at the rear to ensure safety at night. And hubless wheels simply give it a trendy, futuristic look.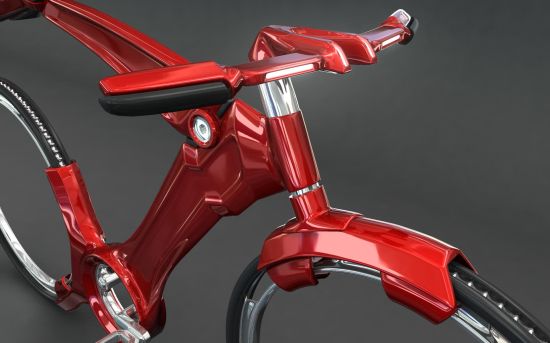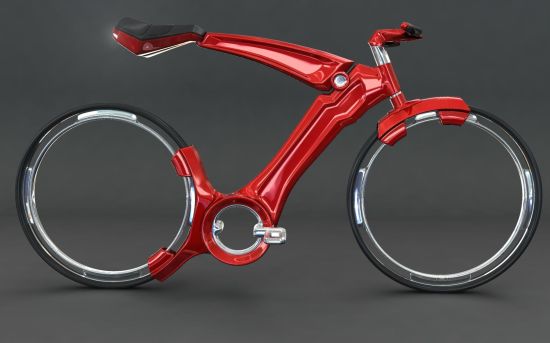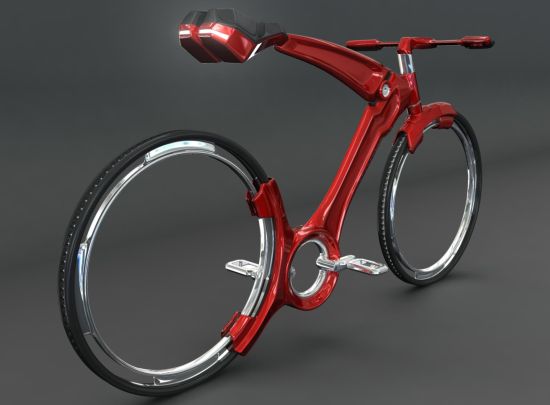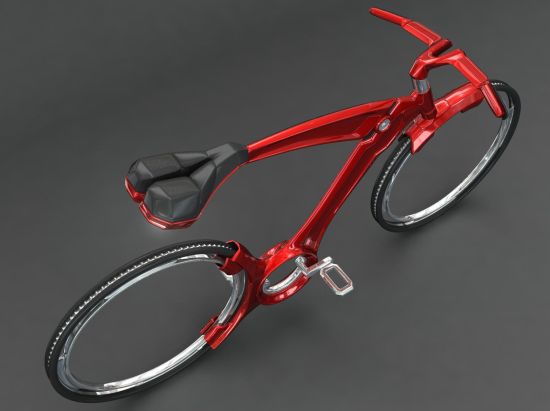 Some Other Futuristic Bicycles
1. j-bike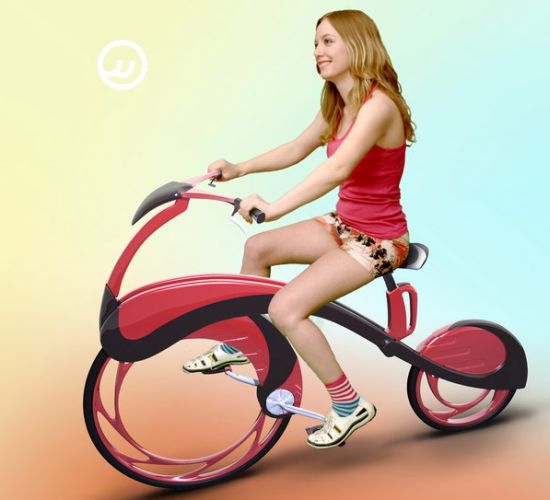 She is hot, isn't she? We have seen the fold-up bikes before, and we really appreciate their ease of portability while on the go. If you like the idea of carrying your bicycle under you arm, the j-bike looks to be a trendy solution. Michael Soluyanov has designed the j-bike as a part of his degree project, which has received the recommendation of the department to participate in the upcoming design contests. When in normal condition, the j-bike measures 1600mm in length, which is reduced to 860mm when folded. Even the width is reduced significantly from 560mm to 340mm. The thing I like about this bike the most is its stylish make. Folding bicycles are getting quite popular with designers these days, and we simply love it.
2. Eco // 07 Bicycle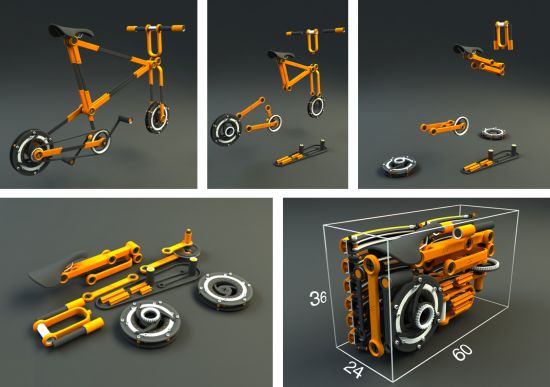 Biking with its all important eco factor has always been an essential part of short distance traveling, but by adding portability to contemporary bicycle designs, designers have given a whole new dimension to the sustainable urban commutation. Mexican designer Victor M. Aleman has come up with a portable bicycle dubbed "Eco // 07" that features a double triangle structure, composed of expandable modules, each of which collapses into a smaller dimension when not in use. And a special part in the form of X keeps all the parts intact in an organized manner.
The bicycle also integrates a highly flexible wheel system that is composed of six modules, each comprising a double pivot in the joints, which allows the user to fold each wheel into six different parts for easy storage as well as transportation. The bicycle is not just easy to collapse, but you may reassemble it comfortably without wasting any time.
3. Dreamslide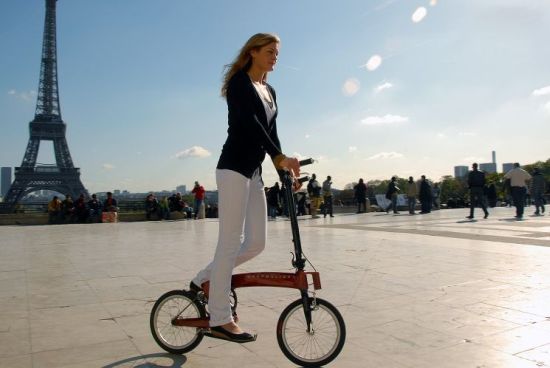 Dreamslide is a new generation of bicycle designs ready to hit the streets. Jean‐Marc Gobillard, a French enthusiast, has devised an interesting contraption for those who do not mind a standing ride. Dreamslide is a consummation of standing posture typical of skateboards and roller blades with larger and faster wheels of a bicycle. What makes its functioning conspicuous is the special pedaling system that relies on a standing rider.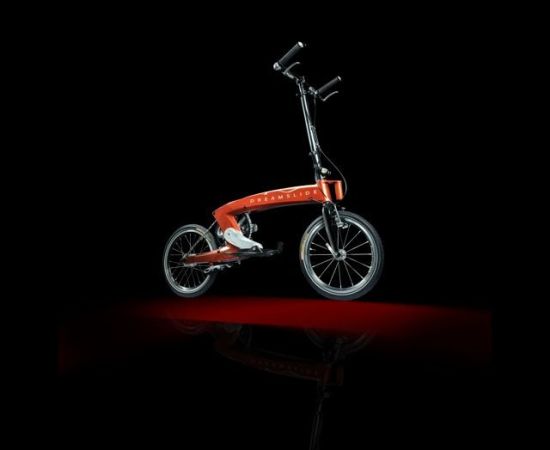 Gobillard has used Adaptive Pedaling System, or APS in the Dreamslide which has a single-speed drive train propelled by pedals that spin independently of each other and thereby constantly generate power. When the rider pedals a stroke, the back foot moves forward and lifts slightly while the front foot slides back. This minimizes the body-weight-bobbing drawback of pedaling while standing, and also eliminates the "dead zone" in the conventional pedaling setup.
4. Amphibious bicycle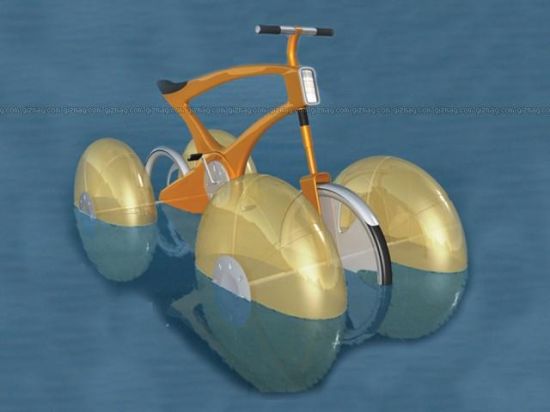 Many times in your dreams you might have started out on a ride on your bicycle from your home, rode down the way into the nearby lake, crossed the lake on your bicycle and then ridden up into the sky. You must have really longed for such an experience in real life. So, here is the chance for you to realize at least the initial part of your dream with the Amphibious bicycle invented by Bin Yu and Jian Wang. This innovative masterpiece won itself a place amongst the bike designs that qualified for the final round of the 12th International Bicycle Design Competition. The Yu and Wang's bicycle also, like the amphibians, can adjust itself to take you on a ride on both land and water. There are special wheels that can be inflated with air that keep the bicycle afloat while you ride on water.
5. Pluma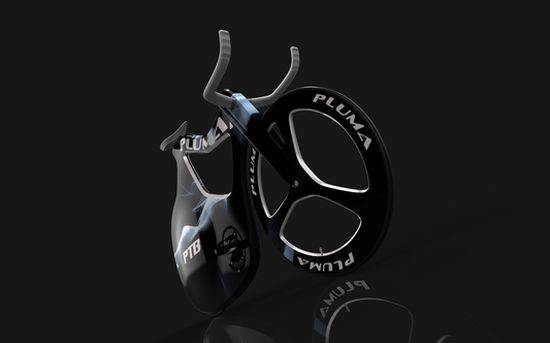 Created by Portuguese designer Nuno Teixeira, the "Pluma," meaning feather in Portuguese, is a high performance track bicycle that employs Carbon/Kevlar body panels to make it lightweight while being more impact resistant at high speeds on the racetrack. Featuring an aerodynamic design to let the air pass without any interruption along its body, the track bike concept reduces the number of loose or moving parts to make it safer for bikers. Especially designed for Velodrome track cycling races, the Pluma is a fixed-gear bike sans brakes like professional track bikes.
6. Nexus baby stroller bike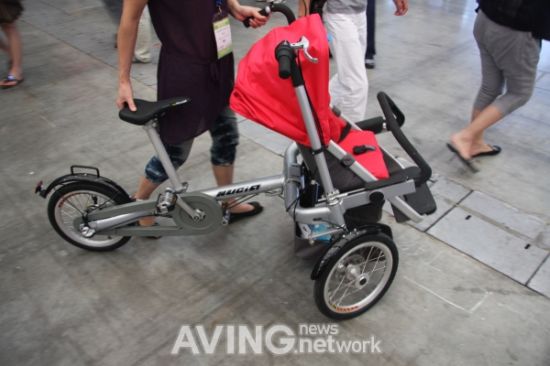 Showcased at the 2010 Children Baby Maternity Exposition (CBME) held in Shanghai, China, the "Nexus" by Nucia Bicycle is a baby stroller that transforms into a bicycle, rather tricycle, allowing easy commutation for parents while visiting the marketplace with their tot. Featuring a body made in aluminum, the mobility unit moves on 16" alloy wheels and weighs just 26kg. Integrating disc brakes on the front wheels and a roller brake on the rear wheel for complete control, the stroller cum bicycle also presents an internal gear hub to allow three different speed levels. Easy to handle, the Nexus takes just 20 seconds to switch between a stroller and bicycle.
7. CIB city bicycle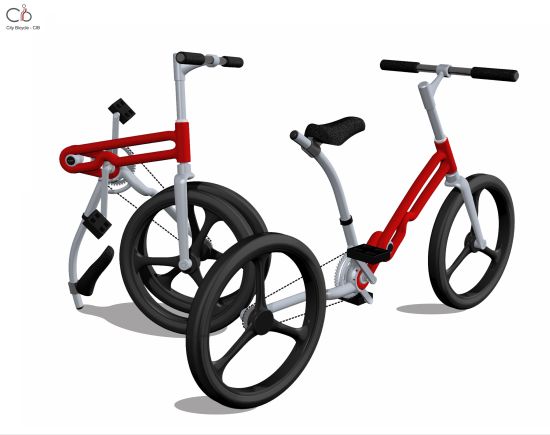 We have seen some of the highly portable bikes in the past, but designer Yong Min Seo, introducing a new and special function, has come up with an innovative city bike that besides being simple also supports a great speed of the folding. Called "CIB," the city bicycle replaces the paper fold type function of earlier bikes with the jack-knife-type function, conferring the riders with a comfortable ride, together with an easier and faster folding function. To fold the bicycle into a compact size, all you have to do is turn the bicycle's saddle, push the locking button and pull the front frame upwards, then the rear wheel comes to the front wheel and both the wheels come together to be locked up by the locking button.
Read More: