Gone are the days when a workstation used to feature a standalone wooden desk and chair. These workstations were meant only and only for work and had absolutely no connection with each other and the rest of the room. However, these vintage workstations are things of the past. Times have changed now and the more modern workstation concepts feature sleeker, more functional designs that would literally invite you to work more. Custom-made Hoerboard DJ workstation is one such workstation. Check it out:
Hoerboard DJ Workstation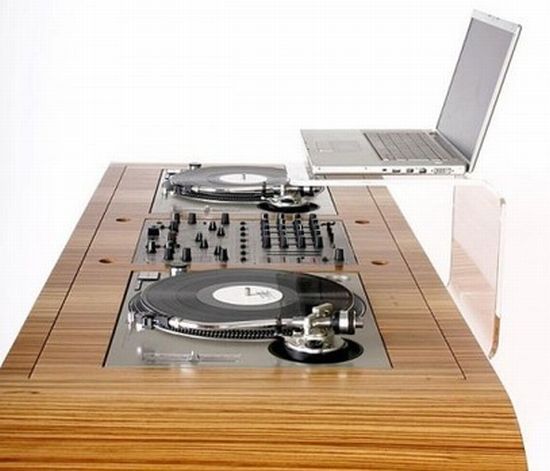 The Hoerboard by designer David Kornmann is a collection of custom-made DJ workstations that allows the professionals customize their mixer and turntable according to their individual needs and requirements. Providing space for a laptop, the new DJ workstations integrate a CD player right into table that not only looks good but also allows a great flexibility to the users. Made in a variety of materials, including wood veneers of dark bamboo, light bamboo, zebrano, olive and matte or glossy lacquer finishes, the Hoerboard DJ Workstations hides all the clutter of wires and cables neatly inside the body. Presenting the turntable options to be picked from Technics, Vestax and Stanton, the custom-made workstations offer mixers from Allen & Heath, Denon, Numark, Behringer, Pioneer and Rane, while the users can request their particular options. Check out more images after the jump.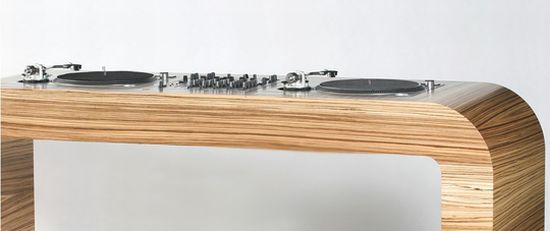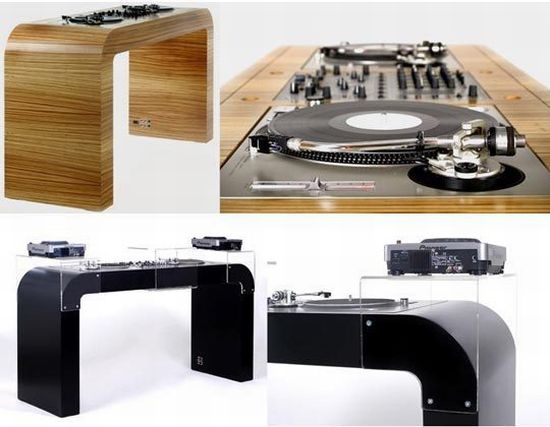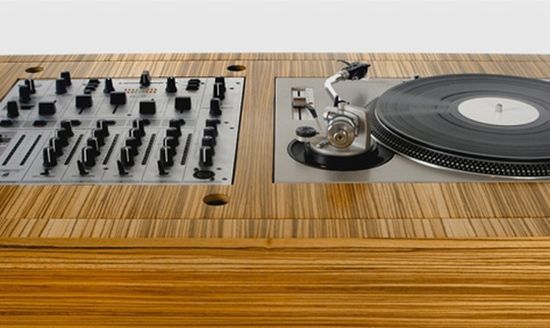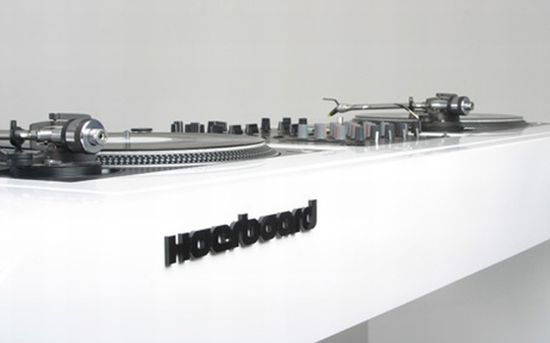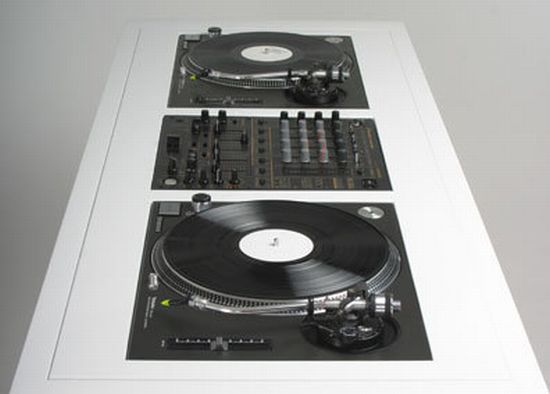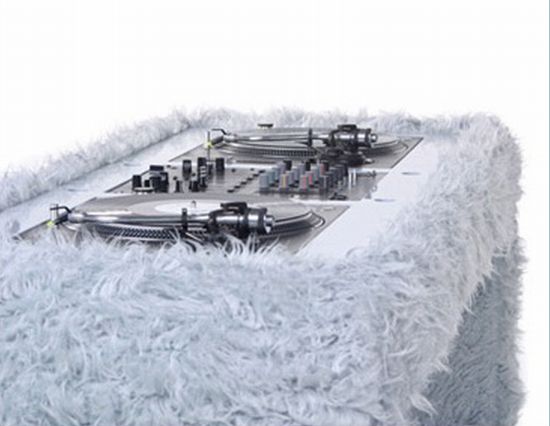 Via: Unplggd
Some More Innovative Modern Workstations
Here are 5 similar modern workstation concepts every office would want to die for.
1. The Flower Bud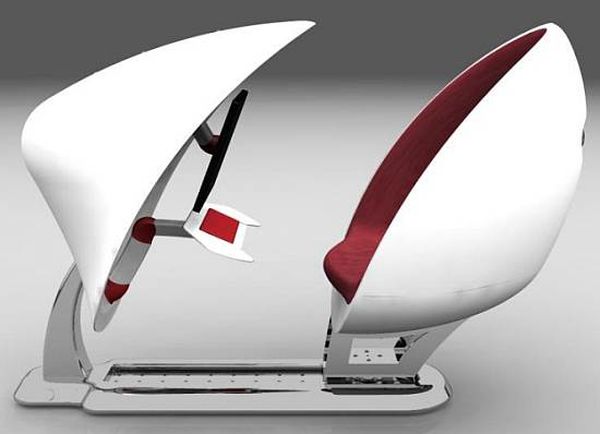 This modernistic adjustable workstation concept combines architectural excellence and ergonomics to offer a very comfortable work zone for individuals. The workstation features fibre glass seats. These are available in several fashionable colours. The closed working space that lets you work in utmost privacy. The two sections can then slide together to form a closed shell when not in use.
2. The Swiss Table Office Workstation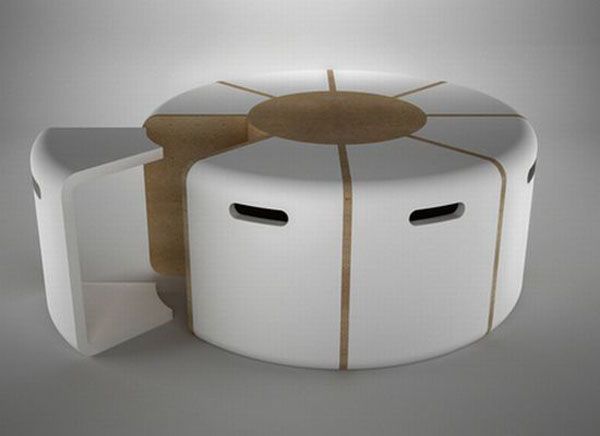 Designed by Brazilian designer Paulo, the Swiss Table Office Workstation takes after the traditional Swiss cheese which can be sliced into different portions. The round shaped table looks like a single unit. However, it can be sliced up to reveal individual workstations that can be moved around anywhere. These portable workstations can be used to hold files, laptops and notebooks. When non in use, they can be slid back to form a closed table again.
3. Roll on – Roll Off Workstation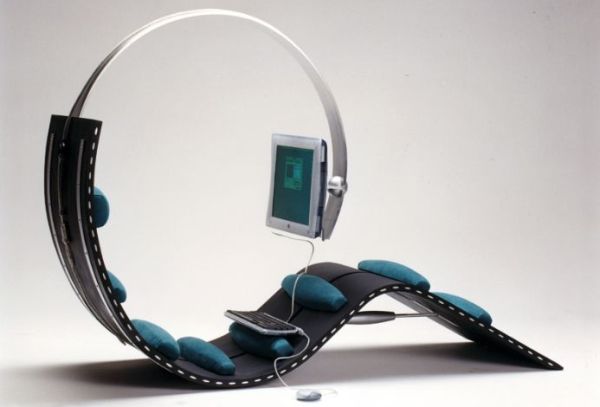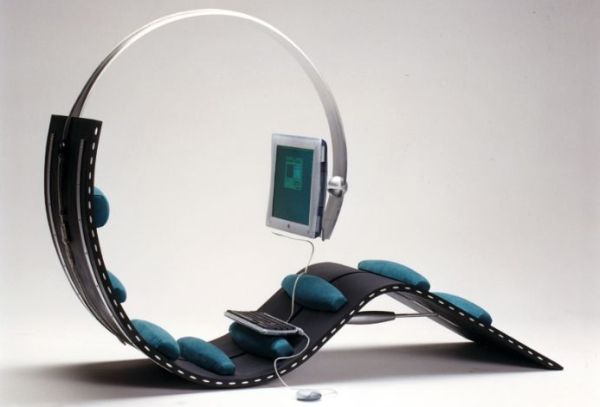 This futuristic workstation features an ergonomic design that would surely make your eyes pop. The workstation comprises of a curved seating area that comes with adjustable pillow like shelves. A curved metal frame attached to the top of the seat holds the computer monitor. Furthermore, the keyboard and mouse can be placed on the shelves below. Set at ground level, this workstation would give you the perfect setting to work and relax. At the same area, instead of having to move away from the work space to get some rest.
4. The Ultimate Workstation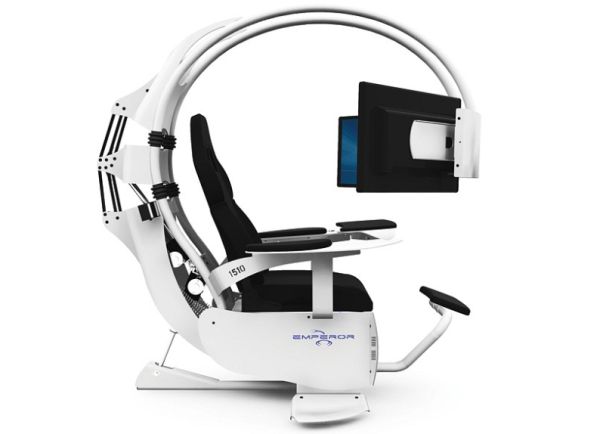 This workstation concept from MWE Lab takes the cake when it comes to a workstation. It blends style and functionality seamlessly. The workstation comes with an adjustable leather chair as well as a scorpion inspired frame. It also features an integrated audio system, LED lights and a touch screen control system. Moreover, it also has room for three different computer monitors (27 inches).
5. Workstation Concept by Lucas Vieira Coffee Office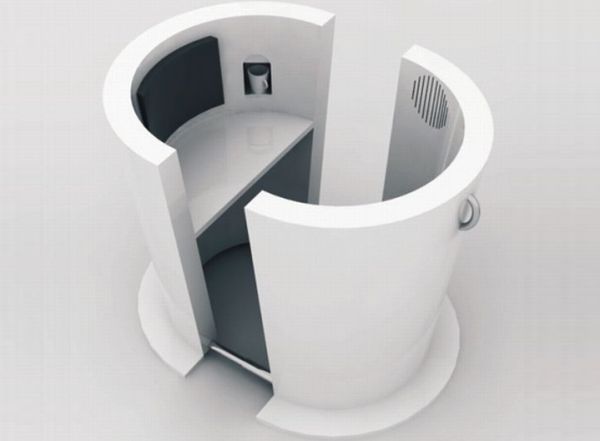 Here's another workstation concept that ensures maximum productivity while taking up minimal office space. The design features a cubicle which can be split into two halves. While one half would house the computer and other work related accessories, the other half would come with a seat as well as a provision to place a coffee/tea mug. The closed space offers utmost privacy while working and the cubicle can be closed up afterwards to minimize space usage.
6. Casedesk: Modular Workstation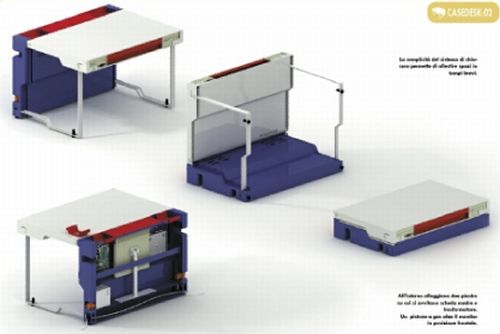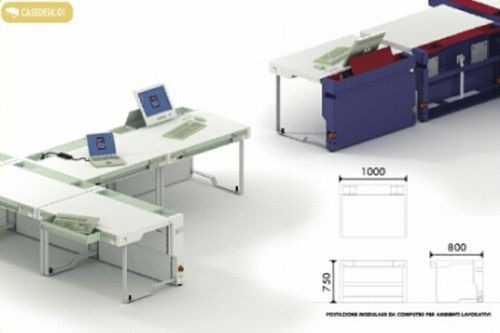 A workstation is an integral part of our professional life. Everyone is comfortable working on their own workstations, which is not possible when we go out to work elsewhere. It is not possible to carry our workstation with us everywhere we go. In most cases they are bulky and unyielding in design. However, the 'Casedesk' is a portable design that integrates a computer within the workstation. Cool! The Computer Integrated Modular Workstation is a functional unit that comes as an ergonomic as well as a foldable workstation.
The Casedesk is an easily bendable computer unit that the users can pack up like a piece of luggage and move it around with them whenever they want. No matter where you go, now you will be able to work on your personal workstation.
7. EGG modular workstation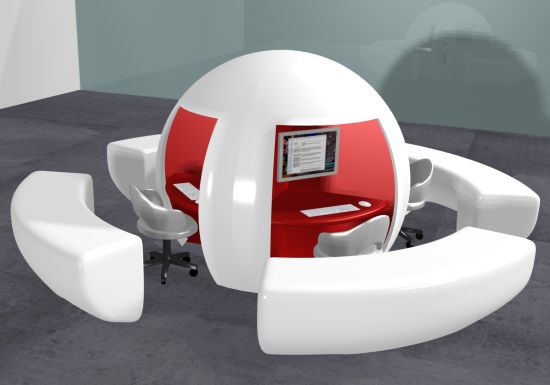 With multi-tasking responsibilities increasing speedily in the contemporary workspaces, the need for some highly functional workstations has been felt more than ever before, improving the work competence of the employees. Addressing the issue, designer Job Buenazedacruz has devised an innovative workstation that not just helps in improving the efficiency of the workers but featuring a neat and sleek design gives a new meaning to the workplace decor as well. Dubbed "EGG," the modular workstation gives the user enough privacy to concentrate on their individual tasks, apart from giving them the option to work as a team.
Mounting the monitor on the wall to create more clutter free space on the desk, the designer workstation includes (optional) island desks to place more equipment or entertain visitors without leaving their desks. Finished with a combo of composition boards and fiberglass, to allocate a soft shape that often is missing from contemporary workstations and cubicles, the modular workstation can be configured in a number of color schemes, which you may modify according to the image of your company. The EGG is just an ideal workstation for any office ranging from call centers to newsrooms to animation studios. Check out the picture gallery (to see the high resolution images) after the jump.
8. PorTable: Laptop bag becomes a workstation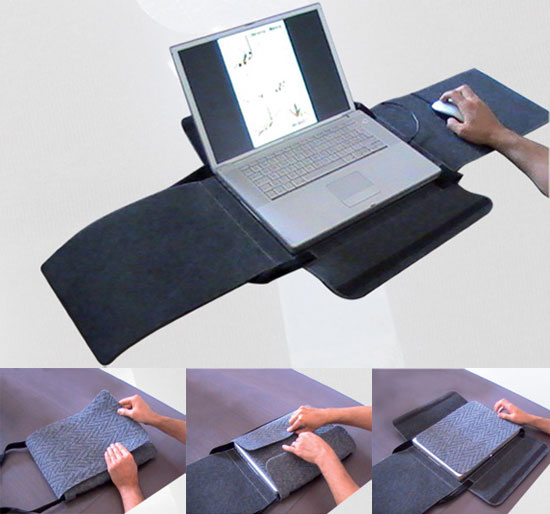 Laptops may add style and efficiency, with their portability, to your work, but square and bulky leather laptop bags make you look like a marketing agent in hunt for customers. Complementing the style and efficiency of contemporary notebooks, the PorTable from ItalianOriginale Design Creative Lab is a trendy laptop bag for your notebook that doubles as a portable workstation to work on your notebook, anytime, anywhere. The PorTable wraps your notebook neatly and safely, and lets users work on their systems without the need to pull them out of the bag, while the sleeves of the bag become a mousepad for both right and left hand users. Moreover, the PorTable is customizable with different materials, accessories and dimensions to accommodate notebooks of different types and sizes.
9. Fold N Go Portable True Adjust WorkStation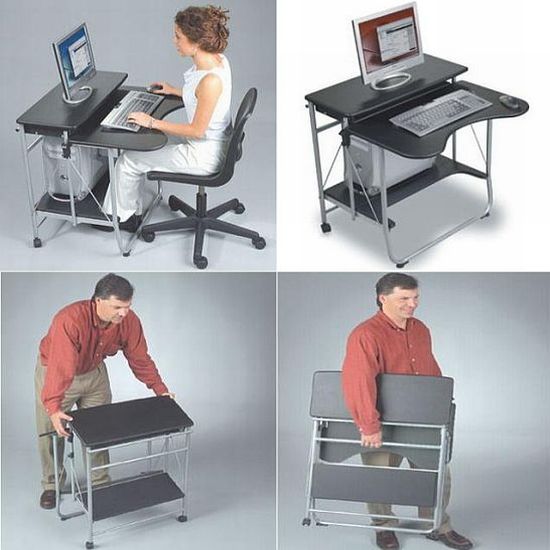 As living and workspace are shrinking day by day caused by rapidly increase in population, portable or handy furniture (be it for kitchen, living room or workplace) has just become the new hot favorite option of the people around the world. And why not, for every inch is like gold in modern city dwellings and workplaces.
The new ergonomic workstation cum computer desk is a similar portable and mobile unit that you can carry easily with you. You mau lay it in a small space, adjust your system and start working with minimum fuss. Moreover, you can also stack it away when not in use! Named the Fold N Go Portable True Adjust Station, this is an example of a true modern day smart space-saver unit. Priced at AUD $119 this unit comes with multiple features. Not only it features unique side release buttons that fold up the entire workstation into a compact 102cm body for easy transport and 1.5cm thick black tops with silver frames, the tidy workstation comfortably holds the CPU, monitor, keyboard, printer and many more. The handy unit just weighs 17 kg and measures 70 x 75cm.
Without doubt, this is a catch, I mean all that put together so compactly and that too with a one year guarantee and workmanship details! I am just off on my way to get one…, as it's just apt for my packed together room.
Summary
Skip the traditional wooden table and chair for your office and opt for a more modern, ergonomic design like the ones mentioned in this list. These space saving, ultra comfortable and highly functional workstation designs would definitely increase your productivity for sure.
Read More: