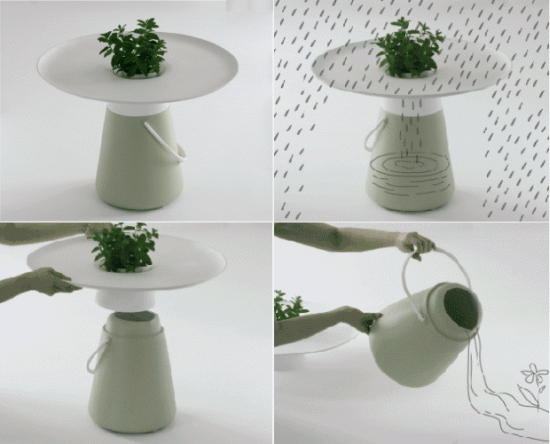 Almost all actions or designs of human beings are more or less influenced by the environment and happenings going on around them. Taking a cue from Nature, the Garden Table is an innovative product design that gathers the rainwater in its central base, which may further be used for watering the plants and the garden. It can save as much as 178 to 510 liters of water annually, depending on the average rainfall of the particular area. The table also includes a bird feeder that collects water from its roof and stores into an underneath container where birds enjoy their bath.


Design Status:
The Garden table is a concept design that stood among the Finalist Innovations of the RCA's Selected Works program.
Usability:
The Garden table is a sustainable design that helps in preserving and utilizing the rainwater that otherwise ends up in the seas and oceans through streams and rivers. It is a very simple but innovative design that helps the users becoming eco supporter without putting in too much effort.

Designer:
Tithi is a London based designer who has completed graduation in product design from the Royal College of Art.