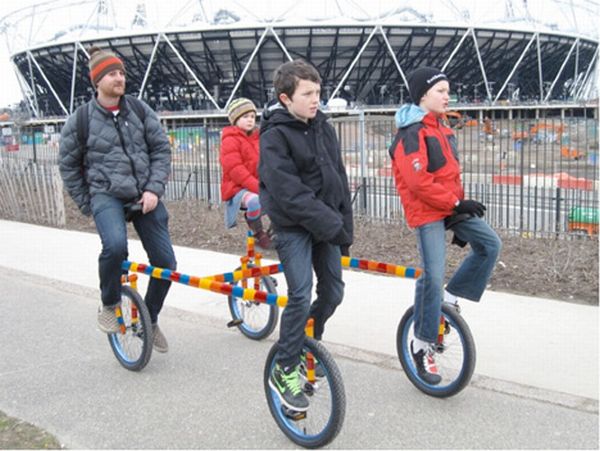 You know what I absolutely love about bicycling? That feeling of being on my own without any passenger chewing my ear off with useless blabber or back-seat drivers making me feel like an incompetent fool who can't take instructions from a talking GPS. But, I guess industrial designer Ben Wilson and artist Gavin Turk really miss the "car" experience when they ride their bikes. At least that's what this particular creation by them seems to suggest.
Inspired by the Minimalist and Conceptual art of Romanian artist Andreé Cadere, the 4H basically looks like your regular chassis only with four unicycles attached to each wheel powering the vehicle(?). Some may say it's a radical take on the tandem bikes, but those really look like champion university roving team when you compare them to this thing which has "chaos" and "full body cast" written all over it.
The piece was created by the deadly designer duo for Invisible Dust curator Alice Sharp and will be open for viewing at the Bicycle Wheel Exhibition at the View Tube in East London over the coming weekend.
The designers, Wilson and Turk, have been known in the more creative circles for their interest in the bicycle and this H-frame bike magnificently highlights their views about the invention. If one chooses, the bike may be interpreted as a representation of modern lifestyle where every individual juggles to balance his life with an apparent comic-looking stance with the great effort that it takes to really work a unicycle while trying to stay within the structure and bonds set by society.
The wisdom in the words above can of course be absolute BS if you choose to see the bike as a plain, simple fun creation that could let people be silly and enjoy themselves with their friends!
Via: Core77