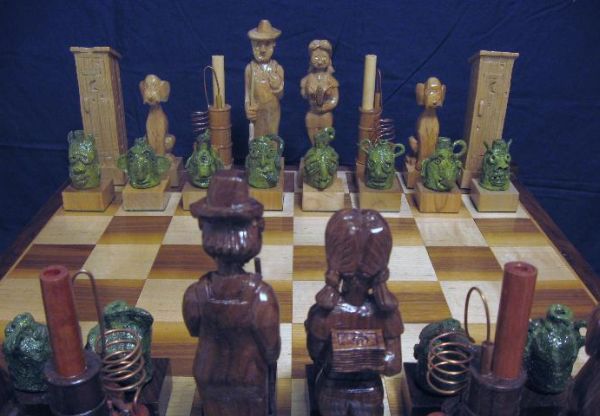 The custom-made Face Jug Set by Jim Arnold from Moonshiners is very intricately crafted and can become a favorite of any avid chess player. The solid chessboard is made out of durable maple and walnut wood and has the dimension 30 inches x 30 inches x 2 inches – which provides a good playing space.
The pieces of the chess set, made out of maple and walnut, are minutely crafted by hand to give it an artistic look. The pieces are very different from the regular chess sets as the king in this game carries a shotgun and the queen is carrying a stack of money and an ear of corn in either hands, hound dogs take the place of the regular knights, bishops are swapped with stills and outhouses take the place of rooks! All the pieces are of a comfortable size with the kings standing the tallest at 9 inches. The most interesting and innovative of all the pieces is the last – the pawns – that are crafted out of clay and paper by Joey Arwood with the shape of Face Jugs. The 16 pawns are replaced with 16 Face Jugs with different faces and measure up to a height of 2.5 inches.
Some people wonder the divergent form of pawns by the moonshiners – but whatever the reason, these Face Jugs certainly make the game interesting. The Face Jug is a unique chess set that comes with minute details and artwork to add more fun to the game of chess!
Via: Yessy