If you are an environment buff, you will know that green vehicles are unlike other types of normal vehicles. You know that normal vehicles are not environmentally-friendly and they release less poisonous substances like carbon monoxide and carbon dioxide.
Green Vehicles are not only eco-friendly, but they are also beneficial in terms of taxes and fuel efficiency. Therefore, this is much to gain when investing in a green vehicle. There are several amazing concepts, which have evolved owing to an increase in interest in the demand for eco-friendly transportation. Below Geetobee Scooter and some other popular green vehicle concepts that are making the mark.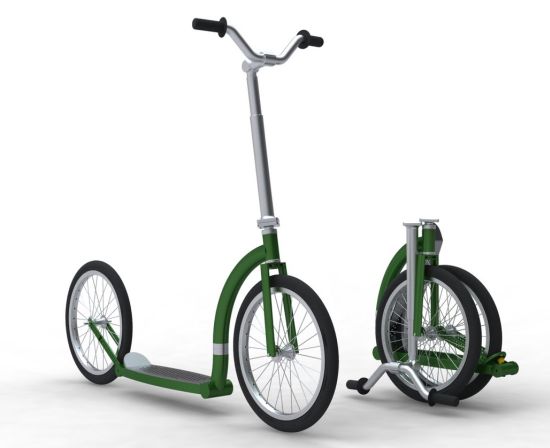 The "Geetobee" from Jamily Design Studio is a folding scooter for adults that folds into a compact form, thereby facilitating transportation or storage. Designed for commuting or just whizzing around town, the portable scooter when folded can easily be carried into buildings, into the workplace or onto public transportation. Available in different colors, the Geetobee allows sustainable and brisk commutation in the crowded marketplace. The custom-made bike will be produced in larger volume during Spring/Summer 2010.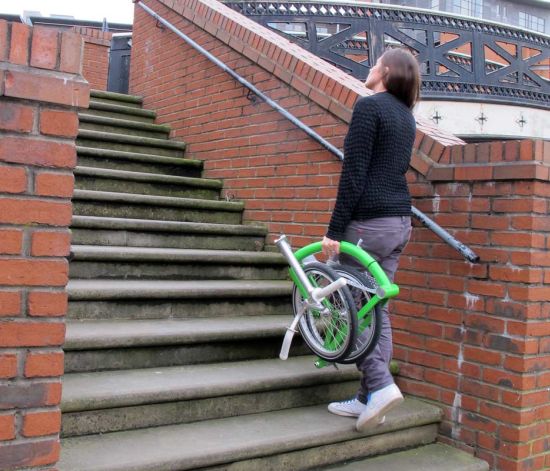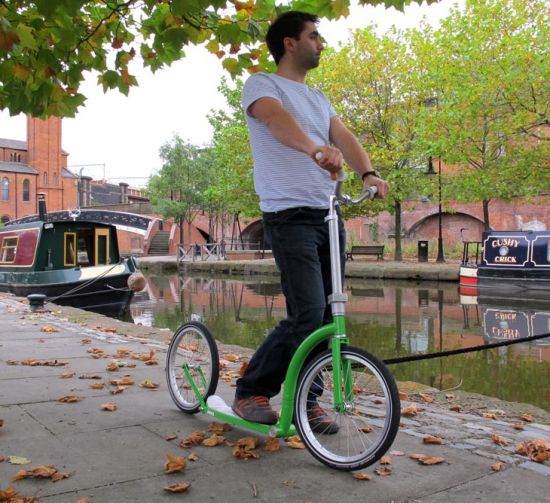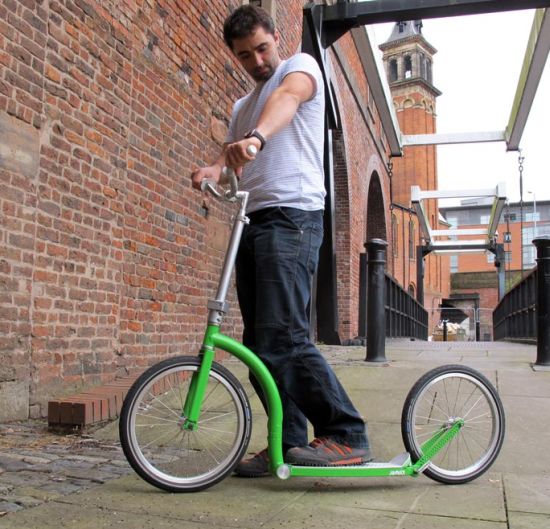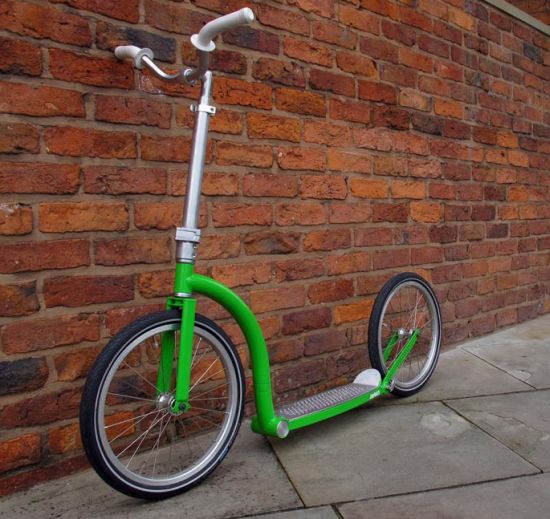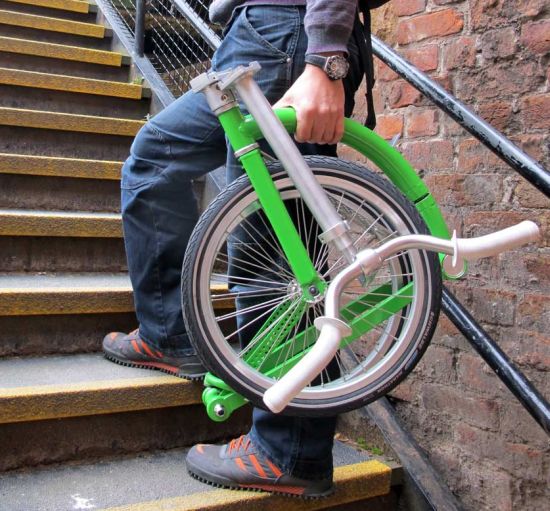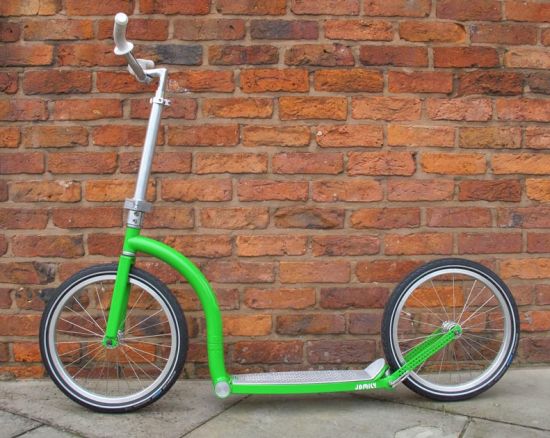 Via: Jamily
Some Other Eco-friendly Vehicle Concepts
The world is fast losing its natural resources and it is time we sit up straight and pay attention. To make the most of the natural resources available to us, we need to turn towards the solar power because it's always available in plenty. The solar powered cars can give our lives a new dimension. The solar concept cars are the future of the generations to come. They are still in the making and getting tested in every sort of ways. Automakers are continuously trying to improve the capacity of cars to keep the solar power stored and used later on. This way the crisis of global pollution can be sorted and with the advent of better solar cars the expenditure on fuel will go down.
1. Helios
This concept car looks like some fancy chariot of the Greek gods. The solar panels have been fitted like a Chinese fan with the roof and make it look amazingly stylish. You can move the solar panels and fold them while you are driving. It is capable of generating sufficient power not only for its own use but also for your home and gadgets. The only negative point for this car is the price which is sky high.
2. Peugeot Omni
The Peugeot Omni is definitely a futuristic sports car that looks cool in its white and black avatar. The specialty of this car is that it can move sideways at an average speed of 5 km/hr. The Omni uses solar power but would be too costly if turned into reality. Peugeot needs to work on the technology some more to bring down the cost. It has been made for two passengers.
3. VW Van
Adam Danko has designed this beautiful and compact solar powered car which has electric engine. It gets power from the sun or can be charged with a plug at home. The speed of this concept car is being doubted.
4. Tokai Challenger
This solar powered car is a winner with 30% efficient cell conserving capacity and gives us a 63mph speed, which is not too little. The solar panels of this car can generate 1.8 kilowatt power.
5. Eleanor
This is the brainchild of a MIT team. It is supposed to deliver 1200 kilowatts of energy and a surprising 90 mph speed on roads.
6. Solar Bug
The small, black and yellow solar bug needs only 3-4 hours under the sun to take you 60 miles away. It gives a speed of 35 mph.
The solar concept cars like this have to go a long way both literally and figuratively. They are right now too costly and fancy but with some more brain storming they can become affordable. The designs are futuristic but we should pay attention to comfort as well.
7. Lamborghini Aventador J.
This sexy piece of vehicle looks good from all angles. The company has done something different and has seamlessly blended the body with the cockpit of the car.
8. Mercedes-Benz Ener-G-Force
It comes equipped with a hydro-tech converter. This superpower vehicle is primarily based on the design of a future police and has a design, which encompasses enhanced green-car capabilities and off-road competence.
9. Volkswagen Hover Car
Although it is unlikely that such a vehicle will not be in production any now or in the future, it works around the idea of a two-person floatation pod. Essentially, the car will be a zero emissions vehicle and make use of electromagnetic road networks to float above the road.
10. Lexus LF-LC model
This model made its debut at the 2012 Detroit Auto Show, garnering largely positive responses. This has apparently led the company to believe that producing this car will be worthwhile. The car promises to be fuel-efficient and work along the lines of being eco-friendly.
11. Jeep Mighty FC
This vehicle is almost like a full sized cargo with elements of the designs of the 2012 Wrangler Rubicon cab incorporated. A functional vehicle, it is known to be part of the range of vehicles, which seek to conserve the environment.
12. Mercedes Benz SLS AMG Electric Drive
Running on electricity, there is no worry about emissions resulting from the use of the car. Touted as the world's most powerful electric super sports car, this car is expected to hit the markets in late 2014.
13. Magna Steyr MILA Coupic
It is yet another green car concept that debuted at the Geneva Motor Show. Known to be a pretty concept, the car is however unlikely to make its presence in the market. The car features high levels of flexibility and highly utilitarian. The 3-in-1 concept adopted by this vehicle makes for a highly efficient and fun vehicle to own.
Read More: