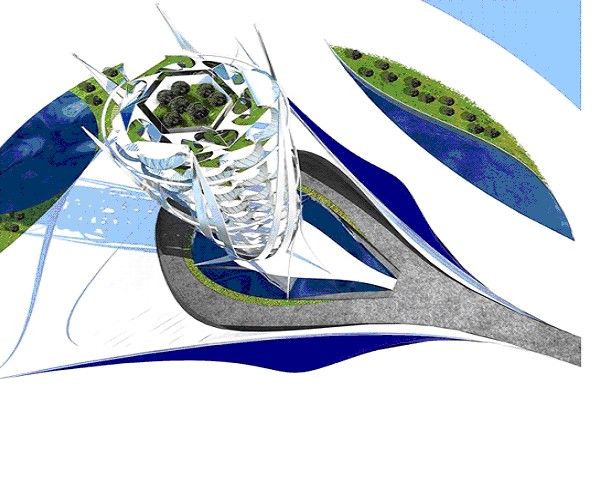 The 'Team CLS'
This skyscraper is not a hotel or a mall as it appears, but a Rehab Sanctuary designed by Team CLS, a trio of architects headed by the Award winning UK based architect Darren Chan. The other members of the team are Emily Lau, a graduate of architecture and another architect Jonas Sin from New Zealand. The "Helios Rehab Sanctuary", is an innovative application of sustainable technologies to encourage clean and peaceful living.
The Design/Structure
This vertical rehab center is truly unique and inspired, with regards to its structure and complexity. The Solyndra, solar photo-voltaic systems are cylindrical in shape and they absorb energy from direct, indirect and reflected light. Typically used in large, commercial roof tops, these claim to have more electricity production per roof top. This amazing structure is built considering the climatic variations, which opens to promote the cooling effect; the rod-system is to encourage proper ventilation and view. It closes up whenever it requires insulation and energy saving. The pod shells possess an air pollution cleansing system using TX-Active wall panels, which is actually integrated Titanium Dioxide. There are horizontal access walk-ways connecting the occupants to their respective pods through green ramps surrounding the central functions. The designers were inspired by the words 'Body, Mind and Spirit', while creating this vertical marvel. The lower part (Body) of the building houses a Hospital, Therapy Center, Gym and even a Restaurant. The middle (Mind) part has a Library, Workshop, Counseling Center, Recreational and Sport's facilities. The top (Spirit) of this tower contains a Spa, Swimming Pool, Meditation areas, a Church and other religious facilities. This structure is also self-sufficient, as it has a Recycling and Water Desalination Plant on its premises.
The Healing
Due to the current pressurized city lifestyles, where the focus on economy is very important, maintaining good health, physical as well as mental is also quite essential. In this vertically zoned tower, communities of hope are formed by the people from different shades of life. Diminished proportions of these communities can escape their high-tension lifestyles, rehabilitate and then once again integrate themselves back into society. While in rehab they keep serving the internal society, living in these specialized environments. The spiritually rejuvenated inhabitants are then released back into their normal lives, to support a healthy society. Therefore, the three-tiered structure mainly focuses on the healing of Body, Mind and Spirit in the lower, middle and the top most zones, respectively.
The Strategic Location
The choice of the location, San Francisco, California for this project is strategic. Rehabilitation is in demand in this location as shown by the team CLS's research. There are many existing massive urban problems in this city, despite ranking number two among the U.S. cities in sustainable living. Increased illicit drug abuse and binge drinking are few examples of the negative conditions prevalent in the society. This glorious tower stands as a light of hope to its parent city, San Francisco.
Conclusion
As this rehab facility in Washington state said, drug rehabilitation is necessary for long term addiction recovery.