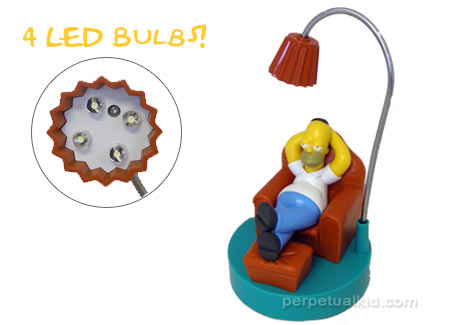 Modern life is incomplete without computers. Be in any field of day to day life, entertainment or profession, computers have become inevitable. But, as every coin has two sides, your friend can instantly turn into foe. Constant use of computers can harm your eyes and you say 'D'oh!" as Homer grunts!
But now, comfort and respite for your eyes at your fingertips…switch on the Homer Simpson LED USB Desk Light and you are free from strained eyes inspite of constant glare of computers. So, work can be fun too, if you light up your keyboard with it.
Thought not bright enough to brighten your room, it can illuminate your keyboard and make your work easier. With Home Simpson lounging on his chair, you can directly plug it in to your PC's USB board.
With 4 tiny LED lights and adjustable neck, its light can provide great relief to your eyes. A Flexible 'lamp' approx. 10′ long. 4′ diameter lamp base, it can also be a cool gift for friends. Price approximately at $19.99, it doesn't make a hole in your pockets too.
Cute and handy, it can aptly be called an 'owner's pride and neighbours envy'. And if you are a Homer Simpson fan, get one for yourself soon.
Via:computergear