In the current housing climate, it seems that everyone is discussing ways of adding value to their property. While certain additions to your home can make it more valuable, it's important to know which modifications to splash out on in order to get the best return. According to the Office of National Statistics, squeezing an extra bathroom into your home can boost the value by an average of 5%. However, it can be difficult maximising the space in a small bathroom without making it feel cramped.
According to bathroom designers, Burgess Bathroom, the key to bathroom design is finding the "balance between functionality and aesthetics". Whether you're looking to add value to your property, install another bathroom for your family, or designing a new house, there are a few things you can do to help maximise a limited space, without scrimping on the design of your bathroom.
Opt for soft, light colours on walls and floors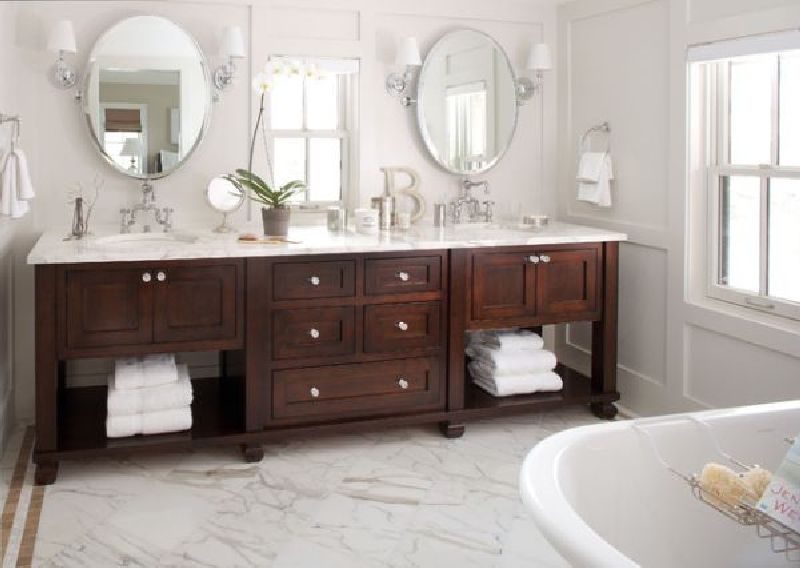 Lighter rooms tend to look more spacious than they actually are. This is because dark colours absorb light, while light colours are more reflective. Keep it simple with light, pastel shades, or even natural tones, which can immediately help open the space up. There are a few different colour schemes that can help make your bathroom look bigger, such as citrus tones and sea shades.
Keeping the shades throughout the bathroom similar can create a more streamlined space, while ensuring that the light is reflected around. Opt for light flooring as well as ceiling colours, which will help keep the room bright and open. If you are opting to use tiles, use the same tiles on the floor and walls. This creates a continuous run of tiles, instantly making the room look spacious.
While you should avoid dark tones, contrast can be added by adding darker, or even brighter shades with the accessories in your bathroom. Towels and mats can be used to create a subtle focal colour, without having to sacrifice any space or overpower a small room with darker colours.
Maximise natural lighting to open up the bathroom
Maximising the amount of natural light in the bathroom can help instantly brighten it up. Where possible, use clear glass for windows, or half-frosted glass for more privacy, and use pale curtains or blinds to allow more light to get in. If your bathroom is in a loft conversion, consider having a skylight window which will bring in as much daylight as possible without compromising on your privacy.
Choosing the right type of lighting for your bathroom design can make a massive difference to how small your space looks. Create the illusion of a taller room by uplighting the ceiling with wall sconces or cove lighting. Brighter lights help to open up the space, so avoid dimmer lights or dark light shades.
Layering light with under-cabinet or tape lights can illuminate an otherwise dark area of your bathroom. If you're really pressed for space, lighted mirrors offer a practical solution while remaining stylish.
Use mirrors and clear glass panels strategically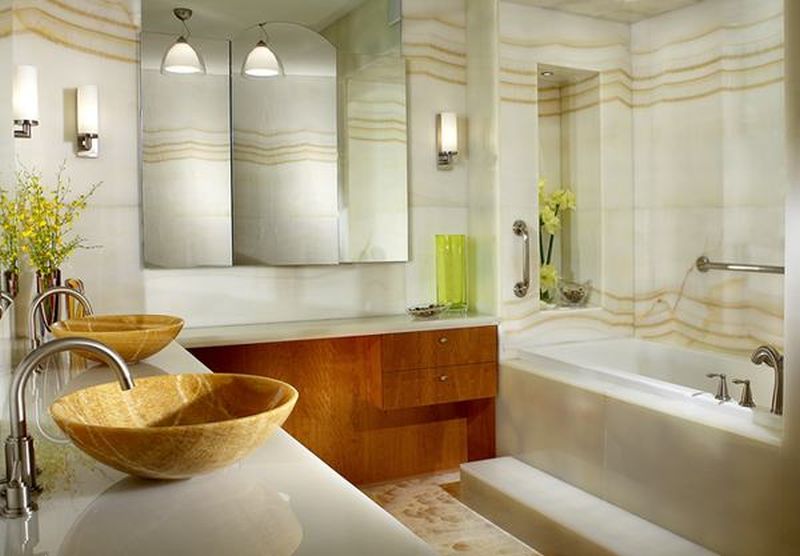 Mirrors are one of the best tools you can use for making a space feel larger. Large mirrors reflect the light around the room, instantly making it brighter, while also picking up on the colour and pattern of the walls. Having one extra-large mirror can create a striking feature wall, although having mirrors that are too large can be overbearing and even disorienting.
For a small bathroom, you want to avoid breaking up the space, so opt for a clear glass screen instead of a shower curtain, or frosted glass. This helps to open up the shower area, making it feel less claustrophobic. Shower panels are also easier to clean, much more hygienic than shower curtains and offer a cleaner finish to the overall bathroom design.
Maximise floor space and draw the eyes to the ceiling
Another trick you could consider is maximising your bathroom's floor space using wall-mounted fixtures. Wall mounted toilets and basins offer a more sleek finish to the bathroom, and you can adjust the height to suit your needs and comfort. If you have very limited space, consider installing a corner basin, which makes excellent use of an otherwise useless space.
You can also try to draw the attention to the ceiling, which tricks the eye into thinking the walls are higher, thus giving the impression of a bigger room. If you've opted to tile your bathroom, consider tiling all the way up to the ceiling, rather than half tiling your wall. A few subtle decor ideas can also help draw the attention up, including crown molding, or even a ceiling embellishment, such as a design around the lights.
Having limited space in your new bathroom doesn't mean you need to scrimp on the design, or even have a cramped space for your family. Simply taking these few easy ideas into account can ensure you have a stylish and spacious bathroom.
Article Submitted By Community Writer